Meredith

- Bilateral mastectomies
- Expander implant reconstruction
- Nipple areola reconstruction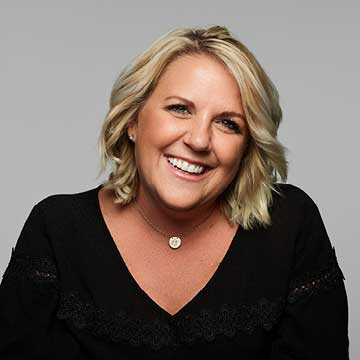 Meredith was 37 and single, living in Manhattan when she went to see her OB/GYN for a painful lump she found in her breast.
"I think my story is a lot like everyone's. I made an appointment, because I was in pain. I knew I had some form of breast lump, and I was just really scared," she said.
She was on her way to London with a friend when she got a call saying that she had breast cancer. It was advanced, which meant that the process started as soon as she returned. She had never had a major surgery; suddenly she had to have ports put in to begin five months of chemotherapy. When that was finished, her oncologist told her she needed to choose a breast surgeon for a double mastectomy.
She found NYBRA Plastic Surgery through her mother, Nadia. "We were diagnosed about nine weeks apart," she explained. "My mom was diagnosed in August of 2017; that October, I was diagnosed." Both women carry an ATM gene mutation that increases the risk of developing certain types of cancer. While it was a difficult experience for them, Meredith said she found comfort with her mother. "It was great to have each other. I don't think anyone can prepare you for what this is, and I think it's really hard for people to kind of understand what you're going through unless they've done it. So it was nice to have my mom there; we talked about a lot of things."
Despite concerns about "being a mother-daughter cliche," Meredith felt comforted by her interactions with NYBRA and ultimately decided to work with Dr. Jonathan Bank to have implant reconstruction at the time of double mastectomy in May of 2018. A postoperative infection extended her staged reconstruction by several months, but she said that the care she received in response to the infection was exemplary.
"I was out to dinner in Manhattan on a Monday night, and I saw that my chest was really red. I just thought it was surgery pain, normal pain." She reached out to Dr. Bank; he requested a photo. The response was immediate. He saw her in the office that night, put her on antibiotics immediately and even went so far as to bring her to the pharmacy.
"I was so lucky to have Dr. Bank and this practice. They see you at your lowest moment in life, but their main goal is to help you to bounce back from that low point. It's a really special thing to have doctors who are that caring and that understanding and really go above and beyond what they need to do."
Two and a half years later, Meredith has become a go-to person for women in her social and professional circles looking to learn more about breast cancer. Four colleagues have had the disease since. While it can be challenging to be part of the growing community of women affected by breast cancer, Meredith's experiences have taught her a lot about herself and enhanced some of her relationships, including her relationship with her mother.
"It was very humbling. I think it's brought us a lot closer together. She had such a positive experience, too, and I hate to say that something so awful has led to something so great, but a lot of great things have happened because of it."
More Patient Stories
Our patients are the most essential part of the NYBRA community. No two stories are alike.