Rachel

- Risk-reducing mastectomies
- DIEP flap reconstruction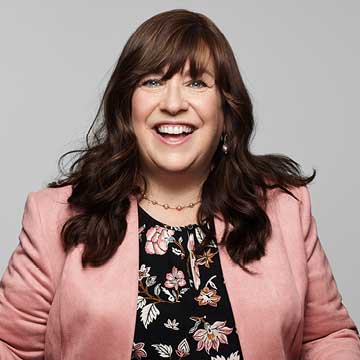 "When I was diagnosed, I didn't want my kids to worry, I didn't want my patients to know, I kept it quiet in the community."
That's how Rachel, an Orthodox Jewish sex therapist, described the immediate aftermath of learning that she had breast cancer on her 40th birthday.
Over 15 years later, she said she sees things differently. "I speak about my journey publicly now and tell people not to do that. There's no shame in this. You don't have to hide it, and you don't have to suffer alone."
She had a lumpectomy, chemotherapy, radiation, and Tamoxifen, and everything was quiet for a few years.
"When I was nearing the end of the Tamoxifen, my oncologist suggested the BRCA test, which had not been done because I had no family history anywhere." The test came back positive. After six years of quiet, she entered the BRCA positive world.
She was directed to Dr. Ron Israeli at NYBRA Plastic Surgery, because she wanted a risk-reducing bilateral mastectomy with natural tissue reconstruction. The practice connected her to her breast surgeon and coordinated a series of surgeries to perform a bilateral mastectomy with DIEP flaps. But surgery was not her biggest hurdle.
"I was not traumatized by the surgery, in fact I really liked the breasts that I got, but then it became this whole world of being BRCA positive," she said. That's where NYBRA's community of support came in.
"When I first came to the practice, Mollie asked me if I wanted to make use of their resources. I decided to come to group, and I just fell in love. I really connected with the women." she said.
As Rachel learned to navigate a world where she, two of her children, and a sibling were BRCA positive, she started teaching other group members how to reconnect with their bodies.
"I share a lot, they know what I do, and things would come up," she explained. Now she formally presents on post-reconstruction sexuality and intimacy to both the patient and partner support groups and even became a resource for some Orthodox couples working with the practice. "It was a really natural transition. Mollie and I kept in touch, and she would ask if I could come present. I feel so grateful to them. It's a place that I'd love to stay a part of and this is a way to stay involved."
Rachel's work with the practice has inspired her to do related work within her community, where diseases like breast cancer still bear stigma. She's working to help others see trauma like hers as an opportunity to learn.
"Everything about me changed: my listening skills, my patience, my relationship with God, the idea of really wanting to make every day matter and do the right thing and good things. I am a totally different person from having had this cancer. And that's the way it should be: it sucks having it, I may as well have really changed and gained something from it."
More Patient Stories
Our patients are the most essential part of the NYBRA community. No two stories are alike.