Lilith

- Risk-reducing mastectomies
- DIEP flap reconstruction
- Nipple areola reconstruction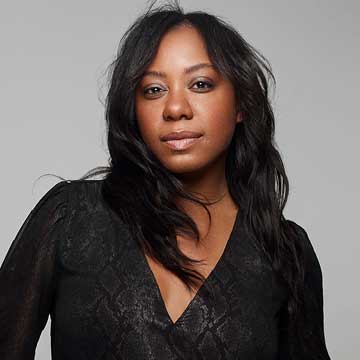 When Lilith learned that she had tested positive for a BRCA2 genetic mutation, she said she was both pregnant and frightened.
"As soon as she told me the test was positive, I felt like she just said I had breast cancer. That was not the case, but that's what it felt like."
She was 33-years-old at the time. Women in her family—many of whom had passed away—started getting cancer at 35. Other relatives were upset that she had chosen to have the test in the first place.
"They were sad that I had the gene mutation, but they were also scared for themselves. I had to explain that they didn't have to be tested, but they should. Information is never bad because then you have choices of what you can do with that information."
As Lilith wrestled with her own decisions after her son was born, she started developing lumps of unknown origin under her arms. She saw them as a warning sign; her body was telling her what she needed to do. She saw an OB/GYN, and when her son was one, she decided to have risk-reducing bilateral mastectomies with DIEP flap breast reconstruction. The lumps disappeared as soon as she made the choice.
As she gathered her team, she was happy when her breast surgeon recommended NYBRA Plastic Surgery; they were already at the top of her list.
"I liked their work. The mindset is different from someone who has cancer to someone who is doing this to prevent cancer, so I was pretty fearful, and the after effect of the surgery was very important to me."
Lilith worked with Dr. Randall Feingold. She found that he and the team were not only experienced and ready to provide the kind of results she was looking for aesthetically, they also helped her make choices.
"They were very informative about the different choices you have. I chose the DIEP flap, because I have autoimmune issues and I didn't think my body would react well to implants. I thought doing the DIEP flap would be the safer solution for me. And I wanted whatever I did to be able to last a lifetime."
The more Lilith learned about her gene mutation and reconstructive and risk-reducing surgical options, the more she realized that many women were not aware of the choices available to them. Patient Empowerment Program Clinical Director Mollie Sugarman approached her to participate in a documentary on women with BRCA gene mutations. While Lilith considered herself a private person at that point, she couldn't shake the idea that lack of information was hurting other women.
"There are so many people who do not know that they have choices. [The mutation] doesn't have to be something that's ruining their lives. This could be something that improves their lives, and helps them make choices."
She decided that if she could help to save even one life, it would be worth the discomfort of displaying her vulnerability. She agreed to participate.
Lilith's risk-reducing procedure and reconstruction went smoothly. She said the recovery process was challenging as a mother of two, particularly in moments when her children looked at her like they needed to take care of her, but that ultimately, it was worth it.
"The stress has gone down tremendously, and Dr. Feingold did an amazing job. I definitely love the [reconstructive] outcome. I'm happy with it. I think I had psyched myself up about it so that no matter how I turned out I was going to be accepting of it, but Dr. Feingold exceeded my hopes. I believe in myself more because of how everything worked out with my decision."
This month, Lilith is featured in a an NBC News article on her breast cancer journey. She was also featured in a PBS documentary, "Inheritance" which is re-airing for #BreastCancerAwarenessMonth.
More Patient Stories
Our patients are the most essential part of the NYBRA community. No two stories are alike.