Michael

- Mastectomy
- Fat grafting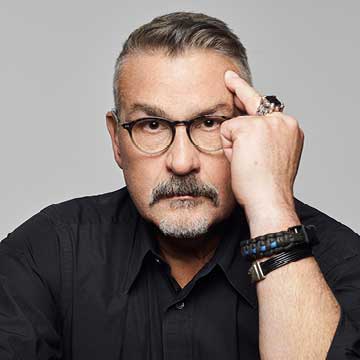 "If you handed me a piece of paper and said make a list of things that could kill you, this wouldn't have made page two," Michael said of his stage IIb breast cancer diagnosis.
He was 53-years-old when a friend noticed something strange about one of his nipples after a golf tournament in June of 2013.
"We were playing in a golf tournament together, and he saw my right breast nipple was inverted in the locker room afterwards."
It just so happened that that friend was NYBRA plastic surgeon Dr. Randall Feingold, who told Michael he should come into the office for a proper examination. Michael obliged, and on October 24, 2013, Dr. Feingold performed a biopsy for good measure. Michael went in to have his stitches removed after hours the following Wednesday night. That's when he got the news: he had cancer.
Dr. Feingold connected Michael with a breast surgeon and even accompanied him to his consultation for support. The initial surgical plan was conservative. The cancer appeared to be concentrated in the nipple, which meant a three-inch incision which would only be widened if the team found something unforeseen. Despite his complete lack of family history and genetic mutations, a lymph node dissection revealed that 11 of the 13 nodes that were tested were positive for cancer. The original, three-inch incision became a lat-to-sternum opening. His lower pectoralis muscle was removed. When insurance refused to cover a bilateral mastectomy, Dr. Feingold went in on his own and cleaned out additional tissue.
Michael needed 25 weeks of chemotherapy followed by 10 weeks of radiation, and tamoxifen, which he continues to take. As the physical and emotional realities of his diagnosis and treatment set in, Michael kept his eyes on the future.
"Early on, one of my band mates was like 'what can we do,' and I said 'schedule a gig for my last day of chemo so there's always something to look forward to no matter how bad it is.'"
He chose not to have reconstruction, however, when his chemotherapy and radiation treatments were complete, the radiated skin on his chest would not close. He turned to NYBRA for further treatment. Dr. Feingold cleaned the area out and placed a pump to close the skin from the inside. He also continues to receive Botox injections to treat a bell's palsy that he developed in response to postoperative infection.
Between his personal relationship with a NYBRA doctor and his experience with the practice overall, he had no hesitation in recommending the practice to his girlfriend when she was diagnosed with breast cancer years later.
"I walk in, Mollie sees me, she comes into the room and sits with me for a while—it's the whole practice. Everybody gets it," he said.
Michael said that one of his biggest takeaways from having cancer was that while it can feel lonely or confusing at the beginning, one of the best ways to address that feeling is to reach out to people around you who are going through the same thing.
"I remember going into the oncologist's office and watching people coming through who had no idea what to expect. And it kind of made me feel good to talk to them. If I had to say one thing it's simple: you're not alone. There are people going through it, there is medical care out there."
More Patient Stories
Our patients are the most essential part of the NYBRA community. No two stories are alike.