Donna

- Bilateral mastectomies
- DIEP flap reconstruction
- Nipple areola reconstruction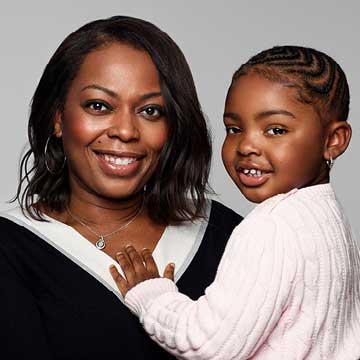 Donna's early years were marked by loss.
"My mom passed away when my twin and I were 4 years old, when she was 36."
Her mother had a lump in her breast throughout her pregnancy, but by the time she found out it was cancer, it was metastatic. She had a double mastectomy and chemotherapy but ultimately lost her battle with the illness. When Donna and her sister went to live with their grandmother, among other relatives, the losses continued.
By the time the twins were 16, grandparents, an uncle, and an aunt were all gone. When Donna found a lump in her breast at 33 years old, she thought her life would be cut short, too.
"I always thought I would die young, because that was my experience."
Donna was working at Planned Parenthood doing social work and HIV testing, while teaching at Nassau Community College, and pursuing a PhD in behavioral studies at Columbia University when she found a tiny lump during a breast self exam in 2006. It was so tiny that her OB/GYN did not feel it and sent her home. Donna was unconvinced and turned to a friend.
"I went to a friend who was a nurse, and I asked if she could feel it. She said that she could, so I did a mammogram and it was negative."
A new OB/GYN sent her for a sonogram, which revealed what looked like a fatty tissue lump. A biopsy showed that it was cancer. After an unsuccessful lumpectomy, she decided it was time for a bilateral mastectomy.
"I decided to have a double mastectomy, because I said 'I don't want to worry about this.' I thought I have a chance here, so let me do the most I can to ensure my safety."
Donna had seen Dr. Ron Israeli give a presentation at Adelphi. She said she saw his work and said to herself "if I ever get breast cancer, that's my guy." So, when she decided to have bilateral mastectomies with DIEP flap breast reconstruction, she came to NYBRA. Her results were even better than she could have hoped.
"I had come to terms with the fact that I would be physically almost deformed, but Dr. Israeli changed that for me. From the time I walked in, his kindness, his understanding, and his craftsmanship—because he is an artist—made me feel like I didn't miss a beat. And he made me feel like I didn't have any regrets in my decision. I was 33, I didn't have a partner, and I had to think about meeting someone. I have no qualms about how I look."
Donna was right to proactively choose bilateral mastectomies: after surgery, she learned that the cancer had spread to her lymph nodes. She needed chemotherapy. She used her limited time between reconstruction and chemotherapy to freeze 12 of her eggs in hopes of preserving her fertility.
During chemotherapy, Donna stopped working but she did not stop learning. She finished chemotherapy on May 15, 2007. The next day, she graduated from Columbia with her PhD.
Nearly ten years later, she found that she had another miracle up her sleeve. She'd gotten married at 40 and discovered that the eggs she had frozen had failed. She mourned, accepted that she would not have children, and then, at 43, she became pregnant with her daughter on her own.
"The egg that created her was there all along, through everything," she said.
In spite of offers elsewhere, Donna continues to teach at Nassau Community College to show women who have overcome adversity that they can succeed. She also runs a non-profit that provides financial support for women experiencing breast cancer.
"I don't have the right to live a mediocre life. My grandmother and aunts and uncles gave their lives for me. I don't have the right to live an average life, I have to pass it forward. I have to live a purposeful, grateful life. There are so many women who have had this disease who are not here."
More Patient Stories
Our patients are the most essential part of the NYBRA community. No two stories are alike.