Diane

- Bilateral mastectomies
- DIEP flap reconstruction
- Nipple areola reconstruction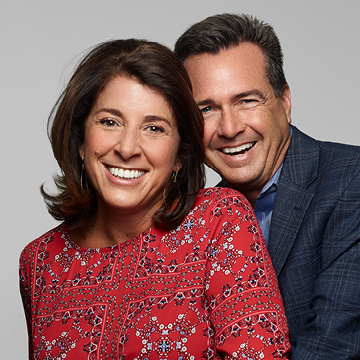 A single cancer diagnosis is a lot to process. Two different cancer diagnoses at the same time is even more life changing. After a months-long game of mystery diagnosis, Diane was told she had hairy cell leukemia, a type of cancer which can be monitored and treated but has no cure. Six weeks later, she received another piece of news: she had breast cancer.
"She found out about that diagnosis on the same day our daughter got into Vanderbuilt," Diane's husband, John, said. "I think about how incredibly strong and selfless she was about not wanting to tell our daughter about her breast cancer that day. She wanted to let her celebrate first."
Diane treated her stage I breast cancer with a lumpectomy and radiation. She worked on getting her hairy cell leukemia into remission. Six months later, doctors found a stage II tumor in her other breast.
She decided it was time to have a double mastectomy with DIEP flap reconstruction and came to NYBRA Plastic Surgery, where she worked with Dr. Peter Korn. While most people in her life supported her decision to have a bilateral mastectomy, some did not quite understand the restorative significance of reconstruction. For Diane, it was a matter of rebuilding her most essential home, her body.
"After three cancer diagnoses, a lot of people asked me why I was taking the steps to have reconstruction. They felt that I should just get rid of them and move on. But reconstruction was my way of saying that I was going to survive. It gave me hope. It made me feel alive. It was my way of saying that I was a real person and that I was going to be here for a long time."
Dr. Korn and the team at NYBRA made sure that she felt supported and confident. "I've seen doctors and receptionists talk to patients poorly or not give them the time of day. At NYBRA, you walk in  and you are greeted; it doesn't matter who you see, everyone is warm and friendly, the whole practice from top to bottom," she said. Beyond surgery, she took advantage of the practice's community of support and encouraged her husband to do the same.
"I encouraged my husband to go to the support group. We needed to get through this together, I wanted him to have the resources, and he embraced it," she said.
"As you go through it, all the emotional things really change you. I think it was something where she had been evolving and changing and I hadn't. Diane said to me, 'I want you to go to this group,' and it was really amazing." he said.
According to John who, years later, still stops into the meeting sometimes, most partners attend to deal with physical realities, like drains and postoperative care. But it's when they start discussing their emotional challenges that it really shines. "Talking about things as simple as how to help when people are coming by and want to visit her all the time, what to do when people are constantly saying 'why didn't you do this treatment or that?' or what to do if your wife's having doubts about her recovery and sexuality," was where the group was really essential, he said.
Both Diane and John said NYBRA's quality, whole-patient care was extremely helpful in their healing processes individually and as a couple.
"This is the most unique, unbelievable practice," Diane said.
More Patient Stories
Our patients are the most essential part of the NYBRA community. No two stories are alike.