Angela

- Bilateral mastectomies
- DIEP flap reconstruction
- Nipple areola reconstruction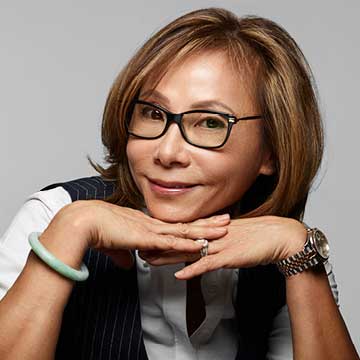 Angela came to NYBRA for reconstruction five years after treating breast cancer with a lumpectomy and radiation. The chief operating officer for a major bank, she hadn't dealt with the emotional realities of her diagnosis. Instead, she'd spent five years wearing a brave face, burying herself in work to avoid processing what she had been through and what she continued to go through in the form of cancer monitoring wrought with false-positives. Another five years passed the same way. Then she found out she had cancer again.
"It took the second round to cancer to realize that I was important," she said.
She stopped working, took time for herself, and began to attend NYBRA's Sisterhood of Support to prepare for the physical and emotional realities to come.
"What they offer is not only help for you but an opportunity to provide comfort for people going through this by sharing your own experiences. It's so important and mutually beneficial," she said.
She said members of the group helped her understand what her reconstruction would look like at various points postoperatively. She also shared the way she had avoided processing her emotions the first time she had cancer and learned that many women in the group had had similar experiences.
Dr. Ron Israeli worked with Angela's breast surgeon to arrange her double mastectomy with DIEP flap reconstruction. She said he was extremely particular about what her outcome would look like and explained each step along the way. The practice's patient-centered approach also helped her maintain her commitment to focus on herself throughout the process.
"There are some doctors where you just feel like a number in the factory office. It's different with Dr. Israeli. They don't look at you just as another patient, they look at you like a human being. They see it in you, they see the warm blood that runs through your body."
As Angela grew, her husband, Henry, shifted his mindset as well.
"The one thing I recognized the second time around was that I needed to be more present. I had to put my normal set of distractions away and just realize that when she needed to talk, I just needed to be present," he said.
He started attending the Men's Breakfast Meeting to learn how to better support his wife. There, he initially listened more than he spoke but eventually began to use Mollie and the meeting as a sounding board and to share advice of his own.
"Give your partners a little bit of credit and room to drive the support that they need, that way they feel a sense of independence and control. You may be in the same room, but if you're texting or checking your phone when they want to talk to you about something they feel is important, you need to be there. It's very easy to disintermediate your partner when they're trying to have a conversation. You need to be not just physically present but emotionally attached. That's the kind of advice that I give to partners."
Angela said she was able to deal with her emotions with the support of the practice. Following the tenets of post-traumatic growth, she's now focused on the present, her health, and the body she lives in.
"I feel much better than I have in decades. I feel much healthier, much more energy, and much more appreciative of everything. Mentally, you just feel wonderful."
More Patient Stories
Our patients are the most essential part of the NYBRA community. No two stories are alike.