Gale

- Bilateral mastectomies
- DIEP flap reconstruction
- Fat grafting
- Nipple areola reconstruction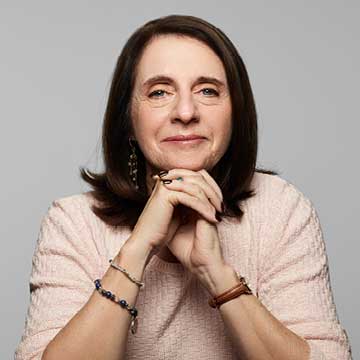 When Gale learned that she had DCIS in August of 2015, she chose to have a lumpectomy and radiation. She was monitored every six months, and for a while things were clear. Then, in December of 2018, her doctors found another lump. It was recurrent DCIS. She had options: continue monitoring, have a mastectomy, have bilateral mastectomies. Gale decided that it was time for bilateral mastectomies with DIEP flap breast reconstruction.
She chose to work with Dr. Randall Feingold at NYBRA, because she wanted a surgeon who was extremely experienced. She said that the practice delivered on that and more.
"I've never seen a practice where they're more patient-involved."
Beyond typical pre-operative conversations, NYBRA offered the kind of preparation that Gale needed to feel confident entering the operating room.
"I was able to have everything in the house I needed—every cotton swab, the cup to measure the drains-—which is very important for someone like me. I walked into the hospital on the day of surgery with no anxiety, no trepidation, just saying, 'let's get this show on the road.' To go into surgery knowing what's going to happen and what to expect when you get home is incredible."
Central to those feelings of calm and confidence were the guided imagery and relaxation techniques she learned as a component of NYBRA's Patient Empowerment Program. Gale said she used the visualizations to center herself before she headed into surgery.
In addition, she made use of patient empowerment resources like physical therapy and nutritional information and became an active member of the Sisterhood of Support. There, she learned more about what to expect post-op, what outcomes looked like in real life, and how to handle the road ahead.
"[Patient Empowerment Program Clinical Director] Mollie is always saying that you're entitled to fear, but it has to ride in the backseat. You have to put it in the backseat and keep driving."
Gale's husband, Howard, also became an active member of the NYBRA community. He took advantage of the Men's Breakfast Meeting both to learn how to support his wife and to sort out some of his own thoughts.
"Your mind goes a little crazy when you go through these things. You wonder, 'what's life going to be like alone?' Even after your wife survives this and is thriving, you wonder if this is going to go on, if she's going to continue to survive," he said.
Howard said that the Men's Breakfast Meeting was a great place to learn about and share wisdom on what it means to be a supportive partner and caregiver. Among the things he's shared: you can only be supportive if you're also taking care of yourself.
"Go to the library, do something that works for you,for a couple of hours— I like to do something physical— and then come back when your batteries are recharged. It's not helpful to be there 24/7," he explained.
Gale and Howard both remain active members of the Sisterhood and the Breakfast Group. Gale has become a kind of informal ambassador to new Sisterhood members, and Howard has missed only one Breakfast Meeting since he started attending. As a couple, they've appreciated and embraced NYBRA's integrated approach to healing patients and families.
"Their whole thing is to get you well again. It's not just plastic surgery, it's to get you well again."
More Patient Stories
Our patients are the most essential part of the NYBRA community. No two stories are alike.