Paying it Forward into the New Year
December 29, 2022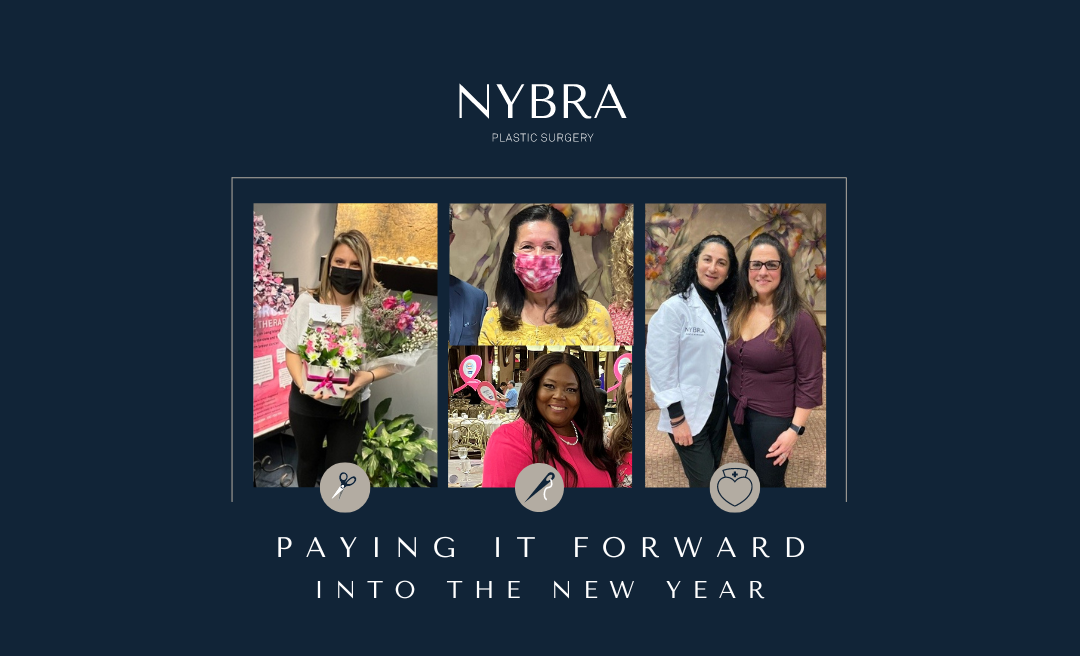 The days preceding a new year often prompt reflection on what you have said, done, seen, and heard in the year that is coming to an end. The NYBRA community had another big year, full of education and patient connection. A proper Year in Review is on its way, however we wanted to take a moment to highlight a few patients who talked to us about paying it forward in 2022. While we were privileged to hear from countless patients this year, these individuals inspire us to find ways to be of service and follow our instincts day-to-day.
Take a moment to revisit their stories and perhaps find some inspiration of your own!
Shifting to a career of service.
Our patient, Anna, first came to NYBRA after being diagnosed with ovarian cancer. She chose to have a tummy tuck along with her hysterectomy. As she recovered, she got to know NYBRA's resident RN, Bella. That relationship prompted an unexpected career shift. "I happened to mention to Bella that I always wanted to do nursing, and she was like 'why don't you?' I said I was already in my forties. Then she shared her story."
Read the full story here.
Using her skills for good.
Before Jenn was referred to NYBRA, she endured six years of post mastectomy pain syndrome, a chronic pain condition that affects some women after breast surgery. In 2016, she underwent bilateral mastectomies with implant reconstruction that left her in severe pain. Despite diligent physical therapy and self-care, extreme discomfort disrupted her daily life and made her work as a hairdresser challenging. She underwent a revision procedure with Dr. Jonathan Bank that relieved pain and restored mobility in 2021.
Now, a year after her surgery, Jenn is already giving back. She has started doing complimentary haircuts for individuals who are going to lose their hair during chemotherapy. She and her daughters have also become involved in fundraising efforts to help women access cold-capping, a tool that helps some chemotherapy patients keep most of their hair during treatment.
Read her full story here.
Finding simple ways to help.
NYBRA's Patient Empowerment Program has created a network to help produce a number of handmade items for each of our breast reconstruction patients. While it may seem daunting to join the call to create, a few of our patients have shown that you need not be able to sew to help with these vital projects. Earlier this year, we spoke with Lexy, a patient who called on her friend, Karen, to do the sewing. Lexy works with Mollie to source materials for Karen, who is a professional seamstress. Their coalition highlights the power of community and the importance of reaching out to those who can be of assistance when you feel you cannot. You can read more about them here.
Another patient, Patricia, explained that helping is often as simple as grabbing a pair of scissors. Patricia is gifted with a sewing machine. She has become a vital member of the patient network responsible for creating femPower Belts. Beyond sewing them herself, she found a creative way to include her niece, who needed community service hours, despite the fact that her niece does not sew. She said that the entire sewing process was expedited when her niece simply cut the elastic used for the belts ahead of time, which gave Patricia the opportunity to jump directly into sewing. Learn more about her story and how to get involved here.
Blog