It's Never Too Late to Become A Nurse:  Inspiration at NYBRA Paves the Way To Greatness
May 18, 2022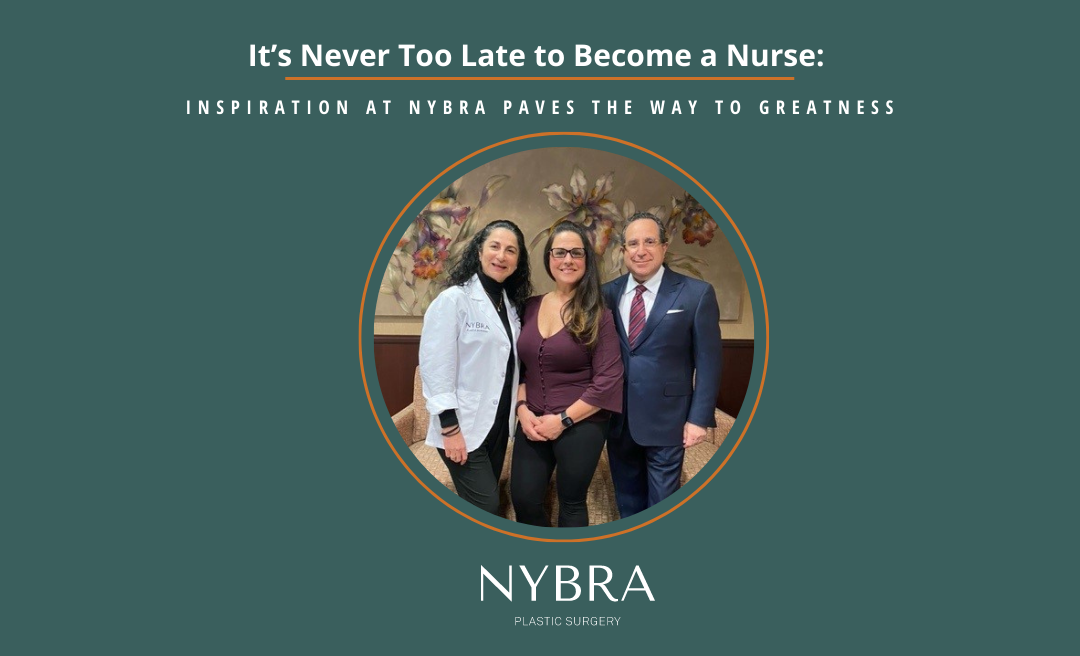 When Anna was diagnosed with Stage I ovarian cancer in 2005, she saw an opportunity to pair her treatment with an aesthetic procedure. She had no idea that decision would be the first domino in a major career shift.
"It was all in the one ovary, but we did a full hysterectomy. I said to my surgeon, 'I would love to have a tummy tuck.' Then, I found out that they could do them at the same time," she said.
Anna went for consultations with a few plastic surgeons to assess her options. She said she knew NYBRA was different from the moment she stepped into the office.
"The office was immediately so kind and caring."
Anna chose to have an abdominoplasty with Dr. Randall Feingold at the same time as her hysterectomy. In the weeks that followed, she got to know NYBRA's nurse, Bella, who helped her monitor drainage and aftercare during recovery.
"I happened to mention to Bella that I always wanted to do nursing, and she was like 'why don't you?' I said I was already in my forties. Then she shared her story."
What followed was a thoughtful conversation that triggered a paradigm shift for Anna. Bella had just immigrated to the United States with her son when she pursued nursing. Anna, who had been a legal secretary for ten years, thought about the exceptional patient care Bella provided after what seemed like an unusual road to nursing. She decided that perhaps it was not too late for a change after all.
"In the summer of 2006, I joined the volunteer fire department, because they had an EMT program, and they would send you to school for free. It was only twice a week that you went to school; I was able to handle that. Then, from there, about a year later I found out that they hire EMTs in emergency rooms and started working at Northshore Manhasset."
Anna moved through nursing school one course at a time while working as the emergency room's resident EMT. After she finished nursing school, she continued to work in the Emergency Department for five years before transitioning to an occupational nursing role with the MTA.
Seventeen years later, Anna decided she wanted a thigh lift and immediately knew that she wanted to return to NYBRA.
"I went back to that office just knowing I'd be cared for again. I went right back to Dr. Feingold," she said.
"Anna's story speaks volumes about her determination to overcome the challenge of illness and simultaneously improve her self-confidence and self-esteem. It is amazing that she channeled that experience into a profession where she could then help others. It is especially humbling to have her return so many years later for another procedure. One of the best aspects of a plastic surgery practice is the lifelong relationships I develop with my patients and their families," Dr. Feingold said.
Not only did Anna look forward to the kind of treatment she had received nearly twenty years before, she was also thrilled to have an opportunity to thank Bella for her care and inspiration.
"I said, 'You may not remember me, but you made me feel so good that I decided to become a nurse.' Bella is awesome, and that's really all I have to keep on saying. She planted the seed, and that's what I needed."
When Bella first heard the news, she felt honored to make a difference in someone else's life.
"Growing up, I always had a dream to become a nurse. To heal, inspire, and give back to my community. Working alongside a talented team has helped me achieve this dream. Anna has brought a smile to my face, and the entire NYBRA Team is very proud of her," she said.  To Anna, she added, "Keep climbing!  You can do anything you set your mind to."
Blog