This Little Pocket: Hey, It Works!
March 8, 2023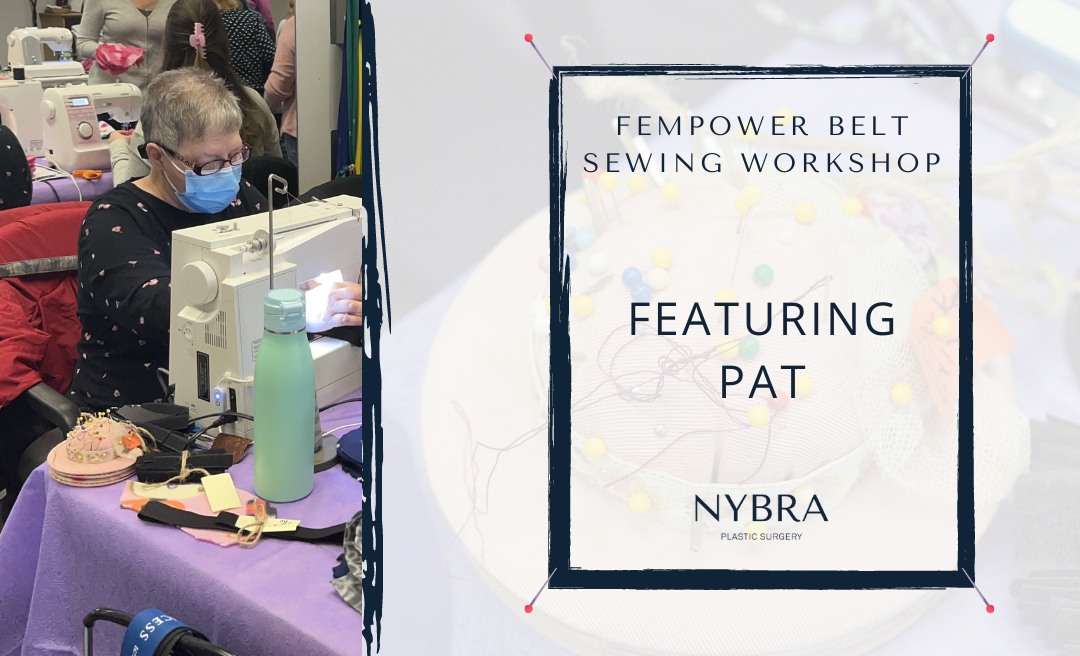 "I've sewn for them before; this was the fifth time. One other time I did something on my own. Another time we made safety belt cushions—we had a bunch of people in a workroom," Pat recalled, reflecting on the times she's used her love of sewing to help our practice community.
Pat was one of the 29 individuals who joined NYBRA's Patient Empowerment Program Clinical Director, Mollie Sugarman, and Full Circle Physical Therapy's Clinical Director, Diana Tjaden, for a FemPower Belt Workshop. FemPower Belts are among the handmade goods NYBRA patients receive before surgery. Designed by a patient who wanted a better way to manage her postoperative drains, these hand-sewn elastic belts feature cloth pockets which both hold and conceal drains.
Pat first had breast cancer when she was 44. At that time, she was treated with lumpectomy, radiation, chemotherapy, and the oral chemotherapeutic agent tamoxifen. Eighteen years later, a routine mammogram uncovered a recurrence. Pat said she had decided what she would do in the event of a recurrence many years before.
"I had already made up my mind. I said, 'listen, I'm not doing this again. You're taking both of these off.'"
She came to NYBRA in 2015 and underwent bilateral mastectomies with DIEP flap breast reconstruction with Dr. Randall Feingold.
"We went to see Dr. Feingold, and he was extremely helpful. Everybody in the office was trying their best to do everything they could for us. It was a caring experience. They really do care about the people that are there that they serve, everybody. When you find an office like that, you know that they're doing the right thing."
Since then, Pat has found time to pay it forward by helping to replenish the products that she received before surgery. She has heeded the call to sew on multiple occasions, even through a third brush with breast cancer in 2021, when cancer appeared in one of her lymph nodes, which had to be removed. She said that one of the pouches she received prior to her DIEP flap came in handy after that procedure. However, that was not the first time she had re-used one of them. Three years ago, she lent her husband a pouch after a gallbladder removal surgery.
"He went home with a drain from the surgery— just one—and I still had some of the little pouches. I had saved them, and I said to my husband 'here, use this!' So, we pinned it onto his boxers just to keep it in place. When we went to the surgeon for a follow up, the surgeon looked at him with this little pocket and said 'what the heck is that?' He was laughing. He said he never saw anything like that. I said it's from when I had surgery, I said, 'hey, it works!'"
As someone who enjoys sewing as a pastime, Pat said she was happy to help put together such simple, useful items.
"I like to crafty-sew. I like quilting. It's just something I enjoy doing, so when Mollie says to me 'we need some pouches' I say 'bring them on!' I am so willing to do this. I'm happy to do it, after everything."
Blog