Embracing the Power of Choice: Michelle's Choice to Protect Her Family and Mind
March 3, 2023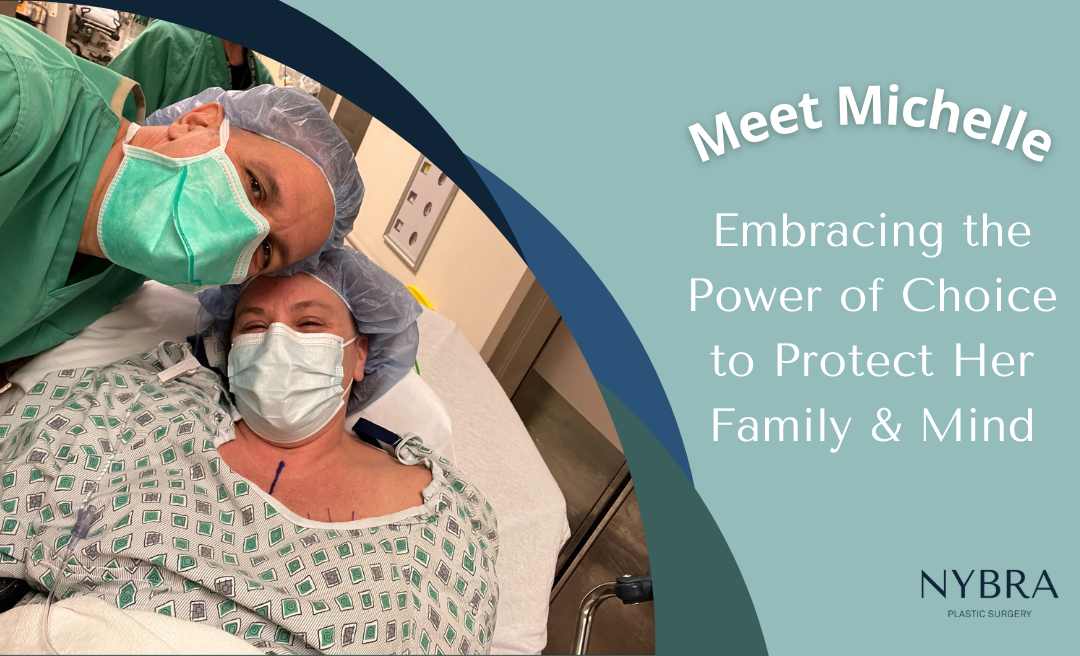 "Breast cancer awareness was always something I was passionate about even before anyone in my family was affected," Michelle explained.
As Michelle's life unfolded, her family was, in fact, affected. Her 35-year-old aunt was diagnosed with breast cancer. Michelle began screening mammograms at the age of 34. Michelle herself had already had a benign lump removed from one of her breasts at the age of 25. Her breast surgeon told her that she would likely have to deal with breast tissue abnormalities throughout her life due to her dense breast tissue.
"Every year they seemed to find something to biopsy. And every single time I went for a mammogram, my heart was in my stomach for a week. The scan-xiety was real, even though nothing was malignant," she said.
Amid Michelle's struggles with screening, unrelated health testing showed that her mother had precancerous tissue in her breast in 2012. Michelle's mother was placed on an oral hormone therapeutic agent called tamoxifen but stopped taking it when she could no longer physically tolerate the medication. In 2019, Michelle's father passed away. Then, in August, 2020, less than a year later, her mother's precancerous breast tissue became breast cancer. Her mother underwent bilateral mastectomies with DIEP flap breast reconstruction and chemotherapy.
"I have an 18-year-old son who watched his grandfather die. He had to watch her go through this, too."
In 2022, Michelle learned that she, too, had LCIS. As she assessed her options, she recalled watching her older son cope with his grandmother's illness. He dyed his hair pink and got pink shoelaces for this whole football team. Her younger son was only five years old.
"It was an instantaneous decision. I didn't want to put my kids in a position to have to go through this again and I didn't want the tamoxifen."
Michelle chose to have bilateral mastectomies in response to three precancerous markers in her right breast. While she said she initially made the choice for her children, she quickly realized that it was the best decision she could have made for her mental health as well.
"You're stressed out a week or so before you go to the mammogram, you have to wait for results, and then there are the biopsies. You're destroying your mental health for three months every six months."
Michelle underwent bilateral mastectomies with expander-implant reconstruction with Dr. David Light in September, 2022. Postoperative pathology showed precancerous tissue in her left breast as well, reinforcing the notion that Michelle made the right decision for herself.
"I got to choose to say, 'I want to prevent my family from having to go through this.' And after surgery, I got to focus on my pain management and recovery. I can't say enough how empowering and comforting it was to be able to make this decision for myself rather than being told it was something I had to do."
She said that Dr. Light's warm bedside manner and exceptional results provided an additional level of long-term comfort and peace of mind.
"The result really is exceptional. He really is an artist. When you're a woman, it's your second face, in a way. It's what people notice probably before your face. When you make the decision for medical reasons and preventative reasons, you still want those desired results at the end. I'm very happy, and for somebody who has always put a focus on their own breasts, to be happy with the results was huge."
Blog