Tales of the Traveling Chair
April 14, 2023
"It was actually my great aunt's chair: she lived to be 100, and she had it for probably the last 10 years of her life. She had mobility issues, so her daughter—my aunt—who lived with her bought her this recliner. It's one of those that's electric, and it helps you stand up," Diane began.
Diane is a patient of Dr. Peter Korn's and an active member of NYBRA's Patient Empowerment Program. After she received three cancer diagnoses in a single year, Diane underwent bilateral mastectomies with DIEP flap breast reconstruction to restore her body. The Clinical Director of the Patient Empowerment Program at NYBRA, Mollie Sugarman, suggested that Diane try to get a recliner to ease her recovery process. So, she borrowed her great aunt's chair.
"I basically lived in the chair for four months. I slept in it after surgery and all through my chemo," Diane said.
After seeing how comfortable and helpful it was within her healing process, Diane seized an opportunity to pay it forward.
"I was very involved in Mollie's Sisterhood of Support group. As I was weaning myself off of it, someone in the group said, 'I need a recliner,' and I said, 'I have one and you can have it.'"
That was not the end of the journey for Diane's aunt's recliner. In the years that followed, Diane continued to lend the chair to NYBRA patients, many of whom she barely knew. She and her husband, John, would even deliver it to patients who had no way to pick it up. Diane said that it was cathartic to form those momentary bonds where women were able to see her, fully recovered and moving forward. John, too, felt moved by their interactions.
"The people that we met—whether it was them picking the chair up or delivering it to them—I just thought it was so awesome how appreciative they were, it just really felt like a community. You know like churches when somebody's sick and people deliver a meal to the house? The chair was like a warm meal. It was something that was comforting. Logistically, when the practice and Mollie said 'you should get a chair,' it was another thing to figure out, and you already had a lot on your plate. When we showed up, it was like we checked something off the list," John said.
The chair was in three or four homes before the couple momentarily retired it. In the meantime, her aunt made an unsuccessful attempt to sell it. Something inside Diane told her to try to keep the trusty recliner around.
The funny thing is, in between, when I was done circulating it after my surgery like four or five years ago, my aunt tried to sell it, but nobody bit. I said 'just keep it. If you don't mind having it in your basement, just keep it.'"
In December of 2022, her intuition paid off: Diane's sister-in-law's sister, Margaret, was diagnosed with breast cancer for the second time. She, too underwent bilateral mastectomies with DIEP flap breast reconstruction with Dr. Korn. Diane insisted that Margaret use the chair. As Margaret recovered she learned that the visiting nurse who came to help her had a sister who was also set to undergo DIEP flaps at NYBRA.
"She asked if she could lend the chair out even though it wasn't really hers to lend. I said, 'of course!' The chair's back in circulation!"
Mollie expressed, "John and Diane are extremely thoughtful and generous in their commitment to continue to pay-it-forward to newly diagnosed patients and their significant others. They represent the longevity of connection to the practice fostered by the tools of the Patient Empowerment Program. What a pleasure and privilege to know them."
Who knows where the traveling recliner will go next? One thing is certain: we are grateful to have people like Diane and John within our community, sharing openly and spreading comfort.
Blog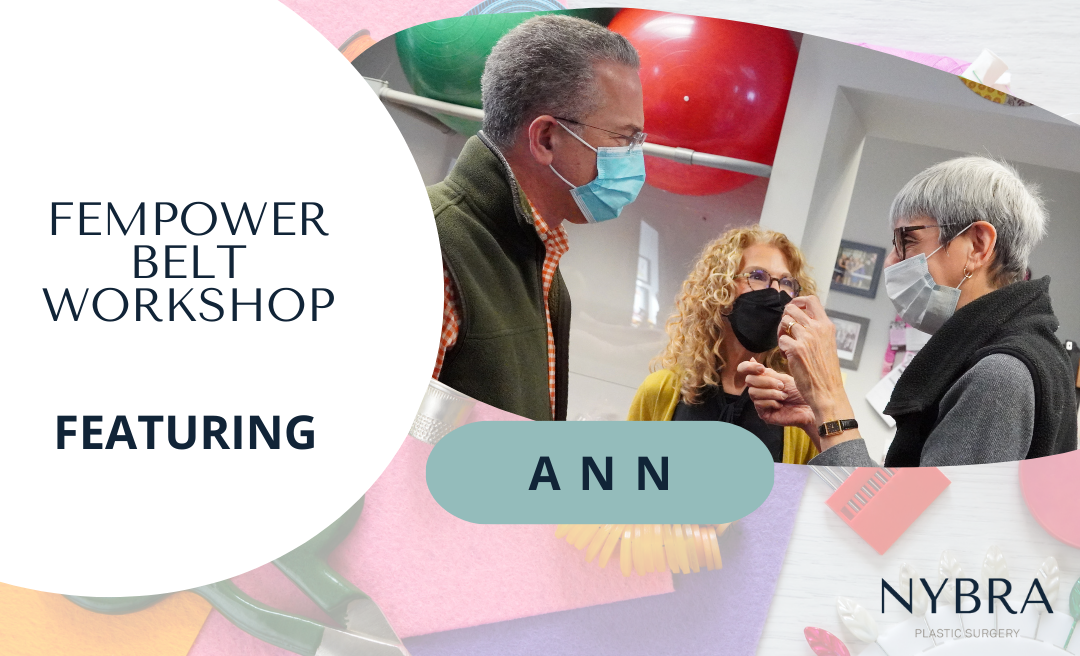 Even With a Rusty Sewing Machine
April 12, 2023
"He sees me as a person and I see him as a person," Dr. Ron Israeli's patient, Ann, said, reflecting on her relationship with her…