Even With a Rusty Sewing Machine
April 12, 2023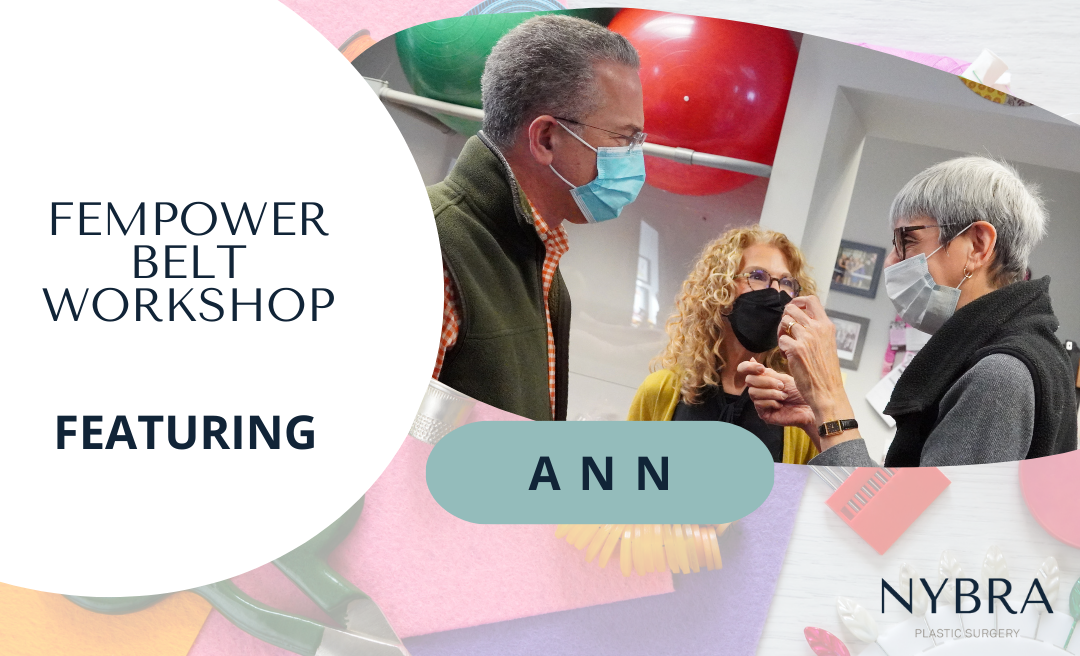 "He sees me as a person and I see him as a person," Dr. Ron Israeli's patient, Ann, said, reflecting on her relationship with her surgeon.
Ann is a long-time member of the NYBRA patient community and one of the first members of the Sisterhood of Support, facilitated by the Clinical Director of the Patient Empowerment Program, Mollie Sugarman. Over ten years after her surgery, Ann attended February's FemPower Belt workshop at Full Circle Physical Therapy. While she does not describe herself as "much of a seamstress," she has participated in several sewing events.
"We had bought a Kenmore sewing machine when my daughter was into costumes and cosplay and would sew costumes. I think I've done about 4 or 5 of these workshops over the years. When I went to the one in February, in the box with the sewing machine, there was a flier from a workshop at Diana's house maybe six or seven years ago," Ann said.
Ann was diagnosed with breast cancer in her late fifties. She initially underwent a lumpectomy. Subsequent genetic testing revealed that she had a BRCA2 gene mutation. At that point, she decided to undergo bilateral mastectomies with direct-to-implant breast reconstruction with Dr. Israeli. Her recovery was uncomplicated, but Ann said she thought it would be wise to attend a few then-new Sisterhood of Support meetings to gain insight into how other people were handling their experiences.
"It was very helpful to realize that you're not alone in this. What you're going through other people are going through, too. They have wisdom to share, and you have some wisdom to share. You can draw support and give support. There was a real shared, let's-make-the-best-of-this together kind of feeling, grounded by Mollie's practical, sound, guidance," she said.
The Patient Empowerment Program has since evolved to include specific groups for individuals with gene mutations, but at that time, a small group of women gathered to discuss the whole range of experiences. To this day, Ann maintains relationships with some of the early SOS members. As things change, she remains committed to helping in any way that she can. In February, that meant taking some fabric home from the workshop to sew after she recovers from cataract surgery.
"I don't think [FemPower belts] had been invented when I had my surgery. The day you could take the drains out after surgery, that was like a giant leap forward in terms of your recovery. So the idea of having something soft and easy and in a bright color was a great thing, just a little small plus. That's another reason why even with my rusty sewing machine, I'm willing to help whenever I can. Once my cataract surgery allows me to better thread a sewing machine needle, I will sew up the rest of them!"
Blog