No Matter What Age, What Stage or Where You Are
March 29, 2023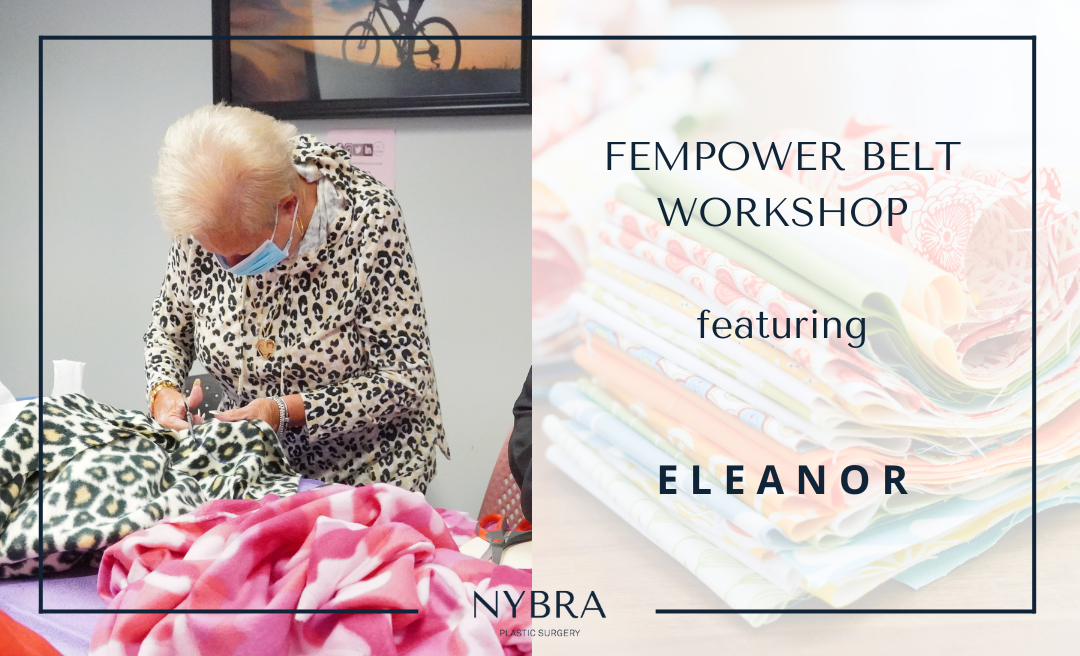 "To me, it never feels like 10 years. I think it's important for everyone to try to do what they can to give back. Maybe it's knowledge or just a hug or making these belts. There was someone who made my belt and made it easier for me: thank you very much to whoever you are," Eleanor said.
Eleanor attended last month's FemPower Belt Workshop at Ivy Rehab, 10 years after undergoing bilateral mastectomies with natural tissue reconstruction with Dr. Ron Israeli. At the time of her breast cancer diagnosis, she was offered breast conservation therapy. Eleanor said her emotional needs played a role in her treatment decision.
"This is not only a medical thing that you're going through. It's an emotional roller coaster. We're not all a statistic. We're not all a number. Yes, all of these statistics may help in making decisions, but we all have different feelings."
Dr. Israeli's deep understanding of the emotional ramifications of breast reconstruction, coupled with his sense of humor and the support NYBRA's office provided helped Eleanor feel some peace on that roller coaster.
"I happen to like Dr. Israeli, because he has a dry sense of humor and I happen to think humor is very important when you're going through anything. I appreciate it, because it breaks things up. It's especially helpful when you're a woman working with a man, and you're wondering if they really understand."
All these years later, Eleanor said that the emotional realities of what she experienced remain fresh. That is why she is so appreciative of the Clinical Director of the Patient Empowerment Program, Mollie Sugarman, who she praised for working to address the often-overlooked mental health component of breast cancer. For Eleanor, the Sisterhood of Support was a source of affirmation and reassurance.
"It was such an eye opening, great experience to see various women at various stages of various backgrounds—young, old, middle—all going through it. The group was wonderful, because whatever I was feeling or thought, if somebody didn't come out with it, I could voice it. For me, I think that was a lifeline, because it meant a lot to me. You could voice your opinion or give your view. It means so much that you've been on this journey and you've understood."
Eleanor had attended a prior FemPower Belt Workshop. When the opportunity to join another one presented itself, she jumped at the chance not just to give back to NYBRA's patient community, but also to connect with patients and providers.
"I also wanted to reconnect. Of course there weren't that many people who I knew from previous years. When I heard it was in Diana's [Ivy Rehab] office, I had to go, because I wanted to see her. I think she's fantastic. She has such a good heart."
Eleanor encourages women who have undergone breast reconstruction to reassess their overall wellbeing on an ongoing basis and to keep an open line of communication with their care team.
"I think that no matter what age, what stage, or where you are, if you feel that something doesn't look right, you know you can go back and get it done. You're the one who looks at yourself when you get in the shower. It's going to take up space that you don't need."
Blog