Full Circle Joins NYBRA's Making Strides Team
October 7, 2022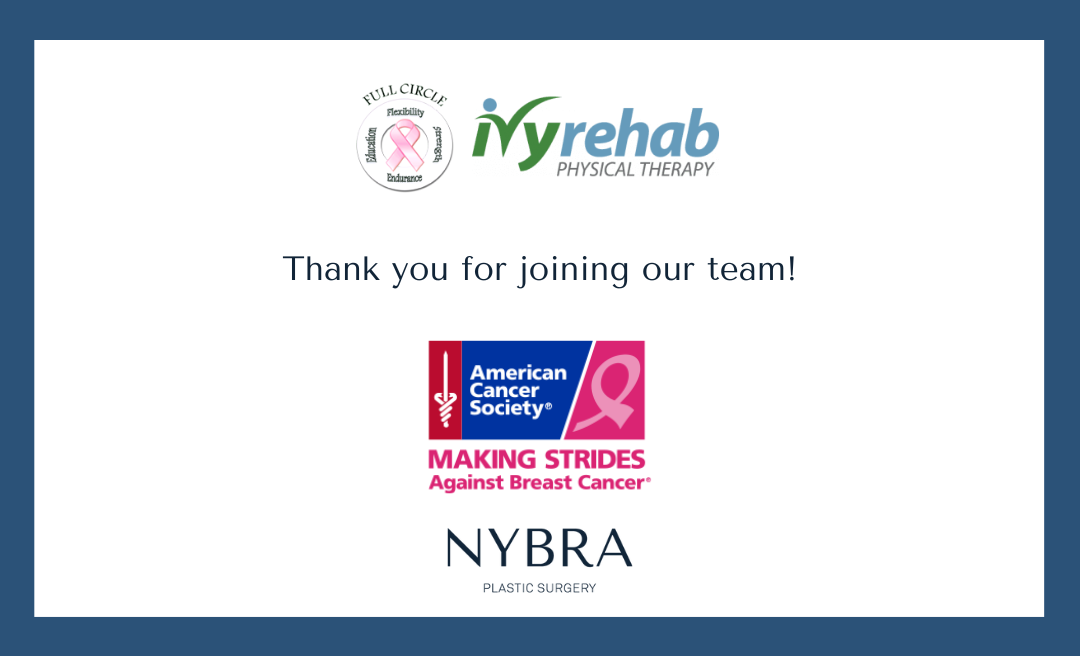 Making Strides Against Breast Cancer is a time to come together to find a cure for this disease. That's why we're so excited to have Full Circle Physical Therapy on our Making Strides Team! This year, the Full Circle Team joins NYBRA, pooling our resources for this incredible event.
"We used to do it when we had the practice by myself, and we raised a decent amount of money, but then it kind of tapered off," Full Circle's Clinical Director, Diana Tjaden explained. She and her colleagues started merging their fundraising efforts with NYBRA a few years ago as a result.
Full Circle Physical Therapy is a highly specialized physical therapy practice based in Garden City that works exclusively with breast cancer and reconstruction patients. Its tailored program enhances flexibility and mobility in postoperative patients, improving quality of life and in some cases reducing pain. This vital rehabilitation component is often overlooked. NYBRA has been working with Full Circle for many years. We recommend physical therapy to all of our breast reconstruction patients. Diana is also involved in the Breast Relief initiative spearheaded by Dr. Jonathan Bank, which takes an interdisciplinary approach to addressing post mastectomy pain.
Full Circle recently joined the Ivy Rehab Network in hopes of making its program accessible to more patients. They now have a physical therapist trained by Diana in Ivy Rehab's Northport location on Tuesdays and Thursdays. Their flagship location in Garden City remains the only breast cancer in Ivy Rehab's 382 offices across the country. As they extend their reach, Diana said they are also expanding their fundraising efforts a bit.
"We're going to try to fundraise within the offices and just see. We're going to make a sign to display where our goal is and give contributing patients little prizes," she said.
We are proud to work with Full Circle both in our practice and on the boardwalk at Jones Beach on October 16th! Look out for a few members of their team under our tent—they'll be joining us and bringing a few things to hand out as we gather to get ready for the walk.
There is still time to donate or join our team here! We can't wait to see you there.
Blog