Collecting Over 100 Countries: A World-Traveling Woman's Journey During and After Cancer
December 14, 2022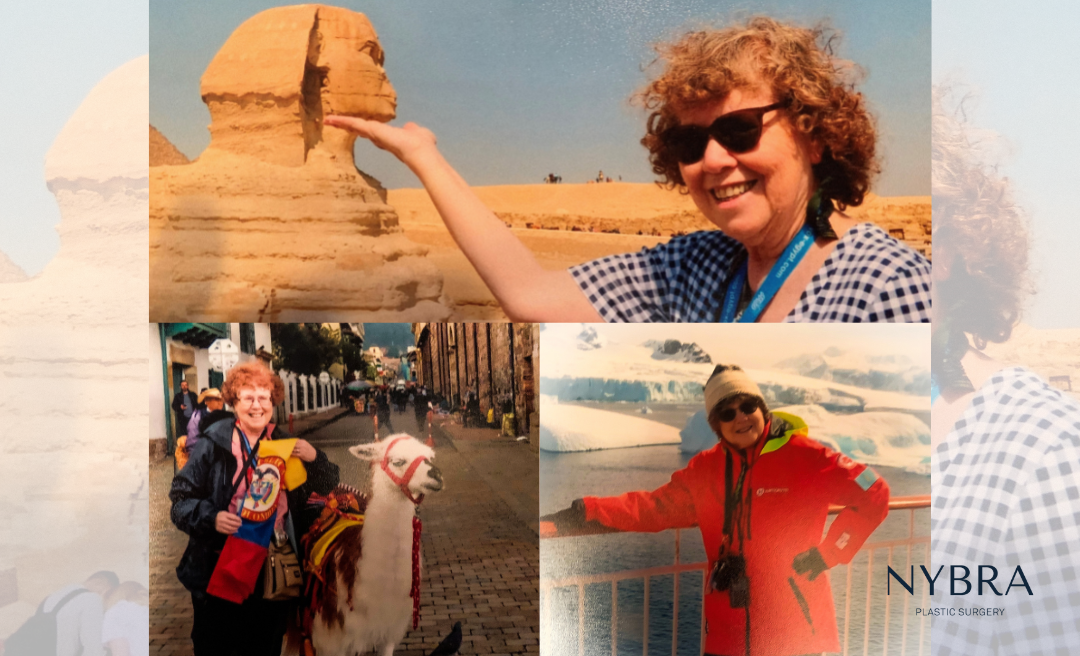 When Ann was diagnosed with breast cancer in her seventies, she was not surprised. In fact, she felt that it was a long time coming.
"My mother had breast cancer when I was child, and I had been kind of waiting to have it."
It was January, 2018, when her routine mammogram uncovered something suspicious. A biopsy found cancer. While Ann was naturally concerned about the diagnosis, she was just as concerned about something else.
"I had plans to travel to Colombia in February," she explained.
At that point, Ann's goal was to visit 100 countries. She and her husband had collected 90 or so country names by the time she was diagnosed. She had no intentions of letting cancer slow down her progress or dampen her spirits. Fortunately, her oncologist was able to put her on an oral medication that would allow her to confidently delay her surgery.
"They said they could do my surgery after Passover. We went to Colombia and knowing that I had cancer didn't stop me from having a great time there," Ann said.
While they were away, they even added a cruise to the trip. That cruise added seven more countries to their list. Ann returned, then quite close to her 100-country goal and ready to finish treating her breast cancer.
Ann underwent bilateral mastectomies with immediate DIEP flap breast reconstruction with Dr. David Light on Friday April 13, 2018. Her recovery was as remarkable as her travel record. She was home by Sunday, walking steps by Monday, and by Friday she was out and about at temple.
"The physical therapist and the visiting nurse that came said they couldn't even justify coming back. I was in no pain. I was back to doing everything in like two weeks."
Her first thought was her destination list.
"I just looked at my list of travels. In August of 2018, we took our first vacation post-surgery. We decided that we were going to go back to traveling right away."
Ann said that some of her confidence in her ability to get back to globetrotting came from her experience at NYBRA.
"My first experience was with Mollie. Just talking to her—not that I was all that upset to begin with—she reinforced everything."
Mollie shared, "What an extraordinary experience to work with Ann! She exemplifies the impact of a positive mindset on the healing process. Her ability to plan and experience life beyond diagnosis is amazing; it has buoyed her through the yet another of her 'journeys'."
Between Mollie's tools and Dr. Light's support, Ann felt certain that she would come out of her mastectomies and reconstruction ready to take on the world again.
"That's probably why I was fine: he knew everything that he was doing. He made me feel so confident that I would come out of this and go back to my traveling. And everything else they set me up with—they had free bras; they got me in touch with people who would have get-togethers for thrivers; they had kayaking—there were just so many services available. They made sure I knew that if I needed help with anything, I would get help."
Since her surgery, Ann has been to Antarctica, Egypt, Bulgaria, Serbia, and Romania, with more to come. Through her travels she's walked lions, fed tigers, held Koalas, gone scuba diving, gotten up close and personal with rare birds and more. Her country count is well past her initial 100 name goal, but she is far from finished. As Ann continues to collect experiences, she encourages newly diagnosed patients to transcend their fears.
"When you get the diagnosis it's extremely scary and you think the worst immediately, but it doesn't have to be bad. You can actually come out of it feeling that it was positive in a lot of ways. I met people I never would have met. It sounds funny to say it, but other than the fact that it was cancer, it was a positive experience."
Events