PinkAid Annual Luncheon and Fashion Show
October 26, 2021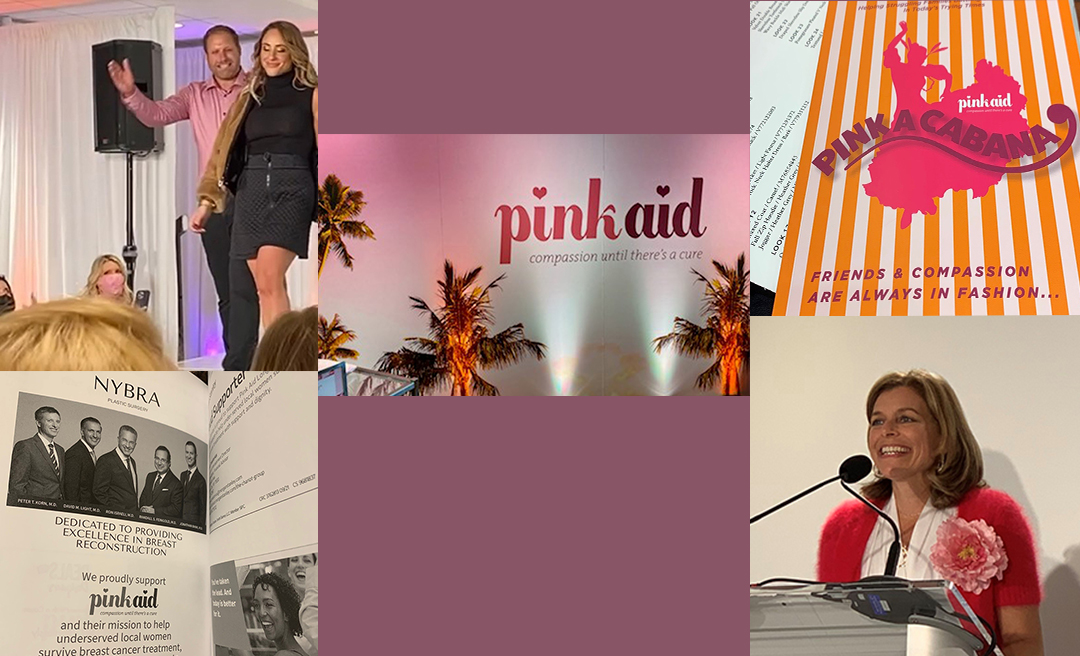 Pink Aid Long Island held their 8th annual Luncheon & Fashion Show on October 21, 2021. Last year's event was virtual, so it was refreshing to be able to see so many people get together for this great cause. As a proud supporter for PinkAid's mission, we were honored to be a part of this memorable fundraising event.
Pink Aid Long Island President, Lauryn Koke, welcomed guests and began the programming with an inspirational video of a PinkAid recipient. A mother of young children was diagnosed with breast cancer and was unable to pay her utility bills. Support from PinkAid helped her keep the lights on, literally and figuratively. PinkAid's mission is to help underserved local women survive breast cancer treatment, provide screening to women in financial need, and empower breast cancer survivors to heal. This was just one of the hopeful and emotional stories of women fighting breast cancer every day.
WABC-TV News Reporter, Stacey Sager addressed the audience with her own story of breast cancer and how it has affected her life from a young age.
"Women in underserved communities are more at risk for breast cancer because they're just not getting screened. And they're not going to get screened if it means missing work. And if missing work means missing a paycheck, or missing a meal. They're not going to get screened if their insurance won't pay for it or if they don't have insurance," WABC-TV News Reporter, Stacey Sager said.
Stacey Sager shared her own story of being diagnosed with breast cancer at the age of 30. Twelve years later, she would face another diagnosis of pre-invasive cancer in her fallopian tubes. She was later diagnosed with a genetic mutation for breast and ovarian cancer.
"My curse became my blessing," she adds. Through her journey, Stacey has made it her mission to inspire women to get out and get screened.
"Do you know that just by me doing stories on my own cancer, just by people talking about breast cancer this whole month, more patients will get mammograms, more breast cancers will be found early. Not all of them, unfortunately, but more," Stacey said.
While Breast Cancer Awareness Month is ending in a couple of days, breast cancer is a topic we should be discussing every day of every month until it is eradicated. And for women who need financial help in order to be screened, organizations like PinkAid can help.
"It's not enough to do for ourselves. Do for those who need it. Even if it is difficult. Help them out of that darkness. Help them survive in the light. For someone else, it truly could mean the difference between life and death," Stacey concluded.
The event continued with a live auction and paddle raise to fundraise for the mission followed by a survivor fashion show and boxed lunch.
The Celebration of Life Fashion Show featured nine women, each with a special someone who helped them through their journey. One of the models participating was Zandra, who has bravely shared her breast cancer journey with the Instagram community over the last year. Zandra was diagnosed last October with a rare form of breast cancer called Paget's disease. Paget's disease of the breast accounts for approximately 1% of all breast cancers. Dr. Israeli recently profiled her story.
Zandra walked the runway with her husband, Grant. "Everything happens for a reason, every cloud has its silver lining and what doesn't kill you really does make you stronger." ~ Zandra
Check out our photos from the event. Special thanks to Amanda Light for photo contributions.
Blog