Peace at Sea: Kayaking Outings Honor a Patient's Legacy
July 28, 2021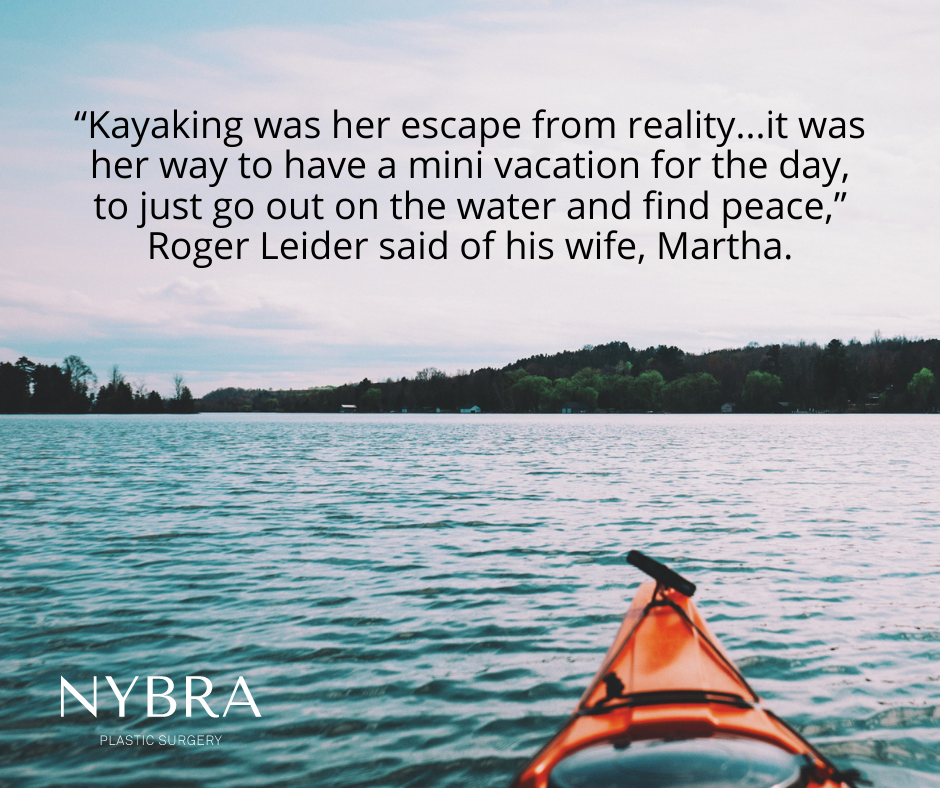 "Kayaking was her escape from reality. She'd been kayaking for years before she was ever diagnosed with breast cancer, but after it was her way to have a mini vacation for the day, to just go out on the water and find peace," Roger Leider said of his wife, Martha Leider.
Martha was first diagnosed with breast cancer in 2006. She had a mastectomy and reconstruction, and for nine years she lived cancer-free. It returned in 2015. She passed away two and a half years later, in November of 2017. Her love of kayaking gave her solace even during those difficult times.
Roger created Martha's Kayak in 2018. Martha's Kayak is a non-profit organization that provides kayak instruction and outings for breast cancer patients to honor Martha's legacy and to share the peace she felt out on the water with other people going through similar things. Events are free of charge to participants and include a luncheon and speakers.
Roger said he was inspired by Casting for Recovery, an organization that puts together fly fishing retreats for breast cancer patients.
"I wanted to do something similar but a little bit different, more focused on what she loved to do."
This year's event will feature a speech from NYBRA Patient Empowerment Program Clinical Director, Mollie Sugarman.
"Dr. Israeli was Martha's plastic surgeon. She, frankly, couldn't say enough nice things about him. She had a relationship with Mollie. I did, too. I went to some of the meetings, and I found them helpful," Roger explained.
Dr. Israeli was as fond of Martha as she was of him.
"Martha was always involved with our Patient Empowerment Program events. I will never forget her, as she was such an inspiration to those around her," Dr. Israeli said.
Roger and Mollie continued to be in touch as things progressed with Martha, and have remained in contact since. Mollie has spoken at past events.
"It's been a privilege to partner with Martha and Roger. Roger's commitment during Martha struggle and dedication to preserving her memory – extraordinary. She was tenacious in her fight for life and focus on maintaining a positive mindset. I'm honored to maintain the trust and connection with Roger," Mollie said.
Roger hopes that her guidance will further uplift this year's attendees.
"Coming out of the pandemic now, this is the first event that we're doing. I know how isolating that must have been for some of the patients. We're looking at this as a really safe way for people to connect," he said.
The event will take place on August 21, 2021, at Stony Brook Harbor Kayak and Paddleboard Rentals. View flyer. For more information or to register to participate, please contact Roger Leider at 917-842-1484 or rleider@marthaskayak.org. Visit http://www.marthaskayak.org to make a donation to this and future events and to learn more about the organization.
Blog