It's our 20th Anniversary for Making Strides!
July 27, 2021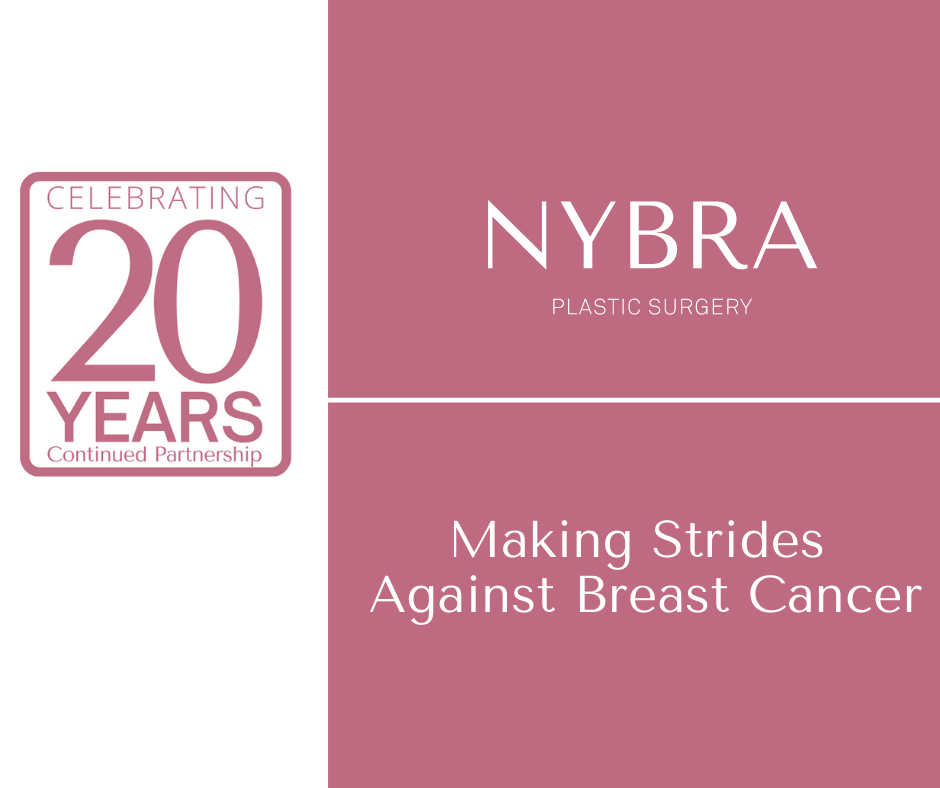 This year marks a special milestone in our work with the American Cancer Society's Making Strides Against Breast Cancer Campaign: we're celebrating twenty years of continued partnership! Our celebration is wedded to sheer gratitude for your overwhelming support and commitment over the past two decades. Your efforts are the backbone of our success. 
Our twenty year anniversary comes on the heels of one of the most difficult years many of us have faced. The COVID-19 pandemic overwhelmed the medical community, claimed many lives, and severely threatened cancer research progress. Despite a very significant decline in revenue, the American Cancer Society was able to maintain 2020 funding commitments because of people like you. Team NYBRA Plastic Surgery can stand tall and be proud of the impact that we have made to help save lives together. 
We have so much to celebrate this year. Making Strides Against Breast Cancer is back in full force, with in person and virtual options to suit your comfort level. Join us as we continue this fight, reflect on the past twenty years, and embrace the return of in-person connection and camaraderie. We invite you to join us on October 17th at Jones Beach State Park or, if you prefer, you can participate in any manner you are comfortable with.
Below are the choices you can choose to help us fight cancer together:
In person walk

at Jones Beach State Park

Use the Strides App Based Walk Experience

Walk with your friends at a local park or in your neighborhood.

Dedicate a Tribute.
Register Today for the Making Strides Movement by visiting MakingStridesWalk.org/LongIsland and follow the attached step by step directions OR call the American Cancer Society: 212-237-3875.
Here are the ways you can fundraise for Making Strides:
Please consider sharing this information on your social media accounts. Invite your friends, families, and others to share in this uplifting event. Please help us raise donations for this meaningful cause. Let's fight cancer together!
Blog