New Approaches to Breast Reconstruction: The Importance of Adapting as Surgeons
December 15, 2021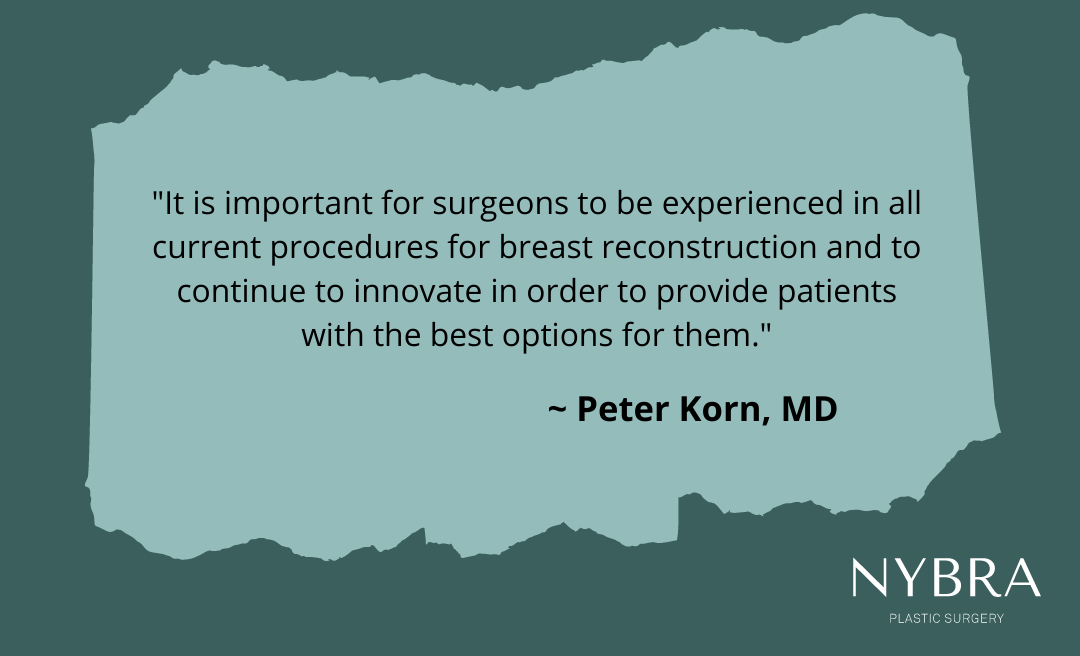 Breast reconstruction has evolved tremendously over the last twenty years of my surgical career. We have improved upon existing procedures such as the DIEP flap that has become the best and most reliable option for tissue-based breast reconstruction for the great majority of patients. Furthermore, new approaches were developed that can accommodate a wider range of patients for whom the DIEP flap isn't the best flap option. For patients who have more tissue in the thighs rather than the abdomen, I have successfully introduced flap options from the thigh, such as the TUG, PAP, and LTP flap to the Long Island community. It is important for surgeons to be experienced in all current procedures for breast reconstruction and to continue to innovate in order to provide patients with the best options for them.
More recently, I introduced a further refinement of the DIEP flap procedure to our community. When we do a DIEP flap reconstruction, surgeons have to ensure to provide sufficient blood supply to the tissue by selecting the best branches of the epigastric vessel feeding into the tissue. Traditionally, if two branches are needed and are separated by muscle fibers, the surgeon can't keep both branches without sacrificing the muscle in between. For some patients who have such vascular branching patterns, this can limit the option of the DIEP flap, or require unnecessary division of muscle to ensure proper blood supply.
A recent patient of mine was not a candidate for a regular DIEP flap because of the small size of her blood vessels and muscle in between. However, performing a procedure that uses microsurgical reconfiguration of the blood supply, I was able to use the desired abdominal tissue as in a DIEP flap procedure. To ensure proper blood supply it allows us to include more blood vessels by dividing the blood vessels in the flap donor area rather than dividing the muscles. The blood vessels are then reconnected using microsurgical techniques to preserve multiple sources of blood flow to the flap. In certain patients, this is needed to provide a quality breast reconstruction outcome while maintaining abdominal strength. This recent innovation helped me offer this patient the reconstruction she wanted, using her abdomen in the safest way possible while preserving her abdominal wall strength.
The DIEP flap remains the preferred natural tissue breast reconstruction procedure. However, everyone has different anatomy, and it is important for surgeons to be able to change the plan if necessary, to provide the best result with the available anatomy.
Blog