Dr. Jonathan Bank Joins The Breasties for a Conversation on Post Mastectomy Pain Syndrome
March 13, 2023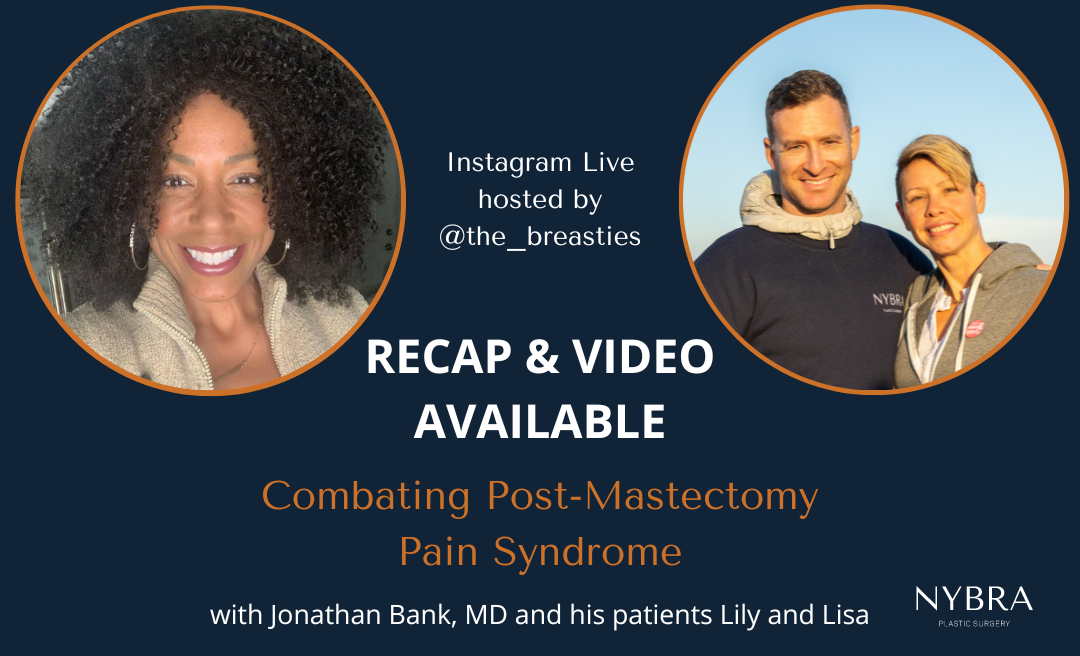 Dr. Jonathan Bank joined The Breasties on Instagram on March 6th, 2023, for a discussion on Post Mastectomy Pain Syndrome (PMPS). This underserved condition involves chronic pain after mastectomy. Dr. Bank and the entire NYBRA team is committed to treating patients with this issue and educating both patients and other physicians on this chronic, underserved condition.
The conversation included input from Lily and Lisa, two of Dr. Bank's patients who experienced the condition. They shared their stories, offering hope and insight for other women. Watch the whole Instagram Live or read on for a few highlights!
Post Mastectomy Pain Syndrome does not strictly apply to mastectomy patients.
"[PMPS is] actually really a subset of post breast surgery pain. It's defined by chronic pain that lasts at least three months—some definitions are longer—from surgery," Dr. Bank said.
While the pain applies to any type of breast surgery, the criteria specifies that the discomfort must be nerve pain. It is typically electric, burning, or itchy in nature. Pain tends to occur in reproducible locations, like the outer and inner parts of the chest and may radiate around the entire chest. The condition affects eight to 10 percent of mastectomy patients.
PMPS is largely the result of severed nerves.
"In order to perform a mastectomy, surgeons sometimes have to cut those structures that run through the breast. If those nerves are not not managed proactively during surgery, we set ourselves up for a potential problem," Dr. Bank said.
He shared a schematic of nerves within the breast and chest. Small nerves run through every rib interspace, sprout toward the skin, merge together and meet toward the middle of the breast, and run under the armpit. The nerves run in conjunction with an artery. Dr. Bank likened the structures to a cable with three wires in it: an artery, a vein, and a nerve.
"If the nerves have nowhere to go, it's like a live wire. We need to create some kind of a channel for them to continue to grow as they want to or they go crazy. "
There is help available to patients dealing with PMPS.
While proper nerve handling at the time of mastectomy can prevent the issue altogether, there are physical therapy-based, pharmaceutical, and surgical relief options for patients after surgery. Dr. Bank created a multidisciplinary program called Breast Relief, which systematically identifies and treats PMPS with physical therapy, local anesthetics, and surgery, depending on the severity of a given patient's discomfort.
For example, nerve grafts can be used to alleviate pain and even—in some cases—restore sensation. Nerves can be transferred from the donor tissue site to the chest during natural tissue reconstructive procedures.
"Nerves really want to sprout back, and they will sprout back, and that's the idea behind creating operations like this. This is what we call a resensation procedure."
It can be important to self-advocate with your medical team before surgery.
Dr. Bank's patient, Lily, underwent mastectomy for Stage 2a breast cancer in her home state of Florida. She had seen Dr. Bank on a prior Instagram live session and reached out to talk about resensation. He tried to help her coordinate with her breast surgeon, but they were met with resistance.
"Dr. Bank talked to my breast surgeon and asked if she could mark the nerves to save. Her answer was 'I'll do what I can to save her life.' That's a valid answer, but could you go a little step further? I'm going to have a life after this," Lily said.
Her comment touched on a key element of medical culture that Dr. Bank is working to shift. Mastectomy and reconstruction techniques have transcended simply saving lives. Given the tools and techniques available, breast and plastic surgeons can and should consider what life after cancer looks like for their patients. Lily ultimately came to NYBRA to have a successful resensation procedure.
PMPS treatment can be life-changing.
Lisa, who is also a patient of Dr. Bank's, took up competitive cycling just three years before she underwent risk-reducing bilateral mastectomies with implant breast reconstruction. She hoped that this proactive choice might spare her two children the possibility of seeing her ill. Instead, debilitating post-mastectomy pain relegated her to a recliner for months.
"I met Dr. Bank when I hit rock bottom. I was dealing with chronic pain and I was dealing with that sharp stabbing pain under one breast where it felt like someone was taking a knife to my ribcage. I was dealing with pain on the other side, where it felt like someone was constantly stabbing me. I also was limited in my mobility. I couldn't raise my arms fully over my head. I couldn't reach a cup in my pantry. Most importantly, I couldn't pick up my babies—my children—and carry them."
She underwent a revision procedure with Dr. Bank in March, 2021. Not only did it relieve her pain and restore her ability to participate in activities of daily living, it gave her the ability to return to cycling. Lisa went on to win state and national cycling championships the following year. Her story is the subject of an upcoming documentary.
Both patients and Dr. Bank encouraged anyone dealing with this type of discomfort to speak up and seek help. You can learn more about treatment options at breastrelief.com.
View this post on Instagram
Events