Choosing Action Over Hesitation
February 2, 2023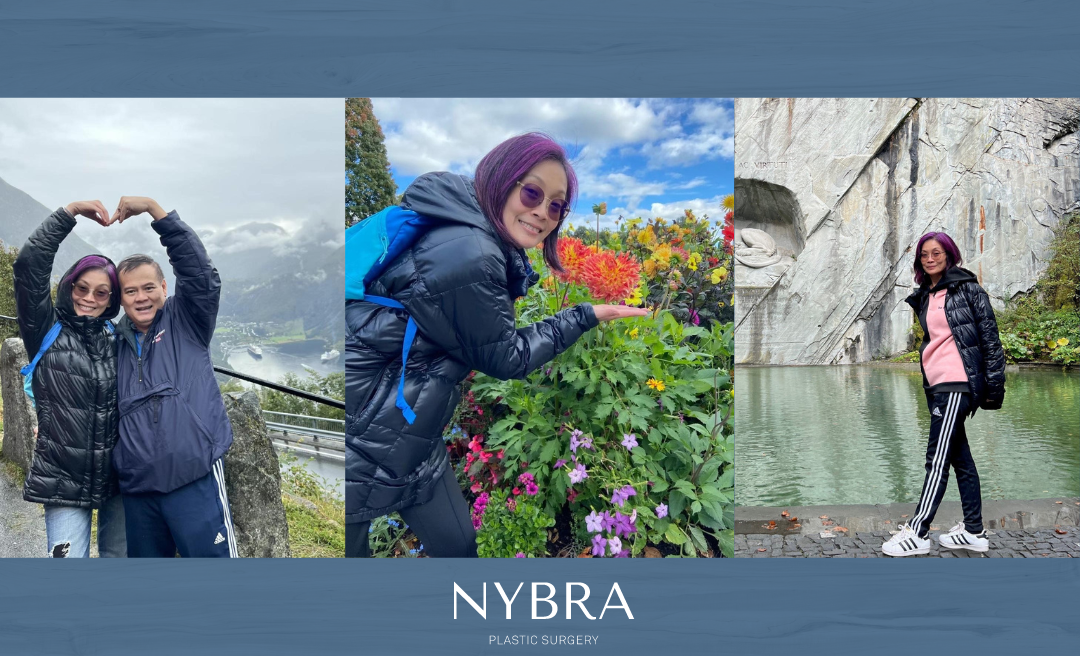 When Dr. Randall Feingold's patient, Jenny, arrived at a follow up appointment with bright blue hair, a tide of smiles washed over the NYBRA office. Patient Empowerment Program Clinical Director, Mollie Sugarman, noticed the fashion choice right away. For Jenny, the decision to dye her hair such a bold color was a small way of embracing the possibilities of life after cancer.
"After I had cancer, I just started thinking about what I had wanted to do that I didn't do before and things that I may have missed out on. Now, I'm like, 'I'm just going to do it,'" she said.
Jenny was diagnosed with breast cancer in early 2022. A routine mammogram detected cancer in her right breast. Subsequent investigation found precancerous abnormalities in her left breast as well, and genetic testing revealed a gene mutation that increased her risk of breast, uterine, ovarian, pancreatic, and colon cancer. Between the atypical cells and elevated risk assessment, Jenny chose to proceed with surgery. She underwent bilateral, nipple-sparing mastectomies with natural tissue breast reconstruction on February 1, 2022.
Dr. Feingold noted that, "Jenny wanted to use natural tissue, but as a petite woman had little abdominal fat to use as DIEP flaps. But I was able to offer her free flaps from her inner thigh fat pockets that produced the right match for her slender frame and gave her a more tapered inner thigh."
Jenny said that while the surgery itself was painful, Jenny said the recovery was smoother than she might have anticipated. She bounced back quickly with her family's support.
"My husband and I are very close. After surgery, he helped me. He cooked delicious food for me; he helped me shower, wash my hair. He helped me with my exercises; he helped with the drains—he did all that."
As she grew stronger, she said she started to think about things she wanted to do moving forward. Jenny explained that she had always wanted to dye her hair pink. In the spirit of choosing action over hesitation, she simply enlisted her husband to help her make it happen. They bought some hair dye and got to work. Now, her hair has been blue and pink, and she and her husband have traveled as they continue to embrace life together.
"I never cease to be inspired by the various coping tools patients embrace to manage their challenging journeys," added Mollie Sugarman, Clinical Director of NYBRA's Patient Empowerment Program.
"I'm just glad I'm still alive, and I felt like the recovery from this surgery was quicker than I expected. The surgery was painful, but I'm glad I had it done."
Blog