A Breast Imaging Primer: Understanding the Significance of Various Diagnostics
March 5, 2022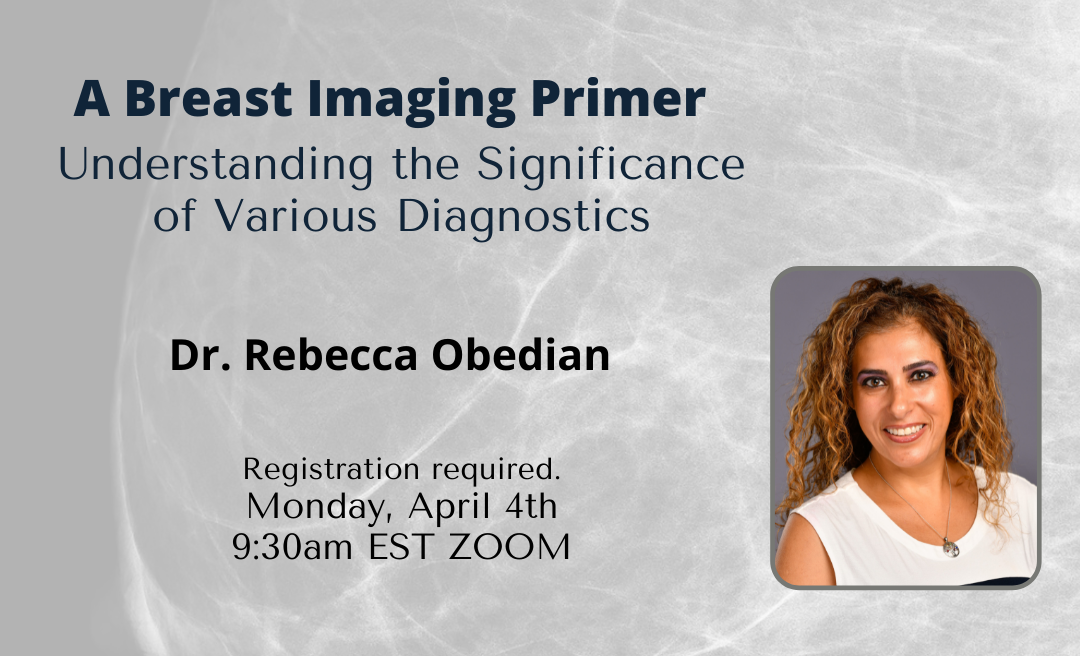 Join us on for our next lecture as part of our Be Informed Lecture Series.
Our guest speaker is:
Dr. Rebecca Obedian
Please join us for this virtual session where we will be discussing the following topics:
What is 3D mammography and importance of it?
What are mammography and breast ultrasound changes seen after Covid 19 vaccination?
Have you seen a delay of diagnosis due to pandemic?
What role does breast ultra sound play?
Who should get an ultrasound or breast MRI?
ABOUT THE SPEAKER

Dr. Rebecca Obedian is a board certified Radiologist who graduated cum laude from UCLA, and received her medical degree from University of Illinois, at Chicago in which she received the Academic Excellence Scholarship Award. After completing an internship in Internal Medicine at North Shore University Hospital, she underwent residency in Diagnostic Radiology at Long Island Jewish Hospital. Dr. Obedian then further advanced her knowledge of breast disease by completing a fellowship in Breast and Body Imaging at North Shore University Hospital, Manhasset.
Dr. Obedian is a long time advocate for Women's Health and has focused her attention to empowering women through increased surveillance for early detection. She has extensive training in breast intervention procedures, as well as diagnostic interpretation of breast MRI's, ultrasound, mammography and breast tomosynthesis. Dr. Obedian is the author of numerous articles for publication, and has also given several oral presentations at Radiological Society of North America. Dr. Obedian was honored by the Lean On Me Breast Cancer Network in 2013 for her dedication and contribution to the care of patients with breast cancer and was also part of several physician panels of multiple breast cancer foundations.
—
The Be Informed Lecture Series is brought to you by NYBRA Plastic Surgery's Patient Empowerment Program. Our monthly Be Informed Lecture Series provides patients with information and insights that are useful at every stage. Experts in the community come to NYBRA to give pro bono lectures on a range of topics, including genetic mutations, dietary insights, and the latest surgical techniques.
Events