Understanding the Patient-to-Patient Caring Team
April 30, 2021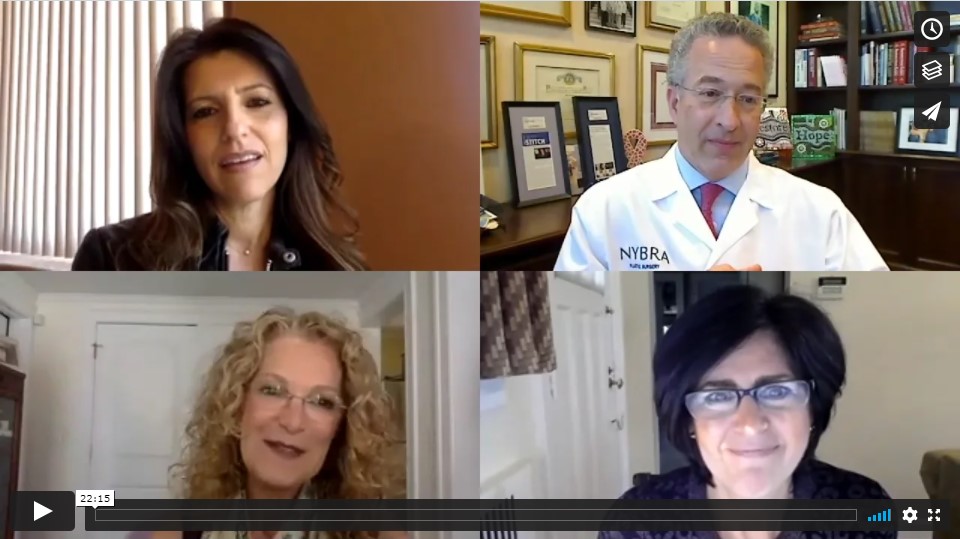 Our staff does everything in its power to let patients know what to expect before, during, and after surgery. However, not even the most robust medical discussion can truly encapsulate experiences that our team has not had firsthand. This is especially true when it comes to breast reconstruction: the best way to really learn its ins and outs is to talk to someone who has gone through it already.
As Dr. Ron Israeli puts it, "I tell my patients, I'm going to be able to tell you, from my perspective, what this involves, what your recovery is going to be like, what the surgery is going to be like, how it's going to be in the hospital, how it's going to be at home, but I can't tell you how it's going to be better than somebody who's actually gone through it."
NYBRA's Patient-to-Patient Caring Team offers every breast reconstruction patient the opportunity to be paired with a patient who had the same procedure with the same doctor. Our doctors work with Patient Empowerment Program Clinical Director Mollie Sugarman to hand pick patients who have as many overlapping factors as possible. Patients who choose to be paired find that the experience allays their fears, as someone who has been through exactly what they're facing is able to disclose every detail of what to expect.
Patients discuss everything from implant size to sleeping positions to their relationships with their doctors. In many cases, unique and intimate bonds form and endure for years after surgery and recovery.
Some patients feel too overwhelmed to speak to someone at the time of diagnosis. It's not uncommon for those patients to reach out after surgery and ask to be connected to another patient. The program is open-ended, which means that these tools are available at any time. Connecting after surgery still reduces stress during recovery. Care partners are able to help recovering patients understand which pains are normal. Active communication with someone who has recovered successfully also inspires confidence and makes postoperative challenges feel more manageable.
Dr. Israeli and Mollie joined a Patient-to-Patient Caring Team pair to talk about the program, how it started, what the goals are, and the kinds of relationships it fosters. Watch the conversation, below.
Blog