Tai Chi: Bring Balance into Your Life.
April 9, 2021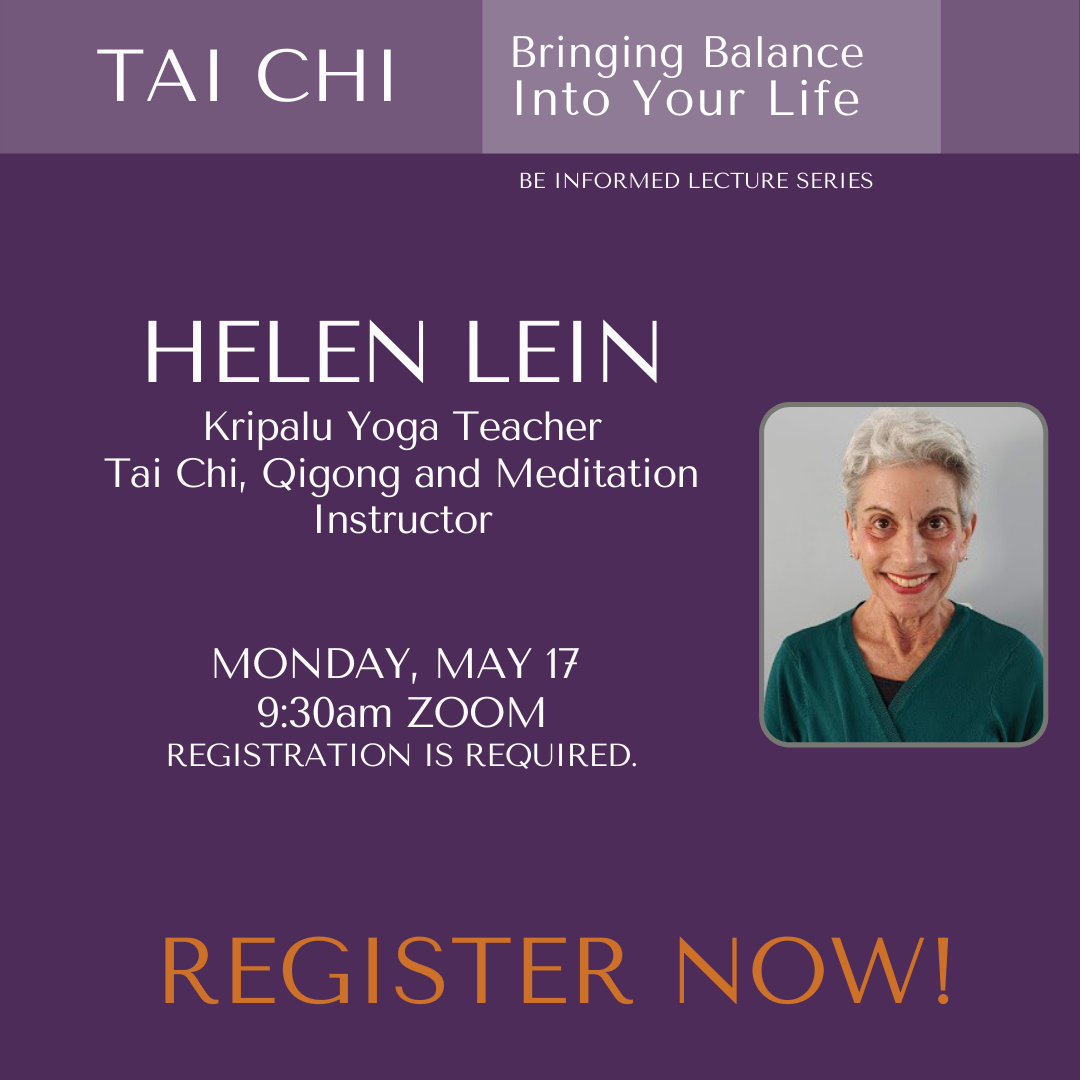 Join us on Monday, May 17, 2021 at 9:30 AM EST via ZOOM for our next lecture as part of our Be Informed Lecture Series. Our guest speaker will be Helen Lein, Kripalu Yoga Teacher, Tai Chi, Qigong and Meditation Instructor.
Registration is required.
This workshop is based upon the ancient Chinese practice of Qigong ("chee-kung"). Qigong is a system of health and wellness developed by doctors over hundreds of years. It is an ancient practice that has been used in China to achieve and maintain optimal health at all ages. Consistent practice over time will help you feel greater ease and comfort, and help you view your life with a deeper sense of peace and joy.
Breath – Attention to breath diverts our attention from the thoughts that race through our minds and overtake us. Slow, relaxed breathing calms as well as nurtures our bodies.
Mind – Observing what is going on within us and around us, without judgment, anticipation, judgment, or fear. Experiencing each moment as it is. Cultivate serenity and joy within.
Body – Slow, graceful movements, aligned with breath, soften and strengthen the body, allowing deeper healing.
Gratitude – Find what we are grateful for and keep our attention on THAT!
ABOUT THE SPEAKER

Helen has been teaching Yoga, Tai Chi and Meditation for over 25 years. She uses the teachings and philosophies of Yoga and Tai Chi to help those people find inner and outer strength, and to cope with the health challenges that they face.
</td>
—
The Be Informed Lecture Series is brought to you by NYBRA Plastic Surgery's Patient Empowerment Program. Our monthly Be Informed Lecture Series provides patients with information and insights that are useful at every stage. Experts in the community come to NYBRA to give pro bono lectures on a range of topics, including genetic mutations, dietary insights, and the latest surgical techniques.
Events