Rachel Beller Discusses Long-Term Strategies for Digestive Health and Cancer Prevention
June 21, 2021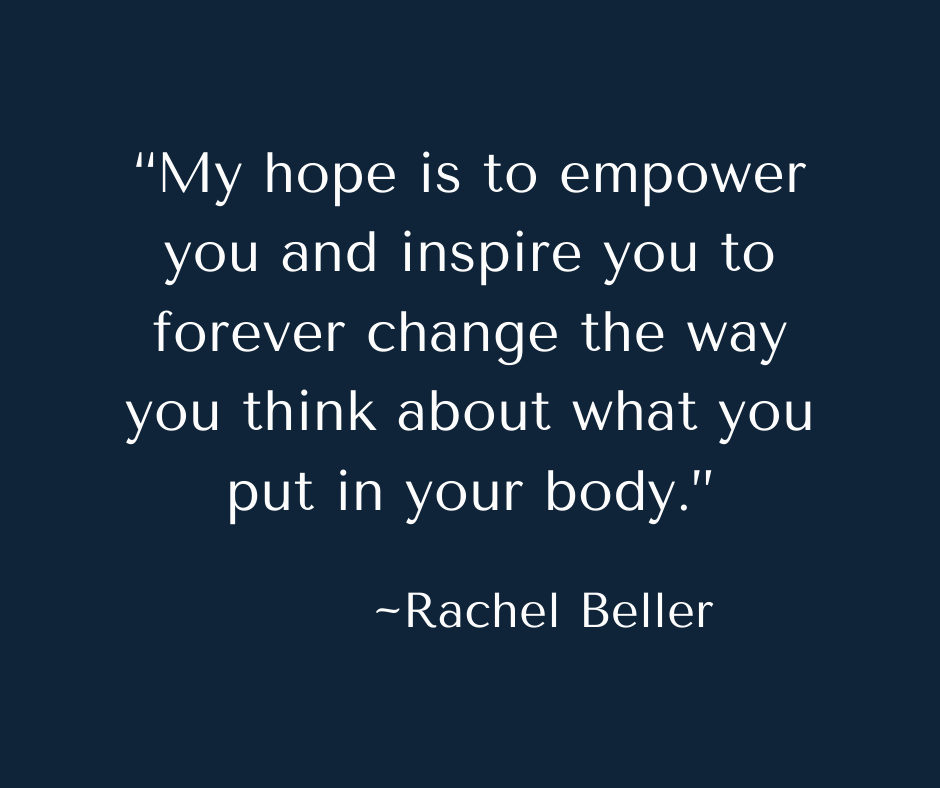 Registered Dietician Rachel Beller loves transcribing research into actionable advice and information for anyone looking to improve their life and diet.
"My hope is to empower you and inspire you to forever change the way you think about what you put in your body."
Beller is the CEO Beller Nutritional Institute and a celebrity weight management & cancer prevention expert. She joined Patient Empowerment Program Clinical Director Mollie Sugarman in this month's installment of the Be Informed Lecture Series. This lecture was presented in partnership with Sharsharet, a non-profit organization that helps women and families facing breast cancer.
Her presentation, "3 Ways to Supercharge Your Anti-Cancer Kitchen," provided information on gut health and its role in cancer prevention and overall health. Read on for a few key concepts from the discussion or watch the full lecture, here!
Fiber is essential.
The health benefits of fiber intake are well documented: fiber can assist with weight management, it helps us feel full longer, it can help regulate blood sugar, and it promotes a healthy balance of bacteria in the digestive system. According to Beller, it also helps our body through natural cleaning processes and helps regulate estrogen levels.
"Dysbiosis is an imbalance in the gut. Estrogen is more likely to get shuttled out of the body if you avoid dysbiosis," she explained.
Consider diversity in all elements of your diet.
Beller stressed the importance of diversifying your whole diet, from the spices you use to the types of fiber you consume and the vegetables to eat.
When it comes to fiber, she explained that it's not just about consuming a recommended 30 to 35 grams of fiber a day; diversity is just as important as quantity.
"Diversification is key. We've got the number, now we need to focus on the types of fiber."
Patients should consume a mixture of soluble, insolubile, and prebiotic fibers to maximize digestive health. She encouraged participants to consider adding a fiber booster to their breakfast to help reach those targets. More than anything, she said it was important to build up using easy to prepare foods to ease both your digestive system and your overall routine into a high fiber diet.
The same thing applies to spices, which should be blended to further optimize their antioxidant benefits.
Think about whole foods before powders or supplements.
"Don't go for the powder necessarily first. Food is our foundation. You're building a house from the ground up, and it's more work, but I really want you to think about it like that first."
To boost antioxidants, Beller advocated for power spicing over supplementation. While there are a lot of supplements out there, she said that spices offered a more effective, long-term opportunity to improve your health.
Recommendations on plant-based estrogens have changed over the years.
Older research suggested that plant-based estrogens found in foods like flax and soy increased the risk of estrogen-based cancers. However, Beller said that those recommendations have changed over the past decade.
"If you look at all the research post 2009, phytoestrogens are actually protective."
Beller went on to say that plant estrogens can actually block estrogen binding receptors.
"It's extremely protective. I highly encourage to incorporate it. It's something that you're going to include in your rotation."
When it comes to nutrition, consistency and simplicity promote sustainable health.
"Keep it simple and powerful. Consistency is so key when it comes to nutrition. It's really about that cumulative effect over time," Beller said.
Change requires planning. The simpler and easier that plan is, the more likely you are to stick with it, and that lifetime difference is what she hopes to promote.
"It's not about that once in a while moroccan dish that you make, it's about having a strategy and loving it."
Blog