NYBRA Gets a Visit & Gifts From Mary Kay
January 23, 2023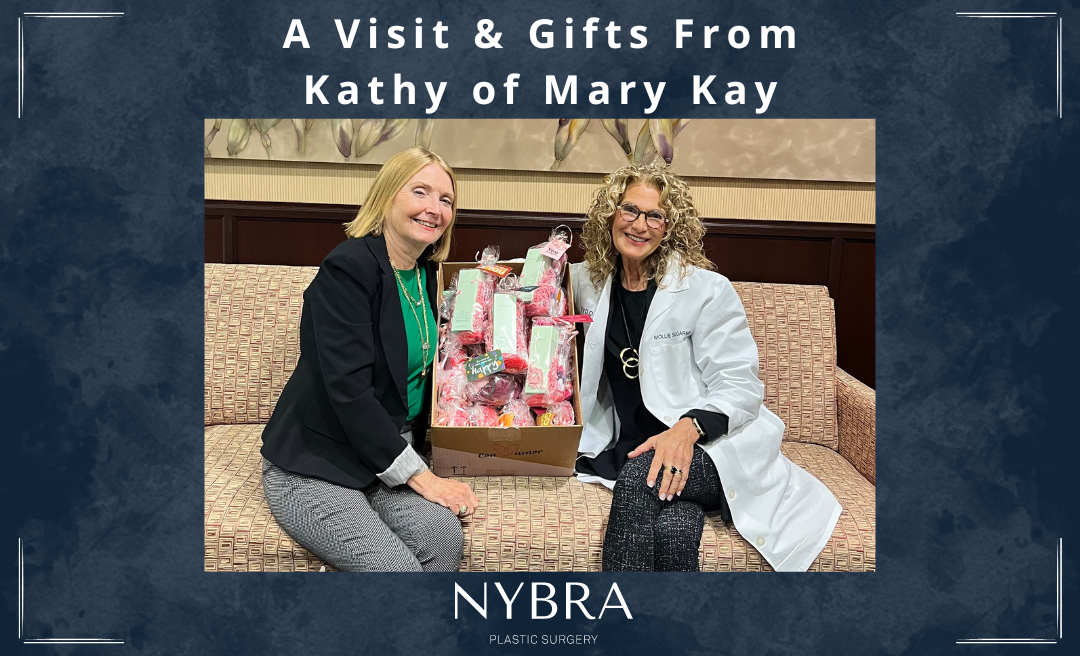 When Mary Kay representative, Kathy Viola, paid a visit to our office, we were extremely grateful to receive 150 full size foot and leg treatments, complete with socks, as a token to boost our breast reconstruction patients' spirits after surgery. The twists and turns that led Kathy to our door only sweetened the gesture.
"I've been with Mary Kay for 42 years, I always make it a point to utilize my business to raise money or to help organizations that are near and dear to me and that I feel need help," Kathy began.
Kathy was diagnosed with breast cancer in 2008. She underwent lumpectomy, chemotherapy, and radiation without mastectomy. Nine years later, in 2017, she experienced a recurrence, which was once again treated with lumpectomy. At that time, she considered breast reconstruction. Kathy came to NYBRA for a consultation, during which she met the Clinical Director of the Patient Empowerment Program, Mollie Sugarman. While she ultimately decided against additional surgery, the visit made an impression.
Years passed, and Kathy continued to be involved in numerous breast cancer related programs as a result of both her charitable endeavors and brush with the disease. It was at once such luncheon that she crossed paths with Mollie again. Kathy said that they recognized each other but could not place the nature of their acquaintance until Mollie got up and spoke. Then, Kathy said, she knew immediately. A quick conversation after her speech ignited Mollie's memory, too, and she soon began to recall details of their discussion during Kathy's consultation.
"She remembered me after that one interaction. That was amazing to me," Kathy said.
Kathy had been looking for a way to do something for breast cancer patients via Mary Kay. She said she considered their chance meeting a 'god wink,' or a subtle sign that Mollie and NYBRA were the right avenue for that work.
"In the back of my head I just kept saying I want to give women little goodie bags to have when you go through chemotherapy or through reconstruction. I just kept thinking, 'where should I go?'"
The moment was a win-win: Kathy worked with Mollie to put together a donation that both benefitted NYBRA patients and provided an opportunity for Kathy to give back to the kinds of women she had wanted to reach for some time. We are so grateful that she chose us!
Blog