Medical Oncology: It's a Long-Term Relationship
February 18, 2021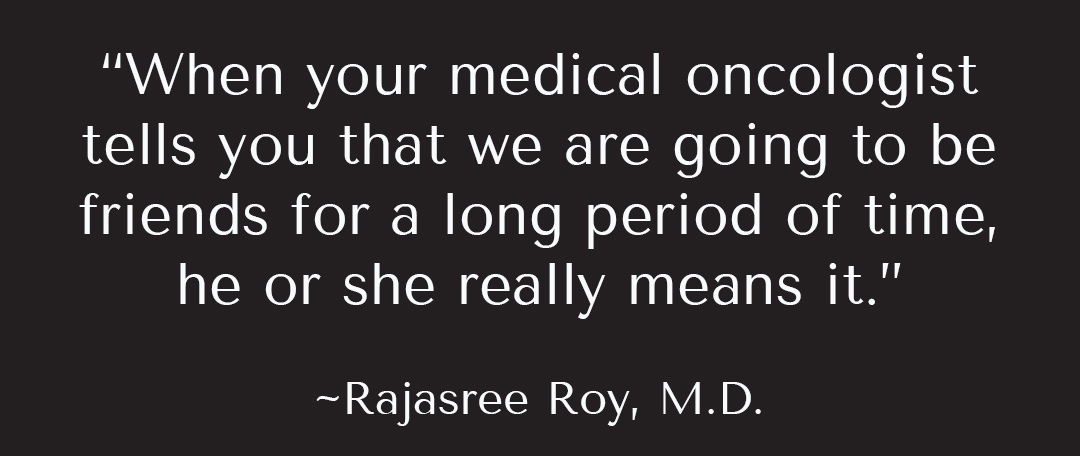 Dr. Rajasree Roy wants patients to understand that relationships with medical oncologists are long-lasting.
"When your medical oncologist tells you that we are going to be friends for a long period of time, he or she really means it," she said during our February Be Informed Lecture.
Dr. Roy is an attending hematology/oncology physician at the Cancer Institute at St. Francis Hospital. She joined us for a virtual talk on the role of a medical oncologist in breast cancer treatment. The lecture covered how treatments are selected, how side effects are managed, and what the bigger picture looks like when it comes to treating breast cancer.
Medical oncologists do more than administer chemotherapy.
According to Dr. Roy, a medical oncologist helps patients navigate treatment and survivorship over many years. He or she performs a complete physical, goes over history, orders blood and imaging tests, communicates with other doctors, refers out to other specialists and genetic testing when applicable, identifies factors that can impact treatment, and even monitors elements of self-care, like hydration and vitamin intake.
"We talk about all these things on an ongoing basis to treat the person as a whole and not just focus on the breast cancer itself."
Dr. Roy said that she really takes an individual's entire family situation into account as well. This is especially relevant when it comes to treating breast cancer, which often affects mothers and sisters, who she referred to as "the backbone of the family."
"The whole family gets affected by this disease, so we have to address the whole family's concerns and needs."
Breast cancer survival rates are higher than ever.
Data from 2010 to 2016 places the five year survival rate for breast cancer at 90%, but it's not quite that simple. Survival rates for localized and regional breast cancers are 99% and 86%, respectively. The survival rate for breast cancer with distant metastasis stands much lower, at 27%—that's why early detection is so important.
It's important to note that the many patients who pass away are often existing patients who have been on their journey for a long time, Dr. Roy explained. "The trend in death rates has been steadily declining, and that's the most important factor. People are not dying from breast cancer; it's a treatable disease. It has become a chronic disease, like high blood pressure or diabetes. People can live with it, and it's curable."
Hormonal therapy, chemotherapy, and other types of adjuvant therapies can be important in preventing recurrence, even in patients where all cancer was successfully removed in a surgery.
Oncology aims to prolong your life without sacrificing your wellbeing.
A medical oncologist's ultimate goal is to prolong survival. That involves reducing the risk of both local (within the breast) and systemic recurrence, working to prevent new breast cancer, assessing other cancer risks, advocating for screening as needed, counseling patients to maintain emotional health, and treating any long-term, treatment-related toxicities. According to Dr. Roy, those potential toxicities are carefully monitored and weighed against their benefits.
"We minimize the long-term and short-term toxicities of treatment—so the treatment doesn't get worse than the disease itself."
Treatment protocols are extremely nuanced.
While chemotherapy was once considered for anyone with a tumor above 1 centimeter, medical teams now take many other pieces of information into account when developing a treatment plan. Factors include staging, margins, lymphovascular invasion, genomic testing, whether Her2 neu, estrogen receptors, or progesterone receptors are present, and a patient's overall health and support system.
Oncologists are on the pulse of new diagnosis, treatment, and prevention measures.
"Our job as medical oncologists is also to wait for the next discovery. Not only do we take patients at a certain period of time and give them information, but it is also our job to keep them updated if anything has changed, if the recommendation has changed, if anything new came up that will help them," Dr. Roy explained.
Exciting new therapies in trial include Cart-T cell therapy, which uses an infusion of the patient's own T cells to destroy cancer cells and a breast cancer vaccine that works by training the immune system to kill cells that express the protein alpha-lactalbumin. Newer imaging techniques are making it easier to find Her 2 and lobular carcinoma, and a newer class of AKT inhibitor oral medications may help patients with triple negative cancer who are not candidates for immunotherapy.
"There are many new things on the horizon."
Blog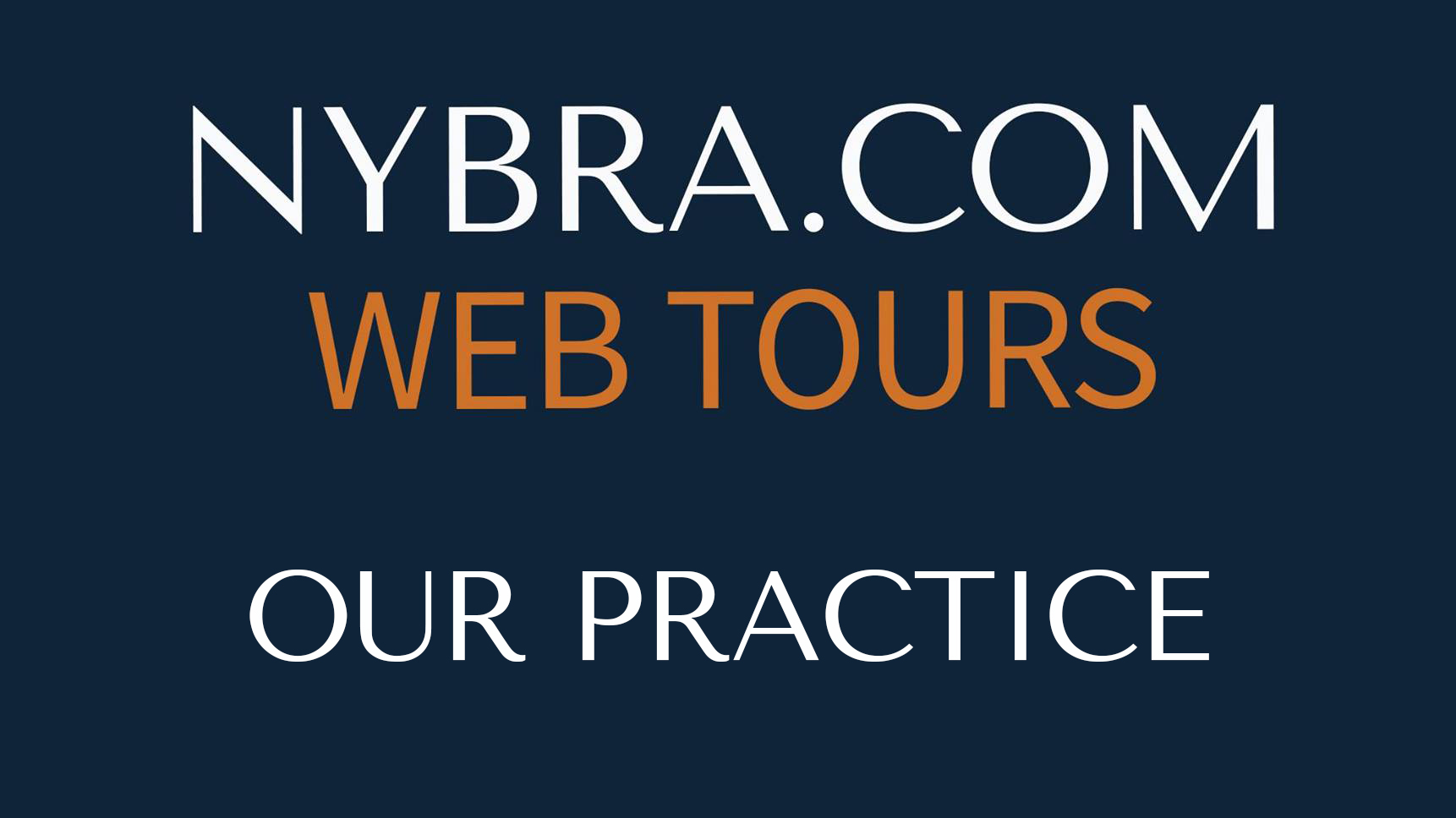 NYBRA.COM WEB TOURS: Our Practice
February 16, 2021
In this week's WEB TOURS video, we take a closer look at the practice where you can learn more about each of the NYBRA doctors,…