Jackie's Angels Swoop in for a Surprise Delivery
August 10, 2021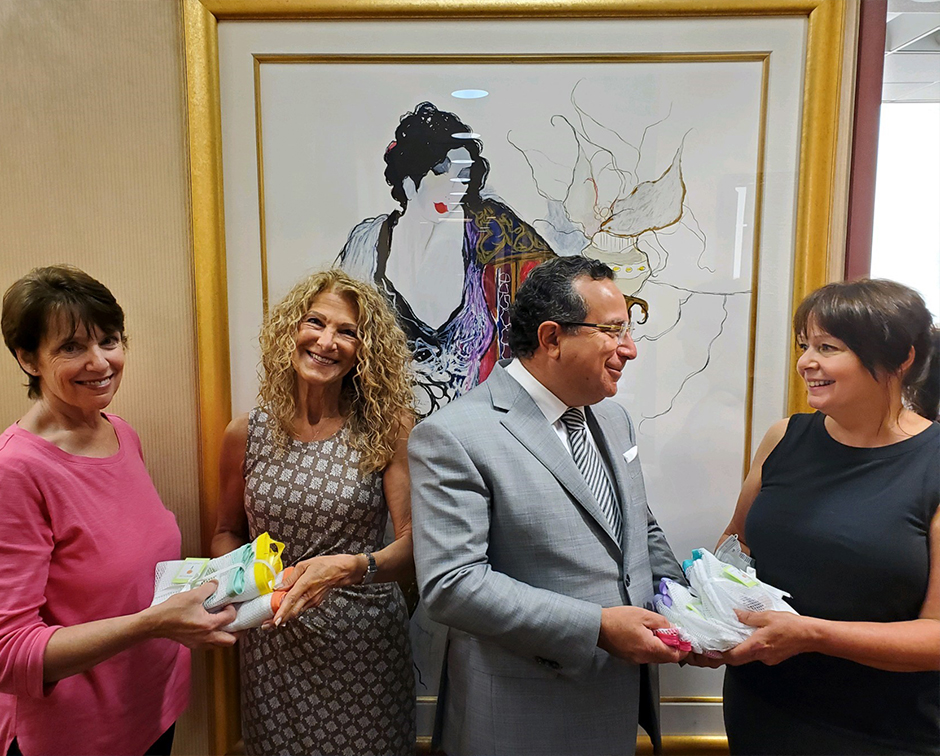 One of Dr. Randall Feingold's patients teamed up with her sister to design and deliver forty-five shower bags for post-surgical drains. The pair call themselves Jackie's Angels, a name that is both a gift from and a tribute to a treasured loved one they lost: their mother.
"Our mom, Jackie, passed away from lung cancer ten years ago. We never left her side, so she used to call us Jackie's Angels," they explained.
The sisters also stood together as one battled breast cancer. It was during that experience that they noticed how challenging it was to manage post-operative drains in the shower. That's when they had an idea: what if they made a drain bag out of a mesh material? They had seen some cumbersome options, but they ultimately decided to design their own, more streamlined version. It was so helpful that they saw an opportunity to give back.
The Angels were inspired by the femPower Belts, belt buddies, and other handmade items that come from patients in NYBRA's community of support.
"When they brought out all those items that those other patients had made, it just brought us back to how there's so much kindness out there and we just wanted to give back in our own way," they said.
According to Dr. Feingold, their desire to pay it forward is wonderfully consistent with so many of our patients.
"My observation has been that women have the admirable ability to triumph through difficult times by joining hands and rallying around one another. No act of kindness goes unnoticed, and their contributions will help many others achieve a successful outcome."
They put together forty-five shower bags and thirty terricloth femPower Belts in hopes of paying that kindness forward. The pair said that their experience at NYBRA was also reminiscent of what they saw from the hospice care nurses who saw their mother through her final weeks.
"When mom was diagnosed, there was less than a month from diagnosis to when she passed in hospice. And the hospice people were incredible, it was like another network of kindness that was out there."
They shared the pattern with NYBRA's Patient Empowerment Program Clinical Director Mollie Sugarman so that other patients, friends, and caregivers could make the shower bags as well.
"Their enthusiasm was palpable when they called to share this thoughtful and helpful item for our patients. This collaboration represents a beautiful way to reframe a very challenging time. We are most grateful for their kindness and generosity and hope we can count on some volunteers to maintain the supply," Patient Empowerment Program Clinical Director Mollie Sugarman said.
Jackie's Angels' special delivery was just as much about giving back as it was about honor their mother's legacy.
"Our mom's always been supportive of us, and we feel like she's on this journey, too, with us."
Blog