Giving Back: One Woman's New Calling
October 16, 2020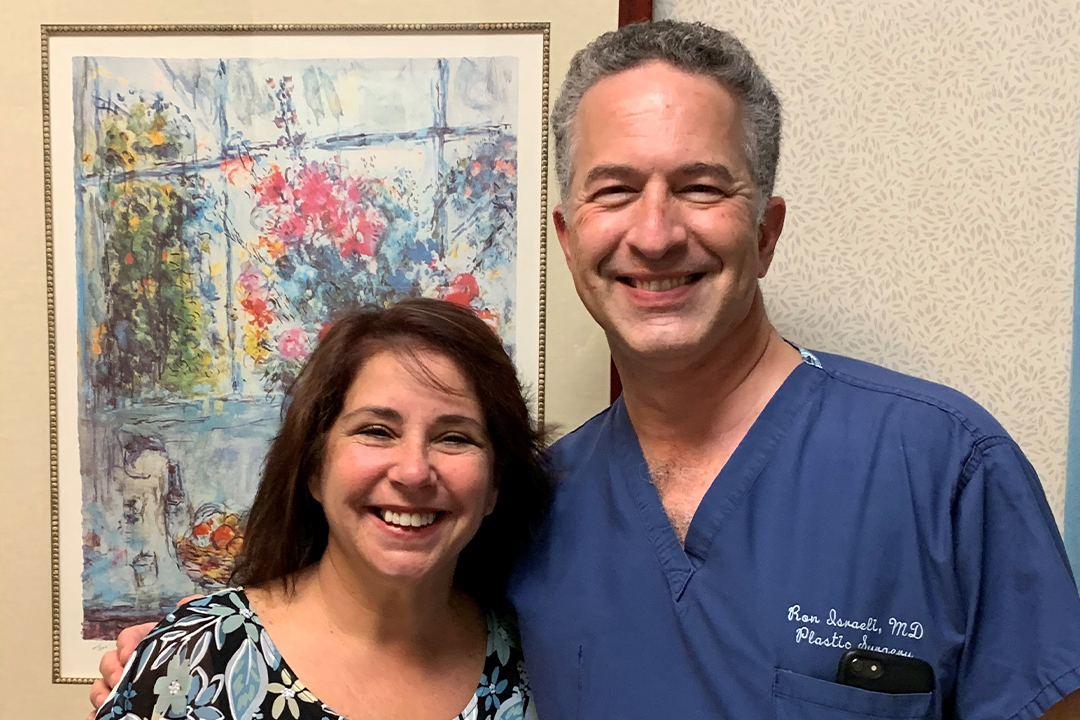 "I did a fashion show for Pink Aid, I spoke in church, and I spoke on the Pink Aid fundraising video," NYBRA patient Kim Dobres said, listing just a few of the things she's been up to lately. That's not all she's done for breast cancer in recent years: she's raised money for the United Breast Cancer Foundation through a Pie in the Face of the Administration event at the school where she works; she's shaved her head; she's participated in interviews; she's driven chemotherapy patients to and from treatments. You might say Dobres has done it all. For her, it's a way of giving back to a community that very recently supported her.
Dobres had a bilateral mastectomy in October of 2016. At the time, she didn't intend to have reconstruction at all. "My sixteen-year-old put his hand on my shoulder and said, 'Mom, it's just fatty tissue,'" she explained.
However, her breast surgeon encouraged her to pursue reconstruction. Dobres underwent expander implant reconstruction with a different plastic surgery practice. When a financial issue reared its head at the time of her final implant placement procedure, she turned to the Babylon Breast Cancer Coalition, which referred her to NYBRA Plastic Surgery.
NYBRA was able to perform the exchange procedure and allay some of her concerns, but Dobres found herself in a situation not unfamiliar to some women who have undergone reconstruction. She found that her implants felt cold and uncomfortable. She was neurologically compromised from the initial mastectomy and reconstruction, so she had little to no sensation in the area.
"I didn't feel like my breasts were my own when I had implants," she explained.
After years of living in pain, she chose to have her implants converted to natural tissue reconstruction, but right as she was preparing for surgery, she hit another financial snag.
"My husband lost his job of 38 years. After 38 years at the same company, what are you supposed to do?"
Dobres moved forward with the surgery, and Drs. Israeli and Light removed the implants and performed DIEP flap reconstruction in February 2020. The procedure restored both physical sensation and her sense of self. "I feel physically alive again. My breasts are warm now, they move, I'm starting to get feeling back," she said.
Still, with both she and her spouse out of work after her surgery, Dobres said her bills were overwhelming. That's when Pink Aid stepped in with a grant to help her get over that hurdle.
"They stepped up and paid my power and oil bills for me. In total they gave me a thousand dollars," she said.
Since she's recovered, Dobres has been working hard to raise funds for other people who are battling breast cancer. More than that, she has committed herself to educating women about their reconstruction options. The first plastic surgery practice she worked with did not perform natural tissue reconstruction and told her that she was not a good candidate for it regardless. Dobres said that she felt she could have avoided a lot of difficulty if she had known what her options really were from the beginning.
"Through all of this, I've found my calling. I want to educate the ladies before they go through this. I don't want to wait until it happens to them. Everyone should have this knowledge before this. You should be comfortable and feel safe and educated."
Blog
We are Manhasset Pink Strong!
October 7, 2020
NYBRA is a proud supporter of the Manhasset Women's Coalition Against Breast Cancer. This month, the MWCABC launched a special social media campaign entitled Manhasset…