From Masks to Hats to Pillows, Angela Heilig is Ready to Help
July 23, 2020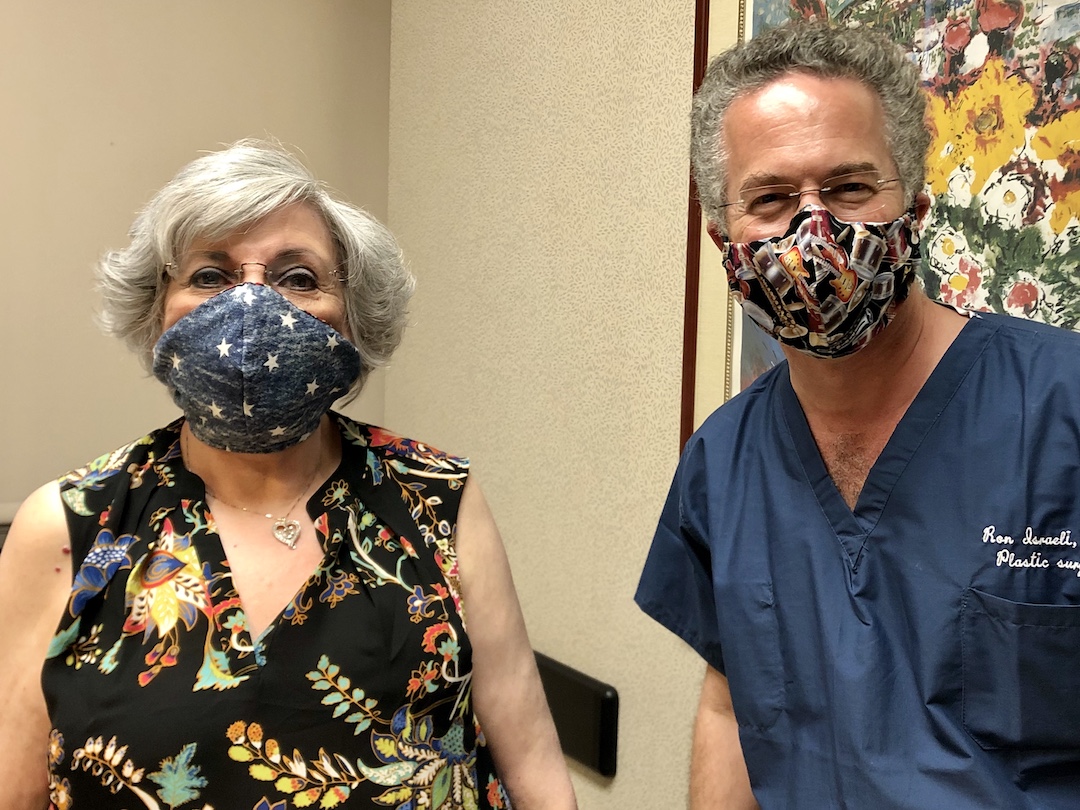 The NYBRA community is full of thoughtful, generous individuals. This week, our patient Angela Heilig used her talents to provide 36 fabric masks with crocheted extenders for our medical staff to use, along with 50 heart-shaped pillows to enhance post-op comfort for other patients.
This wasn't Angela's first time creating things for others. She started with chemo caps while she was on chemotherapy herself. "I was making hats for cancer patients to keep busy during chemo. I saw the one I'd gotten in my goodie bag [from her oncologist], and I thought I could make something prettier," she said.
Angela's chemotherapy treatment was followed by bilateral mastectomies with tissue expander implants, oral chemotherapy, and radiation. Her vulnerable status meant a full quarantine throughout the COVID-19 pandemic. While some people may have taken that time for themselves, Angela immediately joined Stitched Together Long Island, a group that sews masks for those in need.
"I said 'I'm stuck at home; what can I do to help?' You feel so helpless, this is just such a crazy, horrible thing. It's still hard to wrap your head around it. I looked for something we could do to make it better," she explained.
She got to work sewing double-layered, curved masks with filter pockets and crocheting ear-saving extenders for hospitals, doctor's offices, and anyone else who needed them. As she contributed hundreds of these essential pieces of protective equipment through Stitched Together, she also continued to see Dr. Israeli to add fluid to her tissue expanders in preparation for a final reconstruction.
In June, she found herself with a problem with the breast that had been treated with radiation.
"The side that was radiated was sore and hot, and I had seen him [Dr. Israeli], and it was so full and tight feeling, so he took out a little bit of fluid. He said to come back in a week, but then something popped up on the side that looked like a nipple," she explained.
Concerned that she had an infection, Dr. Israeli sent Angela from the office to Huntington Hospital, where he booked an operating room and removed the expander implant in an emergency surgery on the night of June 9th, 2020.
Even in the wake of an emergency surgery, which severely limited her mobility in its initial recovery, Angela looked for ways to keep helping the community. She turned to a project she had started earlier: sewing and stuffing heart-shaped pillows for patients.
"After this surgery, I couldn't sit in front of the sewing machine for that long. I had sewn fifty pillows that I could just hand stuff and hand sew, so I finished those and brought them to the office," she said.
The heart shaped pillows she created provide relief for women who have had lymph node dissections. Angela explained that she had purchased one after her own surgery. It was a great shape, but she didn't like the fabric quality.
"I was debating what I could make, I said 'I'm going to make heart shaped pillows.' I had ordered one from someone after my surgery, and then I got it and it wasn't made of good fabric. It was the perfect shape, though, because it puts your arm out a little bit."
Once she was up to it, Angela resumed her mask-making. She said she continues to make sure that they're not just high quality, but that they also use fun and stylish patterns.
"If you have to go out, and you have to have a mask, you might as well have a pretty one."
Events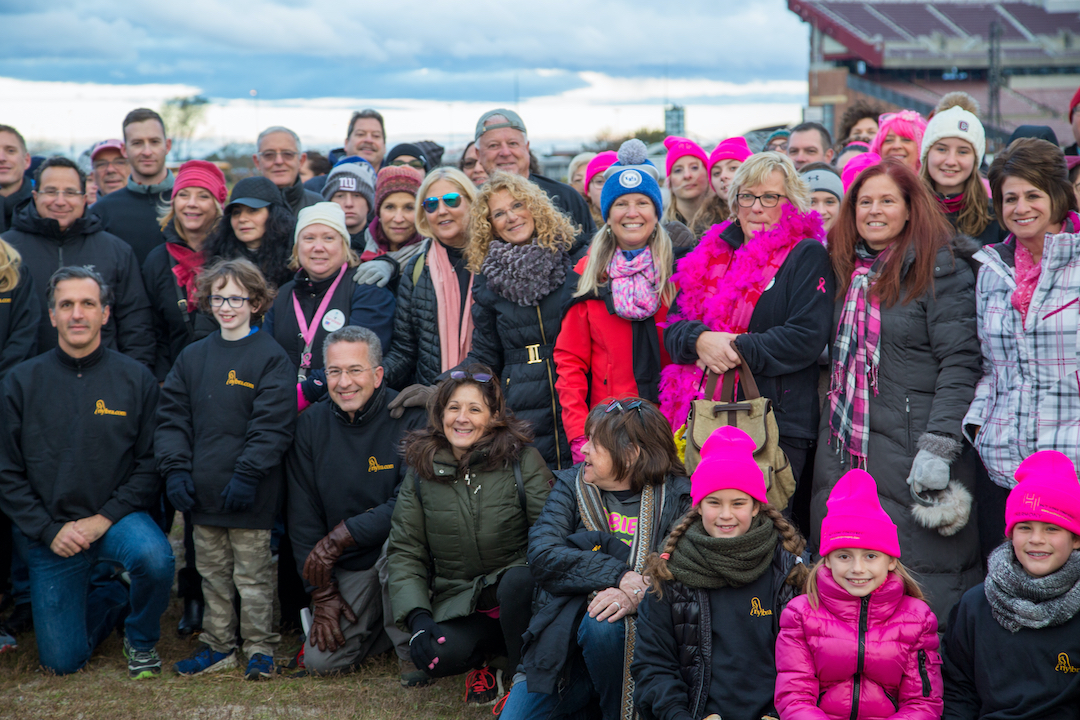 Making Strides Against Breast Cancer 2018
November 1, 2018
At the 2018 Making Strides Against Breast Cancer event, we introduced Project Reconstructed, a project created by NYBRA surgeon Dr. Jonathan Bank that culminated in…