Dr. David Light Educates Other Surgeons on Abdominal Free Flap Breast Reconstruction Options and the Importance of Preoperative Imaging
September 15, 2021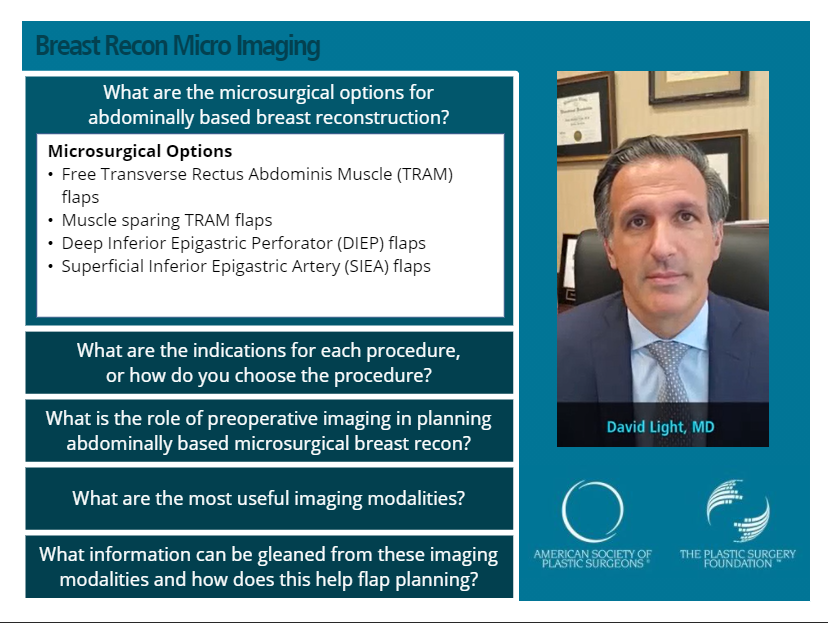 The American Society of Plastic Surgeons recently asked Dr. David Light to create a video presentation on the options for abdominal base free flap breast reconstruction and the benefits of preoperative imaging for these procedures. The talk was aimed at other plastic surgeons who were interested in learning more about the topic through ASPS EdNet.
Dr. Light explained that Free Transverse Rectus Abdominis Muscle (TRAM) flaps, Muscle Sparing TRAM flaps, Deep Inferior Epigastric Perforator (DIEP) flaps, and Superficial Inferior Epigastric Artery (SIEA) flaps were the most common abdominal free flaps used for breast reconstruction. He also detailed how procedures were selected. Patient candidacy depends upon the size and quality of a patient's abdominal blood vessels. Surgeons also carefully consider how the procedure affects the abdominal muscles and are careful to preserve abdominal wall strength and function.
DIEP and SIEA flaps are typically preferred over TRAM or muscle sparing TRAM flaps, because they preserve both the abdominal muscles and their function when performed correctly. Dr. Light went on to say that SIEA flaps do the best job of preserving the abdominal wall. However, when blood vessel size is taken into account, only a limited set of patients are candidates for SIEA flaps.
Dr. Light walked viewers through the imaging tests that plastic surgeons use to choose a surgical approach. Using two case studies, he demonstrated the importance of pre-operative imaging, which helps surgeons see which blood vessels are available in a given patient and determine if an abdominal based free flap is a viable option for them. These imaging tests, he said, are particularly important in patients who have had prior abdominal surgery, to ensure the required blood vessels were not previously damaged.
Blog