A Patient Restored After a Year of Loss
July 7, 2022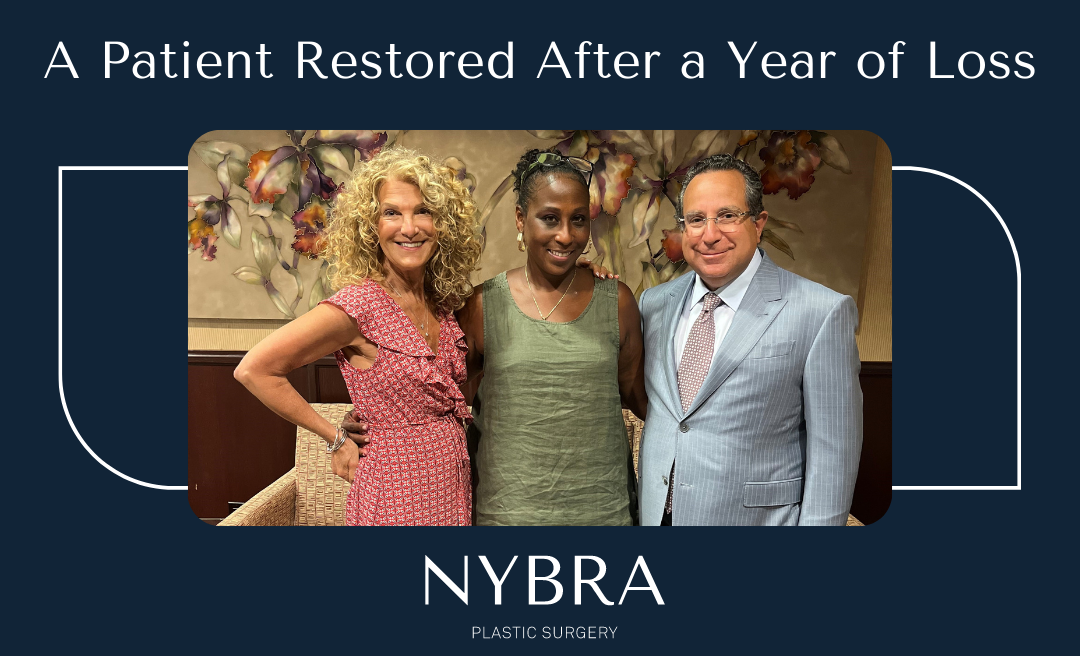 A breast cancer diagnosis is challenging under normal circumstances. When Kim was diagnosed with Stage III inflammatory breast cancer in the summer of 2020, her circumstances were far from normal.
"My story starts a little bit before my story. In May of 2020, my husband had this blood clot in his leg. We didn't know where it came from. He was seeing hematologists, and they weren't finding anything. Then, one day he wound up having a heart attack at home, in front of our 22 and 25 year old sons," Kim began.
Kim's husband was resuscitated and hospitalized. It was at that point that he learned what caused the clot and the heart attack: he had Stage IV lung cancer. Kim said she sprung into action, ready to fight for his life.
A month later, she noticed an abnormality in the skin on her breast. Kim had a strong family history of breast cancer and kept up with regular screenings. She considered waiting until her next MRI to address the issue but spoke to her doctor to be safe. They saw her the next day. Testing revealed triple negative, Stage III, inflammatory breast cancer.
"I had just told my boys that my husband had cancer, now I had to tell them that I had cancer, and not just any cancer, but a really bad cancer."
From July through November of 2020, Kim and her husband went through chemotherapy together. She had bilateral mastectomies without reconstruction that November and radiation therapy in March of 2021. Her inherently difficult combination of therapies was made even more challenging by the pain she felt for her husband, whose morale had been dampened by her illness.
"Initially, he was like 'if I have to go through something like this, at least my wife and my kids are healthy.' He lost his fight, because he was angry. It was twice as hard for me, because I went into fight mode for my husband, and then I couldn't fight for myself."
Her husband passed away in June of 2021. By that point, Kim said she was cancer free but feeling hopeless, helpless, and unable to process her own experience. She wondered how she could possibly begin to navigate a life without her life partner.
"I wasn't even sure if I was going to have reconstruction. I was like, 'what's the point? I don't have a husband anymore.'"
Regardless, Kim researched her options. She considered whether reconstruction might offer her some normalcy after over a year of demoralizing changes. That winter, a friend recommended NYBRA. It was the second time she'd heard the practice's name. She said it felt like a sign.
"I called and I made an appointment with Dr. Feingold. It was one of the easiest appointments. I felt very secure in what he did. His demeanor, the way he spoke to me, things he said to me, were things other doctors did not say. He knows what he does, and he knows he does it well: that's how he came across. And it made me feel so comfortable. I felt like I was in the hands of somebody who was going to make things a lot better for me."
Dr. Feingold recalls meeting Kim and reassuring her that if she was finally ready for her breast reconstruction he would find a solution. "Kim had received her breast cancer care at another facility, but knew she wanted a natural tissue result that offered softness, warmth, and symmetric feminine shape that wasn't available there. DIEP flaps from her abdomen provided a beautiful outcome."
Kim underwent DIEP flap breast reconstruction. Unlike her mastectomies, she woke up unbandaged. It was a pleasant surprise.
"I looked down and I had two boobs! And they're really cute: they're perky, and they're soft. It was the best moment. I had always had something taken away from me. This was the first time something was given back."
As Kim continues to work through her grief and trauma, she said that her experience with NYBRA has given her some hope.
"In the face of adversity and loss, Kim has focused on reclaiming her life. Her tenacity and resiliency are inspiring to the NYBRA team and to those women in the Sisterhood of Support group with whom she shares her story and positive mindset," noted Mollie Sugarman, Clinical Director of NYBRA's Patient Empowerment Program.
"It felt like the whole process was put together perfectly for this journey that I was going through. I had the support system that I needed. I felt confident with the doctors I had. I had hope for once. I lost a lot, and I got something back from NYBRA that I never thought I would."
Blog