Staying Sew Connected
March 22, 2023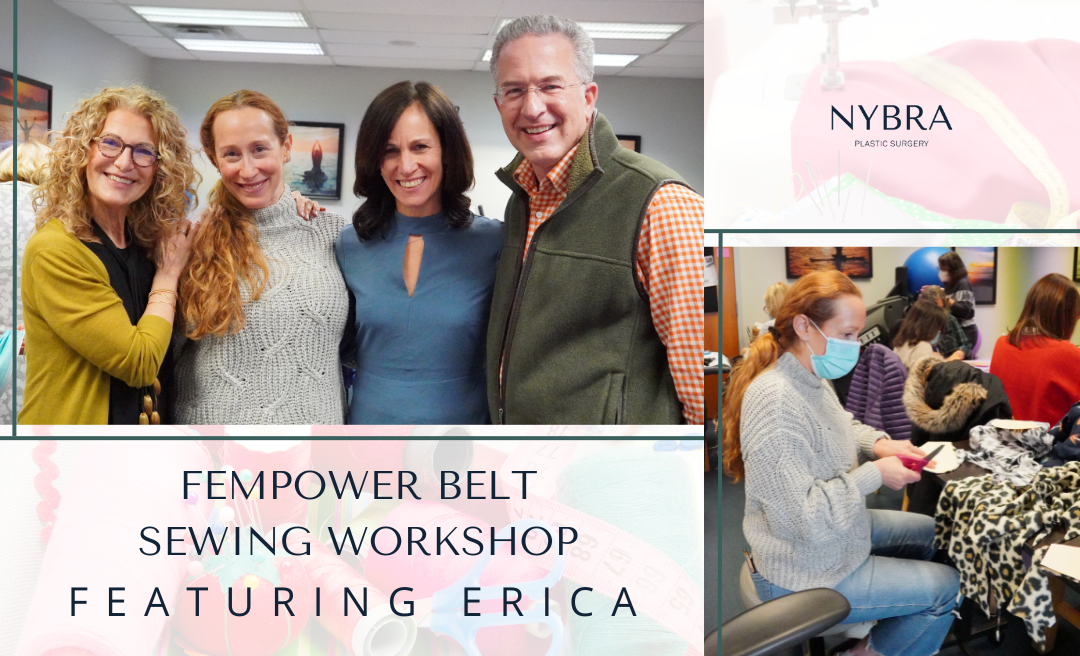 When Erica created the FemPower Belt, she did not intend to lay the groundwork for a simple product that has helped countless patients. She was simply looking for a way to channel some presurgical jitters and shield her two young children from the sight of postsurgical drains.
"My son was in the threes, and my daughter was in the fours. I was nervous about them looking at the drains. I thought these poor kids were going to be traumatized by looking at the drains, and so I thought I'd do a fun pattern so they wouldn't have to see them," Erica explained.
And so, Erica sewed the first, now-ubiquitous FemPower Belt, ahead of bilateral, risk-reducing mastectomies with direct-to-implant breast reconstruction in 2012. She was just 34 years old at the time.
"My aunt had breast cancer at 48 and so did my grandmother, so by 38 I was expecting breast cancer," Erica explained.
Erica learned she carried a harmful BRCA gene mutation in 2003, when she was just 25 years old. Multiple relatives had dealt with breast or ovarian cancer by that point, including an aunt with whom Erica was close. When her genetic testing results were positive, she reflected on what she had watched her aunt endure. She made a plan for herself: she would have risk-reducing mastectomies by the time she was 35 years old.
Forethought afforded her some flexibility. She researched surgeons and reconstructive options and considered her life in tandem. An avid runner who challenged herself to complete marathons, she wanted to make sure that she could remain active. Overall, she was grateful to have the opportunity to be selective.
"I had time on my side, so I had the time to go and interview breast surgeons and plastic surgeons to see who fit my personality and my lifestyle."
Erica found a great fit in Dr. Ron Israeli, who balanced artistry with an understanding of who she was as a whole person. She said that working with him was her easiest decision.
"When I went to Dr. Israeli, he was heaven sent. The fact that he had a minor in fine arts—I loved that he's into the artistry of it. And he said, 'I love that you're an athlete, and we'll get you back to being an athlete.'"
Erica said that the mastectomies were a tremendous relief after years of surveillance.
"Once I had my mastectomies, I literally felt like I had a new lease on life, like there was a weight off my shoulders. I didn't realize how much anxiety I was holding for so long. I felt like there was this sword dangling over my head all the time."
After Erica's surgery, the Clinical Director of NYBRA's Patient Empowerment Program, Mollie Sugarman, saw the drain belt and immediately knew it could help other patients. The pair worked together to make the one-time project into a pre-op staple at our practice. In the 10 years since her surgery, Erica has used the belts to pay it forward and stay connected with the practice. These key items have helped countless patients through their recoveries.
Erica was, of course, in attendance at last month's FemPower Belt Workshop at Full Circle Physical Therapy. The day served as a reminder of just how long it's been since her surgery and just how far she's come in the decade since.
"It's in my past, it's something I did, and it's nice to know that there's a support group at NYBRA. I tell anybody I know that is going through something to please go to NYBRA and see Dr. Israeli."
Blog