Dr. Ron Israeli, Dr. Jonathan Bank and NYBRA Patient, Chelsey Join the DiepC Journey Podcast Episode 31
May 12, 2023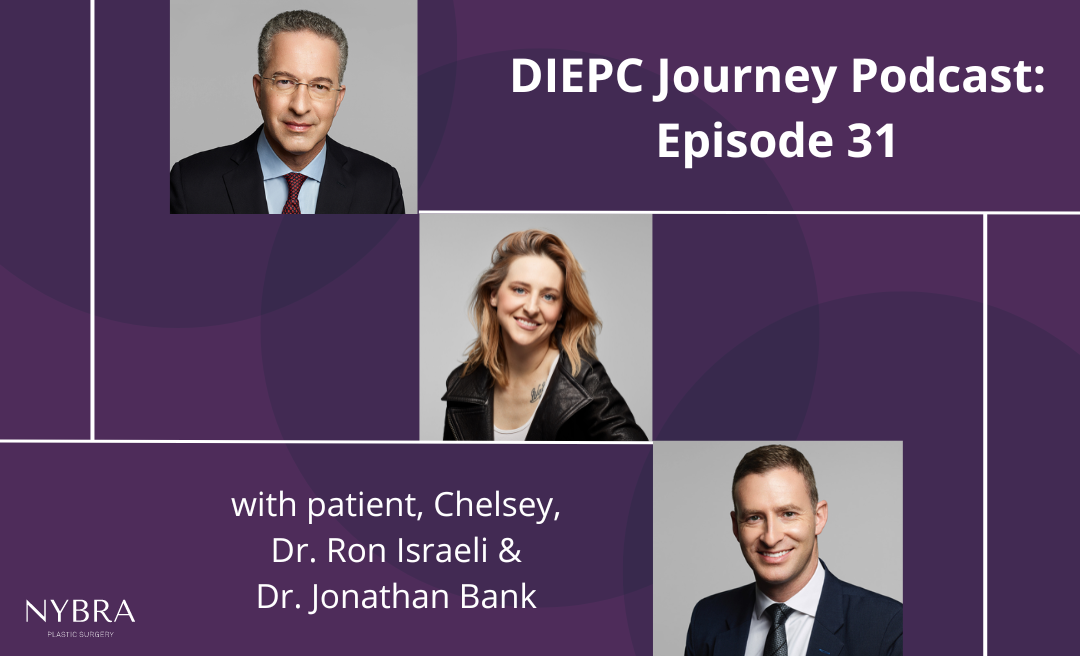 Dr. Ron Israeli and Dr. Jonathan Bank are well known for their creative projects within the breast reconstruction community and advocacy space. They joined DiepC Foundation founder Terri Coutee and Dr. Israeli's patient, Chelsey, on the DiepC Journey Podcast to talk about the impact and future of their artistic endeavors. Chelsey is a breast cancer and reconstruction advocate who has been involved in projects with both doctors alongside her own advocacy work.
The hour focused on Restored, a multi-modal lifecast project that Drs. Israeli and Bank created in collaboration with Form Collaborative, photographer Erez Sabag, creative director David Warren, and Allergan Aesthetics. Restored is a book and art exhibition that tells the stories of twelve breast reconstruction patients through images, sculptures, textures, and words from each woman that aim to get at the heart of how physical and emotional restoration can leave patients feeling stronger and more complete than ever. Drs. Ron Israeli and Jonathan Bank worked with Form Collaborative and Allergan Aesthetics to create a series of life casts for each woman in materials that related to her experience. The resulting book includes images of the women, their casts, and more as they show others that beauty and strength can take many forms.
Listen to the whole discussion here or see below for a few highlights.
Restored is a reimagination of a 2012 project by the same name.
The 2012 Plastic Surgery Conference marked the establishment of Breast Reconstruction Awareness Day, which aims to shift focus to the breast reconstruction options available to women facing mastectomy. That year, Dr. Israeli shared the first iteration of Restored, a series of uniform, fiberglass lifecasts of eight of his patients. It was at that conference that he and Dr. Bank first met. Dr. Bank was still in training at the time. Nearly ten years later, the pair—by then partners at NYBRA Plastic Surgery—started thinking about creative work that they could do together.
"You never know where your ideas come up or where you end up with these artistic projects. In speaking with Jonathan, we ended up brainstorming the concept of bringing Restored back as a new iteration that was more multi-dimensional. Not just a lifecast project, but a photography project," Dr. Israeli explained.
Restored includes elements of Dr. Bank's prior project, "Reconstructed."
"Reconstructed" was inspired by the Japanese art kintsugi, which involves mending pottery with gold to highlight the beauty of the cracks and thus that of adversity. This multi-media collaborative included multiple segments over several years of work, including a photography art book, an extensive series of videos, and a gallery exhibit. Chelsey participated in that initiative as well, despite some initial hesitations.
"I had some reservations. I wanted to make sure that these were good photographers; I didn't want to look crazy," she said, with a laugh.
When Chelsey saw work from the photographer, Erez, she said she felt confident that she wanted to participate. That experience prompted a swift "yes" when Dr. Israeli asked her to join them again. The overlap in using some of the same patients and creative collaborators between "Reconstructed" and Restored was deliberate. In some ways, the endeavor reflects an evolution for both.
Projects like Restored and "Reconstructed" provide many forms of inspiration.
Dr. Bank explained the direct flow from awareness to funding to research to saving lives. He has also seen it impact individual women.
"My goal for all of these projects is for one woman to see and muster up the courage to get that mammogram that she's been pushing away and find something sooner rather than later," he said.
For Dr. Israeli, the artwork adds a layer of sustained emotional connection to his clinical work. Plastic surgery, he explained, is physically, mentally, and emotionally intense.
"These kinds of projects are what keep me engaged and interested and more emotionally attached to what I do in caring for individuals who are facing mastectomy and reconstruction. It's come to the point now where a lot of patients, when they come and see us—I'm sure Jonathan can say the same—they're aware of these projects and they want to be involved in another project… As much as these projects create a sense of hope, they also create a sense of inspiration. And it's not just inspiration for the patients or for the people that see the patients, it's also inspiration for us."
This work fits into a broader narrative on bodily acceptance.
As Chelsey put it: "I think being involved in both of these projects is also part of normalizing the differences of bodies and trauma and things that happen to us through our life. Especially today, when we can elect to have surgeries and we cannot, I think just empowering people to accept themselves and our changing bodies and aging bodies and whatever they are is the best medicine in some ways. Just accepting ourselves and loving ourselves as much as we can—I think that both of these projects gave me personally that encouragement to accept myself in a different way."
For Dr. Bank, that kind of acceptance is at the core of the work.
"That's really the heart of Reconstructed, embracing our imperfections and understanding that we're beautiful because of the path that we took and whatever hardship it brought along."
Blog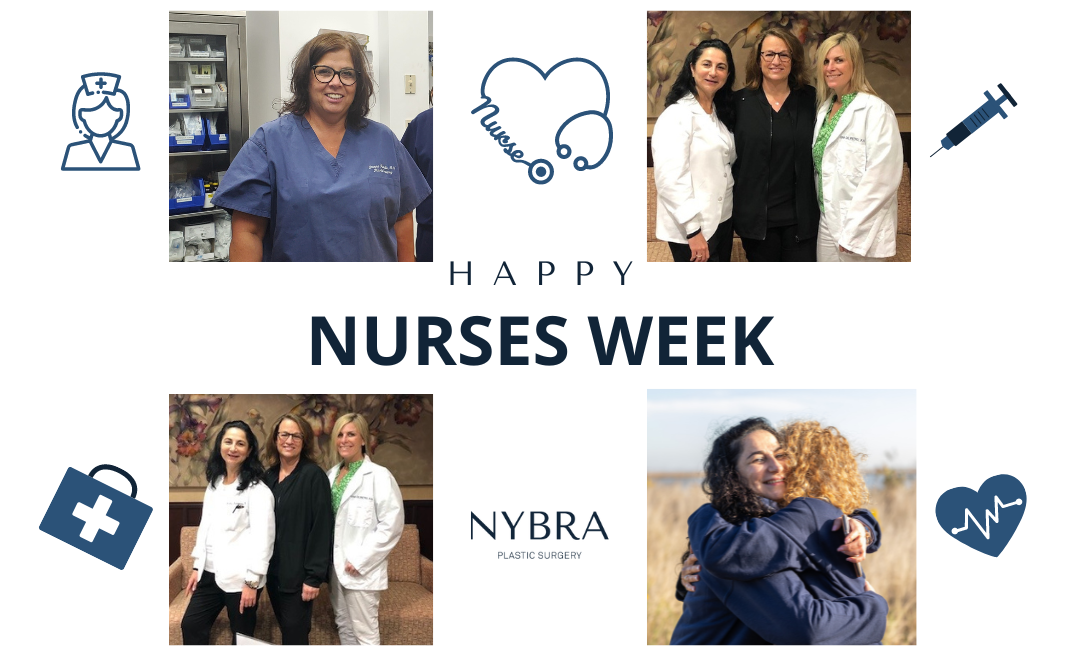 National Nurses Week
May 8, 2023
It's National Nurses Week! The talented nursing staff at NYBRA Plastic Surgery goes above and beyond for our patients each day. In honor of their…