Nadia

- Bilateral mastectomies
- DIEP flap reconstruction
- Nipple areola reconstruction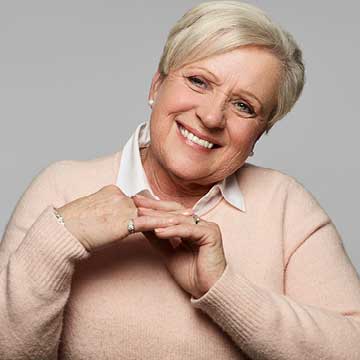 "It's really the most devastating day of your life when you get that diagnosis, but once you get past that initial diagnosis, the next step is: where do I go? What do I do?" Nadia said of her breast cancer diagnosis in August of 2017. But there were more challenging moments ahead.
Nadia had spent much of the preceding time caring for her mother, who passed away a couple of months before a mammogram revealed that Nadia had cancer. Between that loss and her new diagnosis, she was at a loss for next steps.
"You're kind of floating, not knowing where to turn," she said.
A neighbor who had worked with NYBRA Plastic surgery referred her to the practice with high praise and good results. Nadia proceeded with bilateral mastectomies and had DIEP flap reconstruction by Dr. Jonathan Bank. The practice offered the kind of care that helped her feel more grounded.
"I've never seen doctors as attentive and caring," her husband, Gerard said. "They get it: they have a complete respect for the circumstance that women are facing and are 100% respectful of a woman's body and their emotional and physical needs. It's just great."
Nadia's next steps may have been laid out by that point, but she and her family soon found themselves facing another, more difficult hurdle.
"We had a family meeting to announce what they learned about Nadia," Gerard explained. "Before we got very far, our daughter, Meredith, was pointing at herself, started crying, and said 'me too.' At that point she just knew she had a lump in her breast."
Meredith was later diagnosed with breast cancer as well. She, too, worked with NYBRA for her double mastectomy and reconstruction. Genetic testing revealed that both women carry an ATM gene mutation that increases the risk of developing cancer.
"As a mother, that moment was much more devastating than actually getting my own diagnosis," Nadia said.
While Nadia and Meredith leaned on each other during their times of need, Gerard leaned into NYBRA's community of support, attending the practice's partner support group, which he described as a safe, confidential space for loved ones to work out their feelings. Now that his wife and daughter are out of the woods, he continues to return to the group to pay it forward.
"We've turned the corner with both my wife and my daughter. It was a challenging time when they were both having chemo at the same time. The group is just a place where you can speak freely. It's never about the 'woe is me', it's about offering suggestions on how to cope."
Nadia has found a different way to pay it forward: she creates seat belt buddies, which protect women who have just had surgeries from seat belt-related discomfort, and drain belts, which hold drains for women postoperatively.
Her advice to newly diagnosed and postoperative patients is simple: keep moving forward.
"When you're going through hell, you just keep on marching until you get to the other side. You just don't have a choice, you have to just march through. It doesn't make it easier, it doesn't make it less painful or less traumatic, but you don't have a choice. It may not be the most comfortable place to be, but at the end of that tunnel, there's that light that you're done and you're almost back to yourself."
More Patient Stories
Our patients are the most essential part of the NYBRA community. No two stories are alike.