Sabine

- Nipple-sparing mastectomies
- Direct-to-implant reconstruction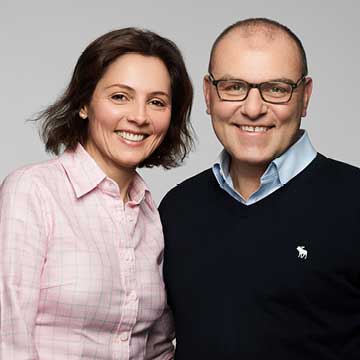 In March of 2014, Sabine's second-ever annual mammogram picked up something that needed a biopsy. Despite her lack of family history, that something turned out to be early stage breast cancer.
She initially chose a lumpectomy. When two lumpectomies failed to yield clear margins, she chose to have a nipple-sparing double mastectomy with direct-to-implant reconstruction. That change of plans was not easy for Sabine.
"Having to go from the mindset that it was going to be lumpectomy, and I was going to be on my way to recovery, to one where I was going to have a double mastectomy was a big setback," she said.
Sabine's breast surgeon recommended her to NYBRA Plastic Surgery, where she said she immediately felt comfortable, as the practice helped ease the burden of that transition.
"The whole office – the nurses, the woman who handles insurance – everybody takes good care of you, and it's a time as a patient where you're just so vulnerable, because there's so much going on. They just provided the right care. It was an amazing experience at a difficult time, and that is just invaluable for any cancer patients who come."
She said her confidence in her surgeon, Dr. Peter Korn and the guided imagery meditation the practice provided helped her to move forward.
"Dr. Korn is very confident in what he does. He had a lot of pictures to show me, he took his time, I felt like I was not rushed into making a decision. I felt like he was a very sharp doctor and I was in good hands," she said.
Even with the best care, there were still some setbacks after surgery, which was more intense and physically challenging than she had imagined.
"I was fit and active with two young kids. It was just hard to be a patient and need to be taken care of. I was not prepared for how physically diminished I would be. Mentally it was very hard to be physically dependent on someone."
Like so many members of the NYBRA community, Sabine turned her frustration into action by creating a product called the LiftMeUp recliner that was designed to help people facing mastectomy move themselves in bed after surgery. The device has also proved useful to people who are incapacitated by other types of procedures or physical conditions.
"I like this saying: when life kicks you, let it kick you forward. I'm an engineer, so I created a product that helps people move around in bed. My mind was racing throughout recovery, like there has to be a better way. It's also a product that turned out to be very helpful to a lot of different people. It's been really rewarding to be able to help so many people. And that was the good part of coming out of this," she explained.
Sabine remains an active member of the NYBRA community by attending lectures the practice organizes to educate patients on everything from advances in surgical techniques to dietary and lifestyle advice. She is also working on making patients aware of tools like the LiftMeUp recliner to help future patients reduce recovery's disruption to their lives.
More Patient Stories
Our patients are the most essential part of the NYBRA community. No two stories are alike.