Erica

- Bilateral mastectomies
- Expander reconstruction
- DIEP flap reconstruction
- Nipple areola reconstruction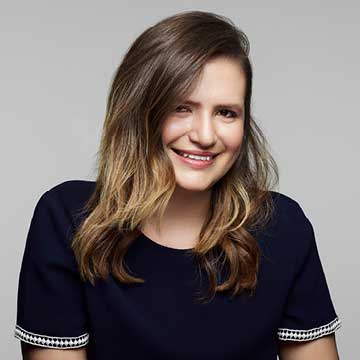 Erica learned that she had breast cancer at just 27 years old. Her mother had breast cancer at the age of 39; she said she always knew something could happen, but she thought she had more time to make decisions she was comfortable with.
"I thought when I was in my thirties I would figure out what I needed to do. It came at me before I had a chance to understand what I needed to do in terms of preventative surgery," she explained.
Erica's situation is one of genetic rarity: both she and her mother carry both the BRCA1 and BRCA2 genetic mutations. Not only did she face a harsh reality associated with that genetic information situation sooner than she could have anticipated, she faced one that demanded swift action. By the time she found the lump it was stage three and had already spread to her lymph nodes. She saw a fertility specialist but ultimately decided to start chemotherapy immediately, which meant that she was unable to do any fertility treatments. That specialist referred her to NYBRA Plastic Surgery, where she worked with Dr. Ron Israeli. After bilateral mastectomies and tissue expander reconstruction, she needed radiation on the side of her breast cancer. Rather than exchanging the expanders for implants, she chose DIEP flap reconstruction instead.
As a young woman in a new relationship, just building her career, Erica faced some isolation. "Other people who are going through this are older and at different times in their lives. I didn't know anyone else my age who was going through this," she said. Still, she opened herself up to the practice's community of support, which she quickly learned transcended age.
"The support group was really awesome. It helped so much. It was really awesome to talk to someone and be with a group of women where it didn't matter what age you were. I shared my struggles with being younger and making decisions like whether I want to have kids. The other women responded with stories of people who had successfully had kids [after cancer]."
The group helped Erica adjust the way she thought about cancer. Her mindset shifted from asking why it had happened to her to asking what she could do to feel more empowered and involved. She found activities in New York and started looking for more help and resources. Toward the end of her chemotherapy treatment, she was connected with a nonprofit that provides services to women who have had cancer under 40. That organization paid for a high end wig and services like physical therapy, exercise classes, and nutritional counseling.
While the loneliness of going through breast cancer at such a young age never truly subsided, Erica emerged from her experience with a new appreciation for the importance of speaking up.
"I think that it's important to be your own advocate. If you have any questions or concerns or you're feeling a certain way, just tell someone, anyone. I'm not the type of person to ask for help a lot, I don't like to rely on other people, but it's the kind of thing where you kind of have to rely on other people. Once you open yourself up to it, there are people who want to help you, and there are so many resources."
More Patient Stories
Our patients are the most essential part of the NYBRA community. No two stories are alike.