Lori

- Bilateral mastectomies
- Expander implant reconstruction
- Nipple areola reconstruction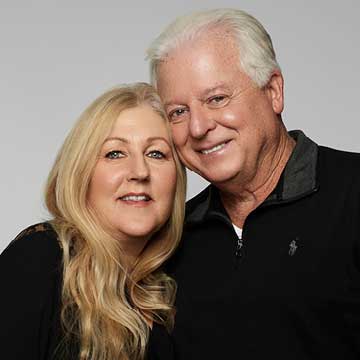 "I always had issues with dense breasts. There were issues every year that ended up being nothing. It felt like one of these years it's going to be something," Lori said.
In 2008, Lori's fears came true. On December 21, 2008, Lori learned that cancer had been discovered in two quadrants of her right breast.
"I was numb. I was just so numb," she said.
Her husband, Jim, was also completely blindsided by the complex web of information that came with diagnosis.
"It was something we were totally not prepared for, we were totally out of our depth, and we didn't really know how to cope with it at the beginning," he said.
Lori and Jim made calls amid the tumult of the holiday season. Lori initially went to a different plastic surgery practice, but it lacked a certain empathy. Her breast surgeon recommended NYBRA. The practice's integrated approach was exactly what they needed.
"In NYBRA, we found a partnership that we embraced and became part of, which includes [Patient Empowerment Program Clinical Director] Mollie Sugarman. I consider her like a partner; she's a very important component of before, during, and after, dealing with this. It just seemed like a totally different kind of practice," Jim said.
Lori chose to work with Dr. Ron Israeli. With Mollie's support and Dr. Israeli's experience and bedside manner, Lori felt comfortable making choices. She moved forward with bilateral mastectomies and staged expander implant reconstruction, confident in his artistry and attention to detail.
"He's a perfectionist, and he really wants to restore people. It's not like it's your fingernails, it's your breasts. There's something so personal about that, and your femininity is tied into it," she said
Months after surgery, the emotional ramifications of the experience really set in for Lori. She told her surgeon how she'd been feeling during a follow up visit.
"I was doing so great, but I'd sit at a traffic light and start to get upset. He told me to wait there, and he went and got Mollie. It was like I was drowning and someone threw in a tube for me," she said.
She and her husband became active members of the NYBRA community through the Sisterhood of Support and the Men's Breakfast Meeting. Jim initially attended meetings for Lori, but they became an important space for his own health and growth.
"I went into them a little skeptically. You'd go around the table, there was no pressure, everything was within this room. Little by little, everyone had something to say. It's like an exclusive club that you don't want to be in, but you are. At the meeting, you sit with other people who have been through it, and look in their eyes," he said.
In 2014, Lori's implants were exchanged for newer implants with an improved shape to correct some rippling she had noticed. Beyond surgery, she and Jim continue to work with the practice.
"I feel so blessed that we came across that practice. I hate to say this turned out to be a positive experience, but I think it made Lori and I's relationship even stronger. We understand each other better. We're so happy to still be involved," Jim said.
In the decade since her cancer journey began, Lori has written a book to help other women going through similar things.
"You realize that you're not omnipotent. I worry a little bit more, but I don't let it steal my joy. All we have is now. You have to focus on what you know to be true now. Right now I know I'm healthy, I'm going to go and live my life with the most joy."
More Patient Stories
Our patients are the most essential part of the NYBRA community. No two stories are alike.