Yvonne

- Bilateral mastectomies
- Expander implant reconstruction
- Nipple areola reconstruction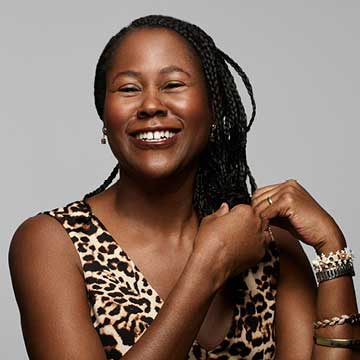 Yvonne was just 23 when she had her first benign lumpectomy, but her relationship with cancer began even earlier. "My cancer journey began when I was seven. That's when my grandmother died. She died of ovarian cancer. And it was always in the back of my mind," she said.
When she was in her mid-thirties, she lost her aunt to ovarian cancer. As the red flags collected in her mind, she started seeing a breast surgeon as a part of her routine surveillance.
She was diagnosed with cancer in her right breast at 45. The breast surgeon she'd been seeing characterized the situation as unimpressive and performed a lumpectomy. When her margins were not clear, Yvonne seized control of her care. She had three young children, two of whom had significant special needs: she was not willing to take any chances.
"[My surgeon] wanted to go back in, but I said 'no,' that I really wanted to do the BRCA test, and I wanted to visit the oncologist."
While Yvonne did not possess typical BRCA gene mutations, testing revealed other genetic abnormalities that increase the risk of developing cancer. She decided it was time to have a double mastectomy and oophorectomy, so she made an appointment to see Dr. Ron Israeli at NYBRA. His commitment to whole-patient care gave her peace of mind.
"I found that Dr. Israeli saw me as a whole patient, and he really took into account my children, my life situation. I really felt that he understood. I think they treat the whole patient, and they take into account who you are as an individual. They really help you through the process, not just surgically, but also emotionally and mentally."
NYBRA connected Yvonne with a breast surgeon and worked to develop a treatment plan that minimized her time away from her children. Together with a gynecologic oncologist, they performed double mastectomies, placed expander implants, and removed her ovaries in a single surgery.
Final breast pathology later revealed aggressive, HER2 positive breast cancer, which also required chemotherapy. Yvonne's firm self-advocacy had effectively saved her life.
Yvonne became a member of the Sisterhood of Support to help process what she was going through.
"I thought being able to have an outlet and a platform was really helpful emotionally. To be able to form a mini sisterhood was really important."
Fifteen years later, she said she is grateful to have the rest of her life to continue to be there for her children. She also helps other parents facing similar challenges as part of NYBRA's Patient-to-Patient Caring Team.
"I'm grateful that I am able to tell the story of my grandmother and my aunt, and that my daughter will be able to tell a different story."
More Patient Stories
Our patients are the most essential part of the NYBRA community. No two stories are alike.