One Sister Saves Another's Life—With the Help of Genetic Testing
December 20, 2022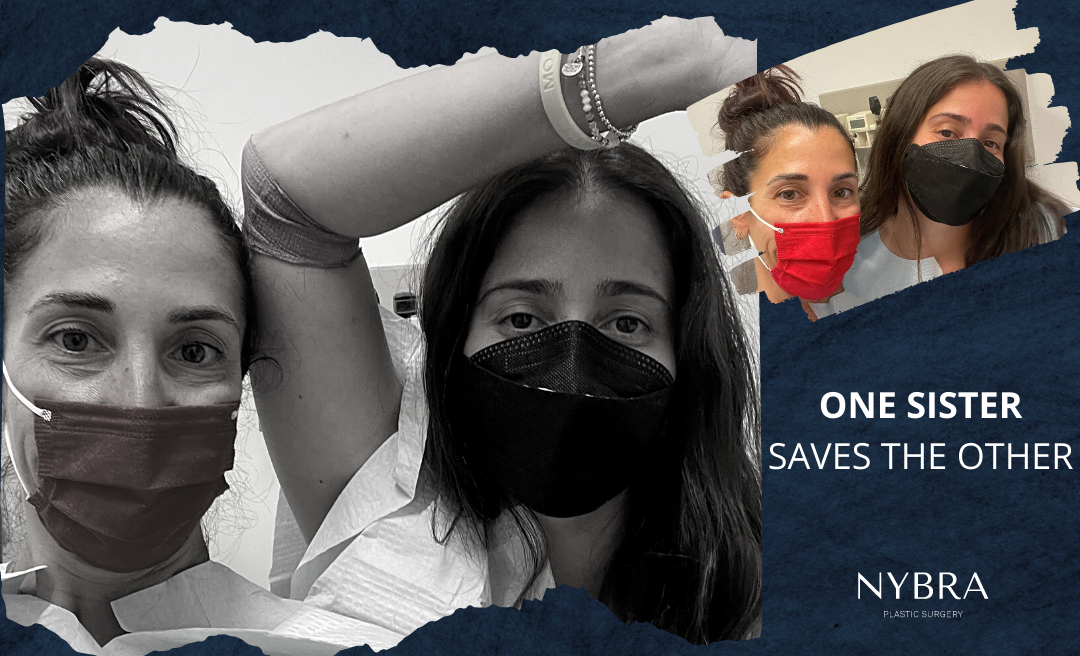 Genetic predispositions to cancer often mean that families deal with multiple diagnoses in multiple people over an extended period of time. The Brickman Family is extremely familiar with this circumstance.
"It was 14 years ago that I got a call from a first cousin who was diagnosed with breast cancer in her seventies. At the time, no one was doing testing for the gene," Randie began.
The gene to which Randie was referring was a BRCA gene mutation. Randie's cousin, who had already lost a sister to pancreatic cancer, saw a genetic counselor after she was diagnosed with breast cancer and learned that she carried a mutation. She went on to share that vital information with her cousins, including Randie. Randie went on to test positive for the mutation as well.
Randie chose to monitor her health rather than pursue risk-reducing surgeries. When she was 48, her surveillance revealed Stage 0 DCIS. She considered treating it with a lumpectomy, but after a conversation with her family she chose to have bilateral mastectomies and to have her ovaries removed. That family discussion included two daughters, who were in their early twenties at the time. Randie recovered, and life moved forward.
"I got married in 2012. I had two miscarriages, and I did IVF," Daniellie, Randie's eldest daughter said.
Danielle said she had two children before she was tested for the BRCA gene mutation at the age of 35. Like her mother, she tested positive for a gene mutation and began breast cancer screening. Unfortunately, also like her mother, in 2021 that surveillance revealed something.
"The radiologist said, 'Call your breast surgeon.' I didn't have a breast surgeon at the time. My mother was in Hawaii." Danielle felt blindsided.
With her mother out of town, Danielle said she received support from a friend whose family had recently gone through breast cancer. Several phone calls later, Danielle found herself in the office of Dr. Susan Palleschi. She said that Dr. Palleschi helped her understand her options and referred her to NYBRA.
Danielle was diagnosed with invasive ductal carcinoma and DCIS, but she walked into Dr. Ron Israeli's office with another pressing concern: her little brother's upcoming wedding.
"I said I have my brother's wedding, I really need to be in a dress. He made a joke about being able to dance with a drain. My husband and I left just really loving him. I was just really happy with these two doctors who I was going to be using for this big surgery," she said.
Danielle underwent bilateral mastectomies with direct-to-implant breast reconstruction. Four weeks later, as she danced "like an animal" at her brother's wedding, she said that no one could believe what she had just been through. She was also treated with oral chemotherapeutic agents and later had her ovaries removed.
In the meantime, the youngest Brickman daughter, Jennifer, had not been BRCA tested prior to her sister's diagnosis.
"I was looking to have a baby this year. My OB/GYN was very into genetics and wanted me to get tested for the gene, but I wanted to finish having kids. It was giving me so much anxiety," Jennifer said.
Danielle felt the weight of her own diagnosis in the form of deep concern for her sister. She urged her to be tested as soon as possible. "I was like, Jennifer, you need to get tested! This is no joke!"
Jennifer acquiesced, and in October of 2021 learned that she, too, carried a BRCA gene mutation. She began surveillance for breast cancer. As someone who describes herself as naturally squeamish, she found the process to be extremely difficult. When she went for breast imaging, she was devastated by her own youth in comparison to the other women in the waiting area. Her plan to finish having children and then move forward with risk-reducing bilateral mastectomies remained intact, despite her internal turmoil.
Just as Jennifer was getting ready to begin fertility treatments for IVF, she received devastating news. Screening had revealed four suspicious areas across both of her breasts. She sent the imaging report to some family friends in the medical field, who said the areas looked unlikely to be malignant, as did Dr. Palleschi during a consultation the next day. Still, both Dr. Palleschi and her fertility specialist instructed her to stop fertility treatments. Dr. Palleschi encouraged Jennifer to consider a risk-reducing surgery before her next pregnancy rather than after.
Jennifer received a second opinion from another doctor who agreed that the radiology findings were unlikely to be malignant. Still, she was too shaken by the scare to wait to take further action.
"I knew myself—I wouldn't be able to go nine months without checking. I had an appointment with Dr. Israeli. Dr. Israeli was really good and calmed me down. Knowing that he helped my sister and seeing her results made me feel better," Jennifer said.
Dr. Israeli recommended a breast reduction and lift, followed by risk-reducing bilateral mastectomies. Jennifer moved forward with the procedures, believing herself to be acting preventatively. However, postoperative pathology revealed that Jennifer did, in fact, have DCIS. Jennifer said she did not know what might have happened to her had her sister not urged her to get tested when she did.
"If Danielle didn't get tested—" Jennifer began. Her sister finished her sentence: "It could have been a very, very different, terrible story. And I hate the saying 'knowledge is power,' but knowledge is power."
Blog