Chelsey

- Nipple-sparing mastectomies
- Direct-to-implant reconstruction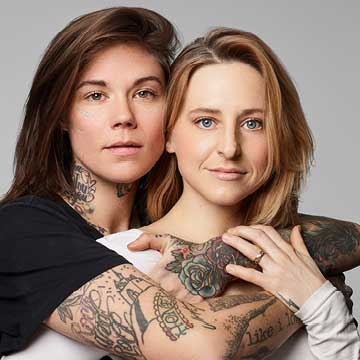 At 32, Chelsey noticed that her left nipple was inverted. While that should be concerning to anyone, it was even more of a red flag for her.
"I have an extensive family history of breast cancer on both my paternal and maternal sides," she explained.
She had tested negative for the BRCA gene mutation in her late twenties, but doctors still recommended that she begin getting mammograms at 30. She had not followed through on that recommendation. The nipple inversion was caused by a cyst, but about a year later, she found a lump on her right side.
"At that time, I was definitely in a totally different place, and I knew I didn't want to deal with this every year."
Chelsey was diagnosed with triple negative breast cancer. Unfortunately, she already knew the language surrounding the illness. Her mother had been diagnosed when Chelsey was nine. She also knew what she didn't want: the type of reconstruction her mother had.
"My mom had expanders for about 7 or 8 months, and she didn't have any nipples. She had massive scars through the center of both breasts. The amount of pain that she had associated with the expanders had gone on for months and months. Additionally, the skin became exceptionally shiny; it just looks very different from the other areas of her middle section. And since then both saline implants have popped. She is now completely flat," she said.
Before she could get started assessing her reconstructive options, Chelsey had to determine her next steps when it came to chemotherapy and fertility. Insurance issues set her back nearly three weeks; she was only able to see a fertility specialist five days before treatment.
"I didn't even really have the option to preserve my eggs, because I was starting chemotherapy in five days. But I was able to really tell [the fertility specialist] that I didn't want to have the same reconstruction as my mom, and that there had to be better options. Right then and there, he called Mollie Sugarman. She became my first point of contact [with NYBRA]."
Chelsey had a video call with Mollie, Clinical Director of NYBRA's Patient Empowerment Program, and then decided to see Dr. Ron Israeli, who was recommended by her fertility specialist. Chelsey had already started chemotherapy when she came in for her consultation.
"When I sat down with Dr. Israeli, I knew I was in the best possible care that I could get. They understood. I was 33 years old, I had really great breasts, and they were going to try to make something that approximated them. After that appointment I called my mom, and even during the appointment I started balling my eyes out, because it felt like such a great relief," she said.
Chelsey completed chemotherapy on December 15, 2017. A little over a month later, she had bilateral nipple-sparing mastectomies with direct-to-implant reconstruction with her mother and her girlfriend by her side. She worked with Mollie throughout the process to center her mind and lifestyle before and after surgery. She said that the practice's mind-body approach to healing was a welcome surprise that really helped her to recover.
"I was so impressed and so surprised. It's inspired me to go out and make sure that other people know there are other options. There are very few people practicing the way that they do, and I feel very compelled to let people know who they are."
A few months after her reconstruction, Chelsea participated in Reconstructed, a NYBRA-associated photographic exercise that finds its roots in Kintsugi, the Japanese art of repairing broken pottery with gold, signifying the beauty in overcoming adversity. Reconstructed features images of women who have undergone breast cancer, encouraging them to embrace their scars and themselves as more beautiful for having fought the disease.
Chelsey's cancer journey continues; she is currently dealing with a new diagnosis and the long-term implications of both cancer itself and the stigmas surrounding it. She said that the practice continues to provide support and guidance.
"The contributions that they've made to my life directly and indirectly have drastically supported me through this journey, and I kind of feel like I'm grateful to them for my breasts and for encouraging me to be part of these things that have given me some avenues for healing that I probably wouldn't be a part of on my own."
More Patient Stories
Our patients are the most essential part of the NYBRA community. No two stories are alike.