Marina

- Bilateral mastectomies
- Expander implant reconstruction
- Latissimus dorsi flap
- Nipple areola reconstruction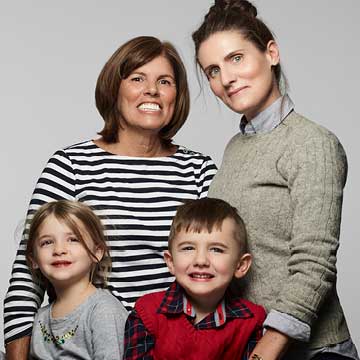 "I had just turned 30 when I found out," Marina said.
A New York native, she was living in California at the time. She had moved when she was 24; right around her 30th birthday, the man who would become her husband moved there to be with her as well. Two months later she was diagnosed.
"I was working with a little boy with autism, and he had a trampoline. There was some blood in my bra after playing."
A therapist urged Marina to get the situation checked out. When she went for a mammogram, she experienced even more bleeding. She knew something was wrong. She and her boyfriend headed back to New York to be with her family for a biopsy in February of 2008.
The moment she was diagnosed with cancer, Marina said she felt as though opportunities were vanishing before her eyes.
"I could feel doors closing for me, when it happened. As a woman, you're kind of always thinking that if you want to have a family, you have a finite amount of time to do it. I was 30 years old, I wasn't married, and I wanted to have children."
She chose to have bilateral mastectomies with expander implant reconstruction and came to NYBRA. As she worried about her fertility and future, she said her surgeon, Dr. Randall Feingold, was able to take the stress of what her body was going to look like after treatment out of the equation.
"Dr. Feingold was like 'don't worry about this; I'll take care of this.' And he did. They were just so incredible."
Her stage III breast cancer was also treated with chemotherapy, radiation, and the risk-reducing medication tamoxifen. Five years passed without event. Marina had been able to take steps to preserve her fertility before chemotherapy, and she and her husband were getting ready to have children. Then she found a lump in one of her scars just as she was about to be implanted with an egg. It was cancer again.
"They went in, and they cut again, took skin and more tissue, and then put another expander in. Then they did an exchange surgery and closed me back up."
Unfortunately, Marina had to have radiation before the exchange procedure, which created a problem with her now twice-radiated skin. The first time it opened, Dr. Feingold simply closed it up. The second time, she became ill. When she arrived at the NYBRA with a 104-degree fever, he gave her two options.
"He said 'I can take it out here, or you can go to the ER, and they can schedule you for emergency surgery, knock you out, and take it out there.'"
She chose to have it removed in the office. After she recovered, she had a latissimus dorsi flap procedure, which allowed her surgeon to move skin and tissue from her back to repair the radiated area before placing a new implant.
She said the practice was an integral part of her support system throughout her own experience and later on, when her mother also received a breast cancer diagnosis.
"They have really helped my family in ways that I can't express. Everyone in their office has been so wonderful and we've gone through so much together. Dr. Feingold handles things when you're in a really vulnerable situation, and it's just comforting to have that. He always put me at ease, and in that situation you have a lot to worry about."
Amid the tumult of a second cancer diagnosis, treatment, and reconstruction, something good did happen: Marina found a surrogate, through whom she was able to have twins.
"Sweet isn't sweet without the sour. You can't really appreciate all of the good times and memories without having the perspective."
More Patient Stories
Our patients are the most essential part of the NYBRA community. No two stories are alike.