Motherhood is Within Your Reach
July 9, 2021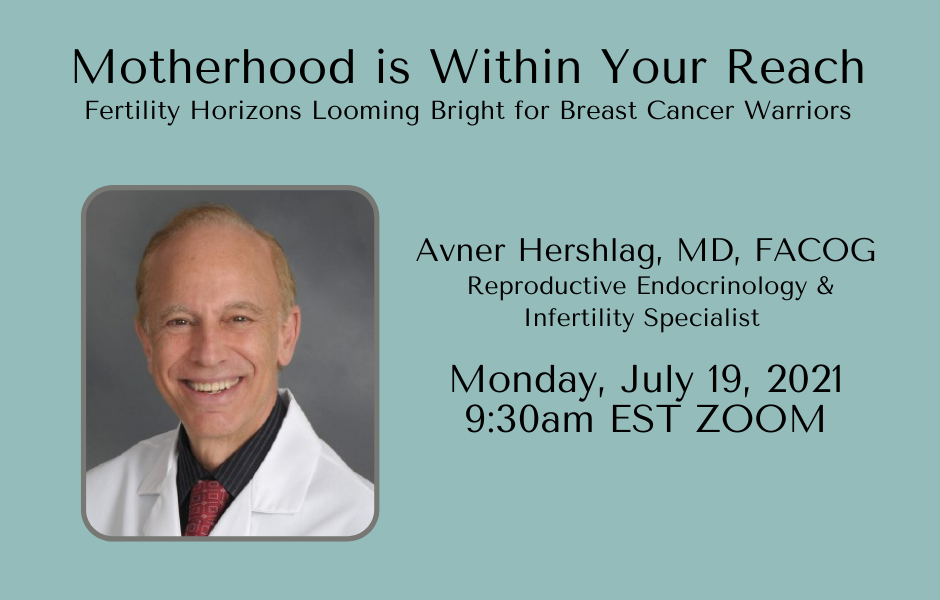 Join us on Monday, July 19, 2021 at 9:30 AM EST via ZOOM for our next lecture as part of our Be Informed Lecture Series.
Our guest speaker is:
Avner Hershlag, MD, FACOG
Reproductive Endocrinology & Infertility Specialist
| | | | | |
| --- | --- | --- | --- | --- |
| |       *Registration is required* | | | |
Why should I go through fertility preservation prior to breast cancer treatment?
Is fertility preservation safe?
Should I freeze eggs or embryos?
Can I still have fertility preservation if I get chemotherapy before surgery?
How does genetic testing impact my fertility treatment?
How long can my eggs and/or embryos stay frozen?
When can I use them?
What are my fertility options if I am a cancer survivor and haven't preserved my fertility?
ABOUT THE SPEAKER

Dr. Hershlag is a Reproductive Endocrinologist at Island Fertility at Stony Brook University. He is a Visiting Professor at Stony Brook School of Medicine and Professor of Obstetrics, Gynecology and Reproductive Medicine at the Hofstra/Zucker School of Medicine. He served as the Chief of Northwell Fertility between 2011-2018.
Dr. Hershlag has developed a focused expertise in fertility treatment of breast cancer patients, which involves close collaboration with oncologists, breast surgeons, plastic surgeons and mental health support. Wide testing for cancer genes helps optimizing health for both patients and offspring.
—
The Be Informed Lecture Series is brought to you by NYBRA Plastic Surgery's Patient Empowerment Program. Our monthly Be Informed Lecture Series provides patients with information and insights that are useful at every stage. Experts in the community come to NYBRA to give pro bono lectures on a range of topics, including genetic mutations, dietary insights, and the latest surgical techniques.
Blog