A Bar Mitzvah Project Aims to Make Cancer 'Stink' a Little Bit Less
July 3, 2021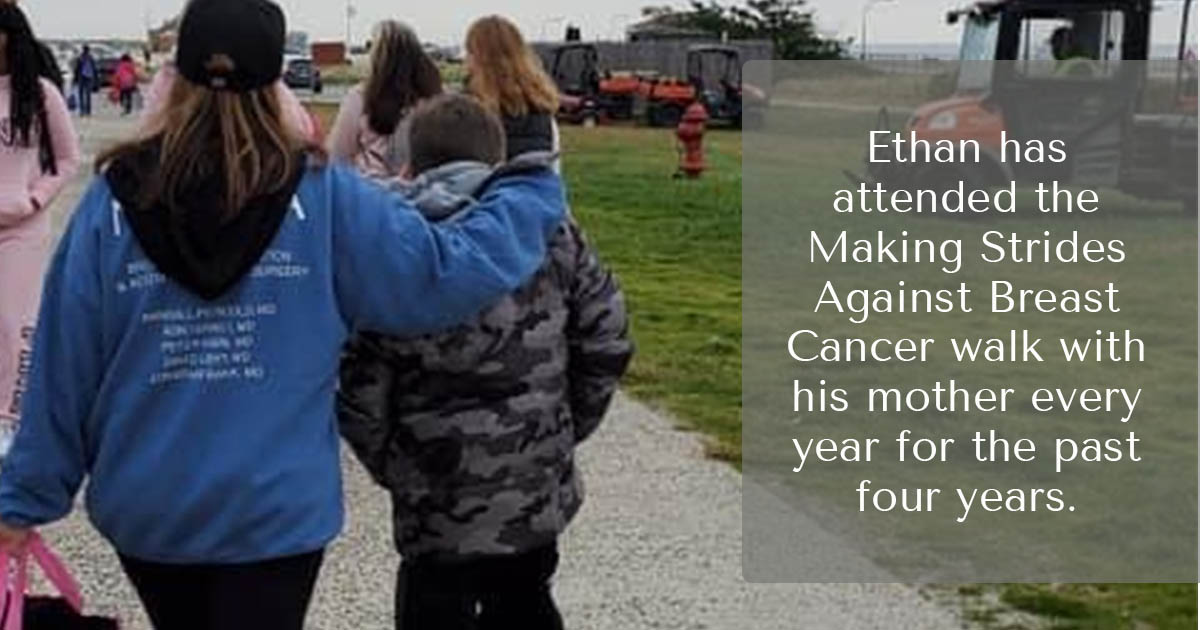 UPDATE:
Congratulations to Ethan on his bar mitvah! We are so proud of your efforts.
Ethan's project raised over $1100 for the NYBRA team for Making Strides this year. He also raised money to purchase comfort items for children of our PEP program.
"Heather and Ethan show the power of family in overcoming the stress of surgery and illness. We admire Ethan's commitment to fundraising, and perhaps more important his sensitivity to delighting the spirit of children that are living with a parent undergoing treatment. He is a great role model to us all. Bravo Ethan!" said Dr. Randall Feingold.
Ethan and his mom will be working with Mollie Sugarman, Clinical Director of the Patient Empowerment Program, to get these items to families who are facing this diagnosis.
You can still help! Read on to learn more about the project:
Heather's son, Ethan, was only seven years old when she was diagnosed with breast cancer.
"All of a sudden when someone gets a diagnosis, there's so much whispering in the house. We didn't hide anything from him, but his world definitely changed for several months," she said.
Amid all the hushed conversation surrounding her diagnosis and recovery, Heather said one of the things that helped their family maintain a sense of normalcy was the outpouring of support not just for her, but for Ethan. "People always send food or gifts for the person who's going through the treatment. People also dropped off books and toys for Ethan."
They were able to read and play games in bed while she recovered from her mastectomy and reconstruction. Five years later, she and her son have not forgotten that kindness.
Ethan's bar mitzvah is in June. Charity work is a suggested component of his bar mitzvah. They initially decided he was going to raise money for Relay for Life, but COVID-19 left them unsure of when the next in-person Relay event would take place. As they brainstormed for another project, Heather reflected on her experience with NYBRA and NYBRA's Making Strides team.
"We've been doing the walk for the past four years, and so we decided to raise money for American Cancer Society Making Strides. But I wanted to make it a little more personal for him."
She remembered the books and toys Ethan had received and thought of the Patient Empowerment Program and how she had seen the practice go above and beyond during her time as a patient.
"Their practice is amazing, and I have nothing but kind words and admiration for all of them. When this all started, and I got my diagnosis a few days before Christmas, everything was closed. I went in January for a consultation with Dr. Feingold. I was having trouble getting an appointment for a second opinion from a breast surgeon. Dr. Feingold made two personal phone calls and got me an appointment," she said.
In the spirit of giving back, Heather and Ethan decided that in addition to raising money for Making Strides, Ethan's project would also raise money for the purchase of books and toys for NYBRA patient's children. She reached out to PEP Clinical Director Mollie Sugarman, who helped her create a suitable plan.
The project, which they've titled "Cancer Stinks" will raise money for support items for kids through venmo or amazon gift cards. Mollie will connect Heather with patients who will tell Heather about their children so that she can order suitable, personally selected items. Participants will also have the option to donate to Making Strides. Ethan and his mother have involved their synagogue, too, which is raising money for Ethan's project. Instead of paper invitations, they're building a website.
"I want to make people more aware of cancer and more specifically breast cancer," Ethan explained.
Ethan has attended the Making Strides Against Breast Cancer walk with his mother every year for the past four years.
"By going every year, it's just a reminder that this is still so present in our lives and in our community, and to bring awareness to everyone is important to us to pay it forward. We feel very lucky that we are where we are, and we're not in someone else's shoes," Heather said.
While they joke that he willingly gets up at 6 am for the bagels, Ethan said it was more than that. For him, it's a celebration of his mother's survival.
"I like walking in honor instead of in memory," he explained.
Ethan hopes that this project will bring comfort to other kids and enhance breast cancer awareness so that more children are able to do just that.
For more information on how to donate, email cancerstinksproject@gmail.com or donate to the project's Making Strides team here.
Originally posted on April 26, 2021. Updated on July 3, 2021.
Blog