Looking Back on the Latest Be Informed Lectures
April 21, 2023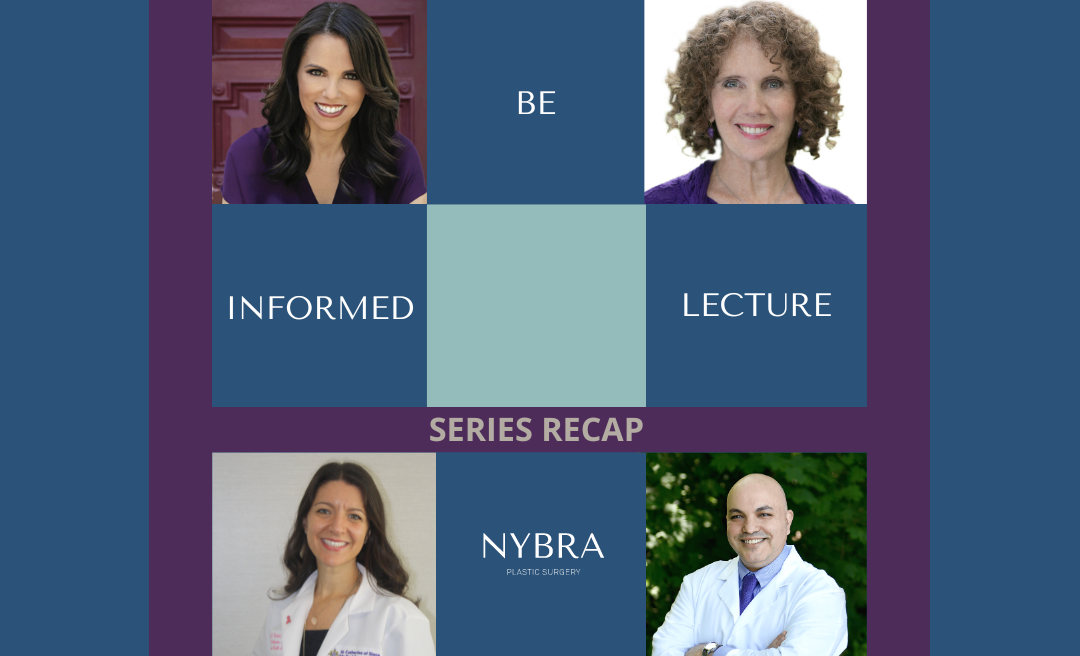 Enhancing patient education is a cornerstone of our practice. Access to comprehensive information is the key to informed decision making and long-term health planning. It also plays a vital role in patient mental health. It's challenging to know what you need to know when you first receive a cancer diagnosis. It is easy to feel extremely overwhelmed. It can also be hard to think into the future.
The Clinical Director of the Patient Empowerment Program at NYBRA, Mollie Sugarman, started the Be Informed Lecture Series as a way to give patients access to expert information without having to formulate questions on their own. After all—as Mollie says—how can you know what you need to know when you've never had to know it before? These lectures provide guidance for patients at every stage. While some lectures are more applicable to specific patient sectors—like younger patients confronting fertility challenges or individuals with gene mutations who are still assessing their options—there is something for everyone in every discussion.
See below for a few topics the series has covered recently, along with easy access to video links so that you can catch up or start watching anew on your time.
Fertility Options Surrounding Breast Cancer or Genetic Mutation Diagnosis
Dr. Tomer Singer discussed fertility options for patients facing breast cancer diagnoses along with those who carry risk-increasing gene mutations. Dr. Singer is a fertility expert who earned his medical degree from the Sackler School of Medicine, and his Master of Business Administration in Health Care Management from Hofstra Zarb School of Business. He completed his residency training in obstetrics and gynecology at Lenox Hill Hospital in New York, NY, where he also served as Chief Resident. He completed a reproductive endocrinology and infertility fellowship at Weill Cornell Medical College in New York, NY.
Dr. Tomer Singer is currently Associate Professor at Zucker School of Medicine, New York and former Vice Chairman of Education, Department of Obstetrics and Gynecology, and Director of Reproductive Endocrinology and Infertility, Lenox Hill Hospital.
In addition, as the director of egg freezing program at the Northwell Health system for 7 years Dr. Singer performed hundreds of medical egg freezing cycles for both cancer patients and women electively freezing their eggs.
Video coverage of this lecture is on its way!
Living Well Despite Adversity: Inspiration for Finding Renewed Meaning and Joy in Your Life, with Harriet Cabelly
Harriet Cabelly is a clinical social worker specializing in loss and grief of all kinds. She led a conversation on living well amid challenges, like breast cancer and reconstruction, through coping skills, a growth mindset, and meaning and purpose.
Harriet has specialized training in positive psychology and logotherapy (therapy of meaning and purpose – Dr. Viktor Frankl) which greatly informs her work. She also experienced non-Hodgkin's Lymphoma in the summer of 2022. She has a private practice and is a speaker, author and group facilitator. This lecture was titled after her book of the same name, which is a compilation of 36 interviews with individuals who have overcome various challenges and transcended that adversity through various types of coping skills.
Watch the conversation here.
Breast Cancer Surgery: Choosing What is Right for You
Jana L. Deitch, M.D., FACS is the Medical Director of the Breast Health Program—a division of Siena Women's Health—at St. Catherine of Siena Hospital in Smithtown, an NAPBC accredited program. Dr. Deitch led a conversation on surgical breast cancer treatment options. She broke down
Watch the discussion here.
Anti-Cancer Nutrition for Optimal Weight & Breast Health
Dietitian Nutritionist Rachel Beller, RDN, the CEO of Beller Nutritional Institute, is the creator of the Beller Method™, a three-time bestselling author, creator of award-winning Power Spicing nutrition blends, and spokesperson for the American Cancer Society. She founded the Beller Community Outreach Program and sits on several medical advisory boards including the Cancer Support Community, Living Beyond Breast Cancer, Sharsheret and the Just Keep Livin Foundation.
Rachel shared dietary guidance to help optimize your dietary health in a way that facilitates breast cancer prevention, treatment, and recovery. 
See the lecture here.
All recorded lectures are available on our Be Informed Lecture Series showcase on Vimeo!
Blog