Join Us For "Embracing Your Body Beyond Cancer Treatment" on October 17th
September 26, 2022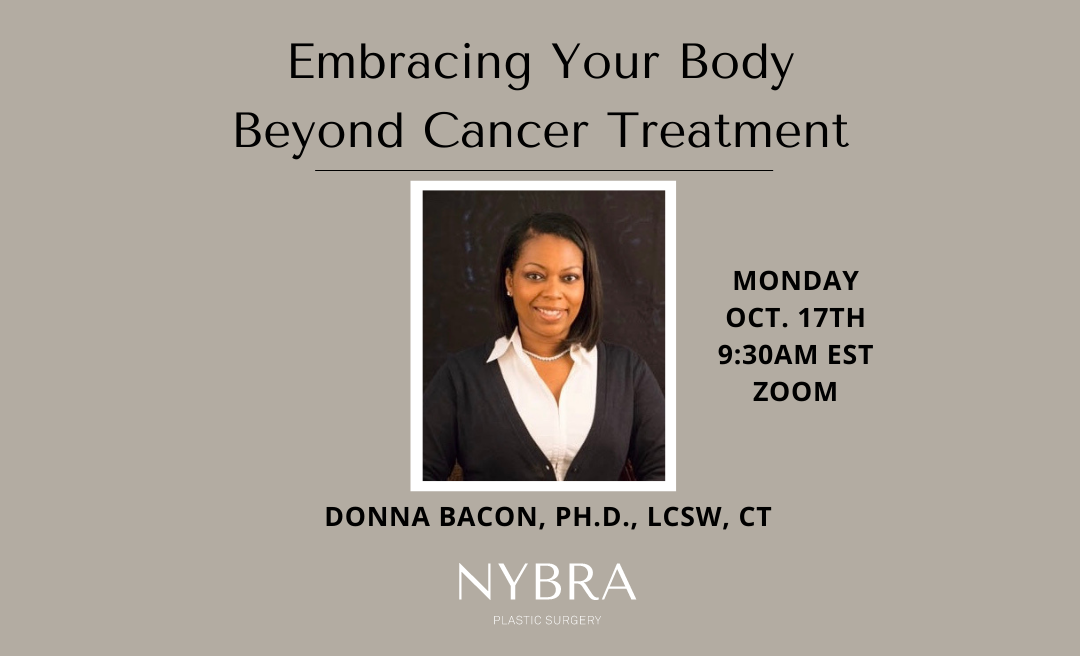 Join us on for our next lecture as part of our Be Informed Lecture Series.
Our guest speaker is:
Donna Bacon, Ph.D., LCSW, CT
Please join us for this educational session on Embracing Your Body Beyond Cancer Treatment.
ABOUT THE SPEAKER

Donna T. Bacon, Ph.D, LCSW, CT is a tenured Professor at Nassau Community College in the Health Studies department, where she has taught for over 20 years. She is the founding Executive Director of Mid-Nassau Lend a Helping Hand, which is an organization she founded to provide emergency financial services to women undergoing recent breast cancer surgery, chemotherapy and/or radiation treatment.  She is a Licensed Clinical Social Worker, Private Therapist and Certified Thanatologist.  She earned both a Doctoral degree in Human Behavior Studies and a Master of Science degree from Columbia University, she also earned a Master of Social Work degree from Adelphi University. Donna has been regionally and nationally awarded for her work with women and minorities on Long Island and serves as a consultant on a diverse range of topics. Her work, volunteerism and advocacy are dedicated to the education, empowerment and health promotion of women, families and underserved communities.
—
The Be Informed Lecture Series is brought to you by NYBRA Plastic Surgery's Patient Empowerment Program. Our monthly Be Informed Lecture Series provides patients with information and insights that are useful at every stage. Experts in the community come to NYBRA to give pro bono lectures on a range of topics, including genetic mutations, dietary insights, and the latest surgical techniques.
Blog