Embracing the New You: ADJUSTING TO RE-ENTERING DATING, WORK, INTIMACY & SOCIAL LIFE AFTER DIAGNOSIS
July 21, 2021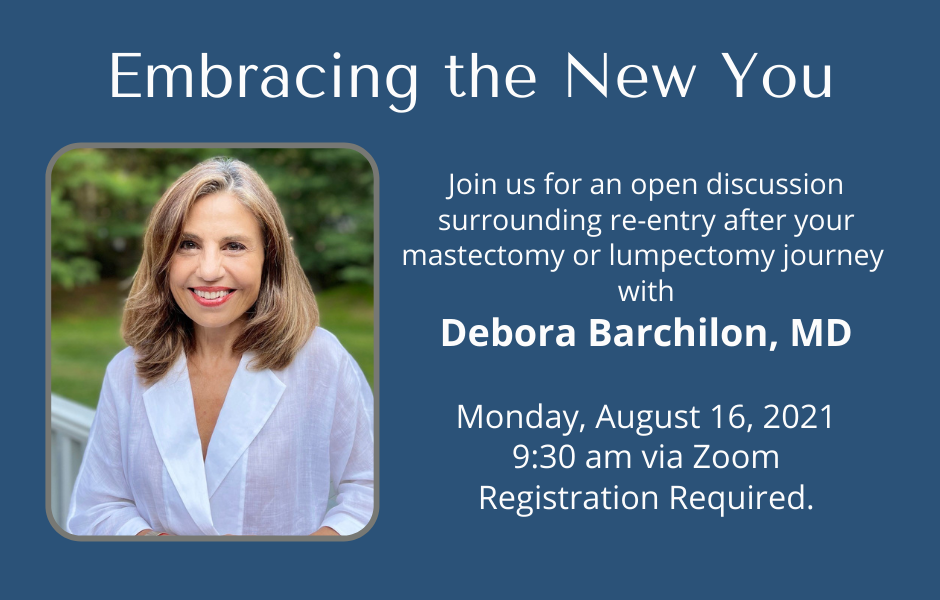 Join us on Monday, August 16, 2021 at 9:30 AM EST via ZOOM for our next lecture as part of our Be Informed Lecture Series.
Our guest speaker is:
Debora Barchilon, M.D.
| | | | | |
| --- | --- | --- | --- | --- |
| |       *Registration is required* | | | |
BEFORE and AFTER the diagnosis and treatment: How does the diagnosis of Breast Cancer and its treatment affect our identity, relationships, sense of safety in the world.
CHANGE in our subjective sense of selves: Looking at ourselves through the lens of illness / healing and recovery.
EMBRACING the "NEW US" in the post-treatment and recovery phase: Are there silver linings in the path to health?
SELF-CARE: How to reclaim our right to our bodies and minds, to health, pleasure and peace, to a new sense of safety.
LESSONS TO BE LEARNED: What might we have learned while on this journey, about our resilience, our desire to live, our determination to heal?
MOVING ON: What beliefs and behaviors do we want to hold on to, what do we need to let go of?
ABOUT THE SPEAKER

As a board-certified psychiatrist in New York City, Dr. Barchilon specializes in all aspects of mental health and wellness. Her training in psychiatry spans some of the most prestigious academic institutions in the world, including the University of Buenos Aires, University of Paris V Rene Descartes, and North Shore University Hospital, Cornell Medical School in the USA.
Through her 35 years of experience and exposure to various schools of thought in her field, including but not limited to Mood and Anxiety Disorders, Obsessive-Compulsive Disorders, Reproductive Psychiatry, ADHD, Eating and Personality Disorders and has presented on various topics including female sexuality, coping with cancer, as well as child and adolescent depression.
She provides services to individual patients, couples and families. Dr. Barchilon is fluent and conducts treatment in English, French and Spanish.
—
The Be Informed Lecture Series is brought to you by NYBRA Plastic Surgery's Patient Empowerment Program. Our monthly Be Informed Lecture Series provides patients with information and insights that are useful at every stage. Experts in the community come to NYBRA to give pro bono lectures on a range of topics, including genetic mutations, dietary insights, and the latest surgical techniques.
Blog