Deserving to Have a Life Too
May 4, 2023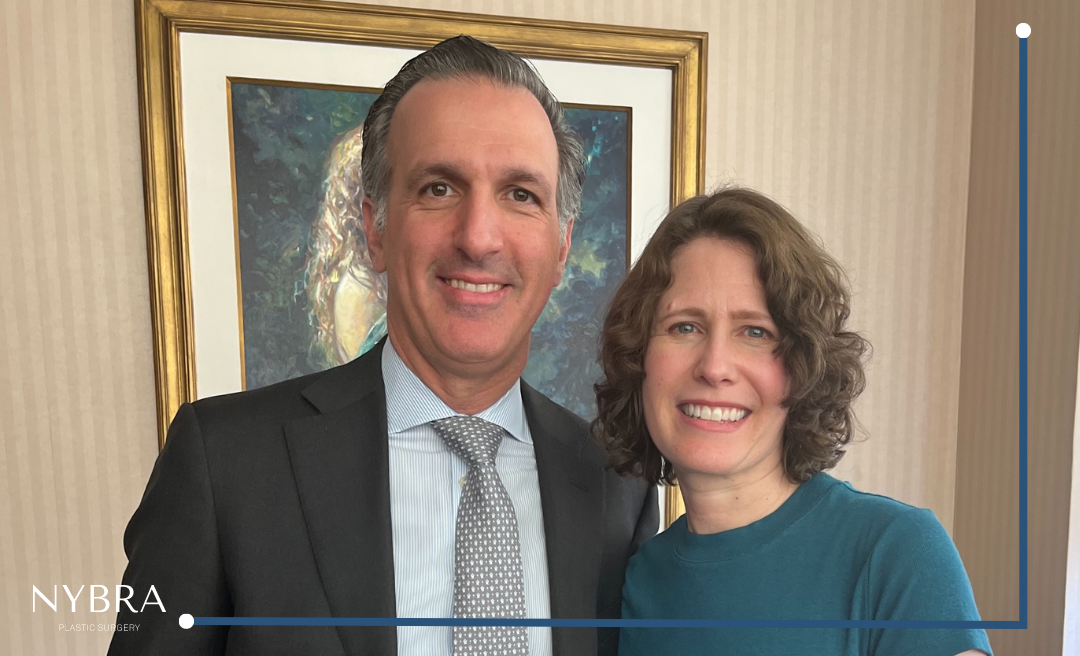 "Everything that was fun, all the good things in life, friendships, relationships, I would put it off. I was very future oriented. And I realized I have to start living more now. You have to prioritize the things that really matter and add more balance. My life was very unbalanced, and this whole experience was a real call to action," Jennifer said of her life before breast cancer.
That life, she explained, was one dominated by a very demanding job and extremely dedicated parenting. It was also one in which she neglected her health screenings. Jennifer said that she took her health for granted despite the fact that she did not necessarily feel healthy. Her energy levels were low, and she suffered from stress, joint pain, and other, generalized symptoms. The stress that permeated her life affected her willingness to have mammograms twofold: she felt overwhelmed with the other things she had to do, and she worried that the screening would cause her additional, undue worry.
After several years without routine screening and preventative medical care, Jennifer saw her primary care physician for a physical. She said her doctor gasped when she learned that Jennifer had not been for a mammogram since 2017 and urged her to see her gynecologist. She made an appointment in March, not a moment too soon. Her gynecologist felt a lump in her breast and sent her for a mammogram the very next day. Her team immediately recommended a 3D, diagnostic mammogram, which prompted a biopsy.
"They moved very rapidly, which I think scared me. They got me in the very next day, and I was like oh my goodness, usually you have to wait a long time for this appointment. I just had a bad feeling during the biopsy. I could read the energy in the room. I don't think they told me anything about it, but when I left I just went in the bathroom and collapsed, sobbing. I just felt like my world was going to come apart.
Jennifer's senses proved accurate: in April 2021, Jennifer was diagnosed with HER2 positive breast cancer. The news came as Jennifer was already taking steps to refocus her life. She was in the middle of a leave of absence from work, which she took because she felt like she was neglecting herself and her family. Her first thought was about her children. How would she tell them? How would this affect them?
"Then I thought 'I deserve to have a life, too!' I saw the diagnosis and the treatment and the anxiety as a wakeup call. I was really going to continue on that path unless something really big came and shook me up, I felt like I needed that punch in the gut to change the way I was thinking about myself."
She underwent chemotherapy prior to surgery, which gave her time to consider her options. After copious research and reflection, Jennifer chose to have bilateral mastectomies with DIEP flap breast reconstruction with Dr. David Light in September, 2021. She said one consultation was enough to make her confident in her decision.
"Dr. Light just has a presence that is calming or reassuring. I never felt rushed and he just very patiently let me go through my list and he gave me such good answers. I just felt like he really explained everything so clearly and I never felt like he was talking down to me. He made me feel like my questions weren't silly or vain, like they were so valid and so normal."
Jennifer's experience with NYBRA was further elevated by a consultation with the Patient Empowerment Program Clinical Director, Mollie Sugarman. Mollie connected Jennifer with another DIEP flap patient and invited her to join the Sisterhood of Support. Jennifer, who typically has trouble displaying vulnerability in front of other people, was surprised by how comfortable Mollie and the SOS made her feel.
Mollie added, "I am delighted that Jennifer allowed herself to go out of her comfort zone and find a connection in the Sisterhood of Support group. She has used the challenges of her diagnosis to reassess her life and make significant personal changes resulting in a more fulfilling and healthy life."
"In the beginning, I felt guilty bringing up my own stuff. I had to remind myself that it was for me, too. I can't really express in words how grateful I am for the support that I've received from everybody. I couldn't believe how it was such a community. There are women who are there who are like 11 years post breast cancer, and they're still getting something out of it. There's such a mix and it's such a warm welcoming community where I feel so able to express myself."
Unfortunately, her postoperative pathology showed some residual malignance, which required six months of additional chemotherapy. She completed that treatment in April, 2022. Even now, Jennifer continues to follow a focus and some skin thickening. These challenges have only reinforced her desire to be proactive. She is now participating in a clinical trial for a breast cancer vaccine. She is also making a concentrated effort to take better care of herself physically and mentally.
"I talk to myself differently. When I make mistakes, I remind myself that I've been through a lot and I'm just being human. I'm just taking better care of myself all around and I'm trying to be more patient not just with myself but with other people," Jennifer said.
She went on to say that in addition to engaging in more exercise and mindfulness and extending her patience, she is also advocating for herself more.
"I just had a revelation: if I did not feel like I was worth taking up room on this planet then what would the universe think? Nobody wants cancer, but you really can grow to be—I don't know if stronger is the right word—but wiser, if you really take the opportunity to explore."
Events